We're back with
another
quick and simple transformation project that we partnered with
Rust-Oleum
on. We love projects that can be done easily, and cheaply, and make a big difference around the house – or patio! This is such a great way to give new life to old patio furniture you may have sitting around, or to something you found alongside the road or at a garage sale.
Quite a few years back, Caitlin found these amazing vintage rocking patio chairs at a garage sale and bought them for me. They were a little rough looking, but not terrible, and back then I had three tiny tots running around, so other than giving them a quick cleaning, I left them as is. But now with a
new patio
that we're always hanging out on, and the chairs really needing a fresh update after years of use and sitting out, it was time to give these chairs a makeover.
Although we loved the blue color of the chairs, they showed dirt way too easily, and we wanted them to fit in with the look of the other furniture on the patio, so we decided to go with black for the seats; while keeping the legs metallic, giving them a fresh coat of paint to get rid of the rust. We went with the Stops Rust spray paint because it's a durable, rust preventative paint, and since these chairs will be out in the elements, they can definitely use that kind of coverage. Stops Rust is recommended for outdoor metal surfaces and this paint will protect the surface from rusting, which makes it perfect for patio furniture! The Stops Rust line comes in a variety of colors and finish options, so you have lots to choose from to fit your style and aesthetic. We love the fresh, modern look of the chairs now and they're the perfect addition to our new patio space!
What you need:
– Rust-Oleum Stops Rust Clean Metal Primer Spray
– Rust-Oleum Stops Rust Metallic Spray (we used Matte Nickel)
– Rust-Oleum Stops Rust Stain Enamel Spray (we used Black)
– sand paper
– painter's tape
Watch the video below to see how easy it is to give your patio furniture a makeover.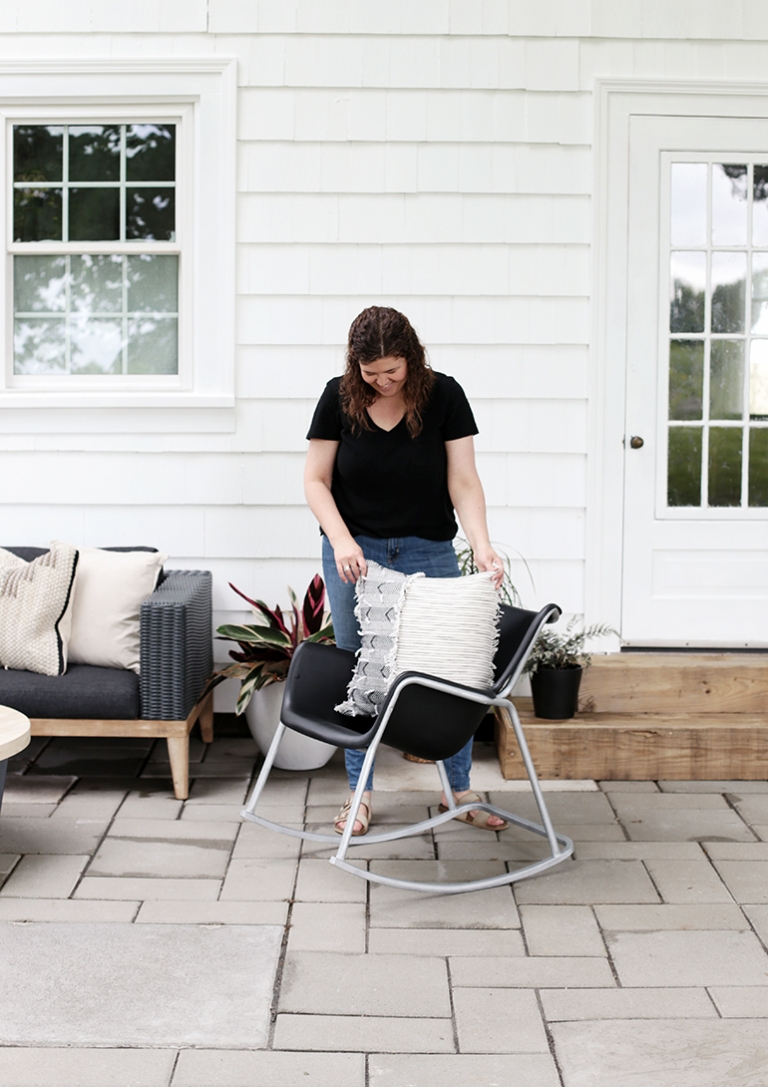 Have you done any makeovers or updates with spray paint? We'd love to see them! And if you have a spray paint project to share on Instagram, you can use the hashtag #spraynewlife and be entered to win a $500 gift card to Home Depot! Rust-Oleum will be giving away one a month at random, now – September 1st. See more details here.
Sponsored by Rust-Oleum. All ideas, thoughts and opinions expressed are our own. Thanks for supporting the brands that keep us bringing fun, new content to you!