I've been eating eggs for breakfast for years. Because I love eggs, it's a healthy breakfast and it's simple and easy. Sometimes it's just two eggs plain, and sometimes I add in carbs or veggies. (And sometimes I get really sick of eggs and switch to cereal for a couple days 😜). Years back, I started making breakfast tacos; it was a nice change from plain old eggs and tacos all day are perfect for me. I figured everyone's been eating breakfast tacos for years like I have, so sharing a recipe like this wouldn't be new or exciting. But I've had enough people over the years seem like they've never heard of such an idea to finally say, fine I'll share this super easy breakfast recipe. Plus I just like looking at food and hearing what people are eating, it inspires me to get a little creative with a meal or reminds me of a favorite I haven't put into rotation for a while. And maybe you're a weird foodie like that too. So today, I'm sharing the simplest breakfast tacos.
There's no set amounts for the ingredients – just add as much or as little as you like. A lot of times, I'm just making these with a little cheese & salt and pepper on the eggs because I don't always have avocados and cilantro on hand, and they're good like that too. These are also one of my go to breakfasts for on the go, using a flour tortilla (corn would be way too messy). I can whip one up really quickly and eat it on the road. I've also made these the night before when I've had to get up super early for flights, I just stick it in the fridge overnight and reheat the next morning, and I'm good to go.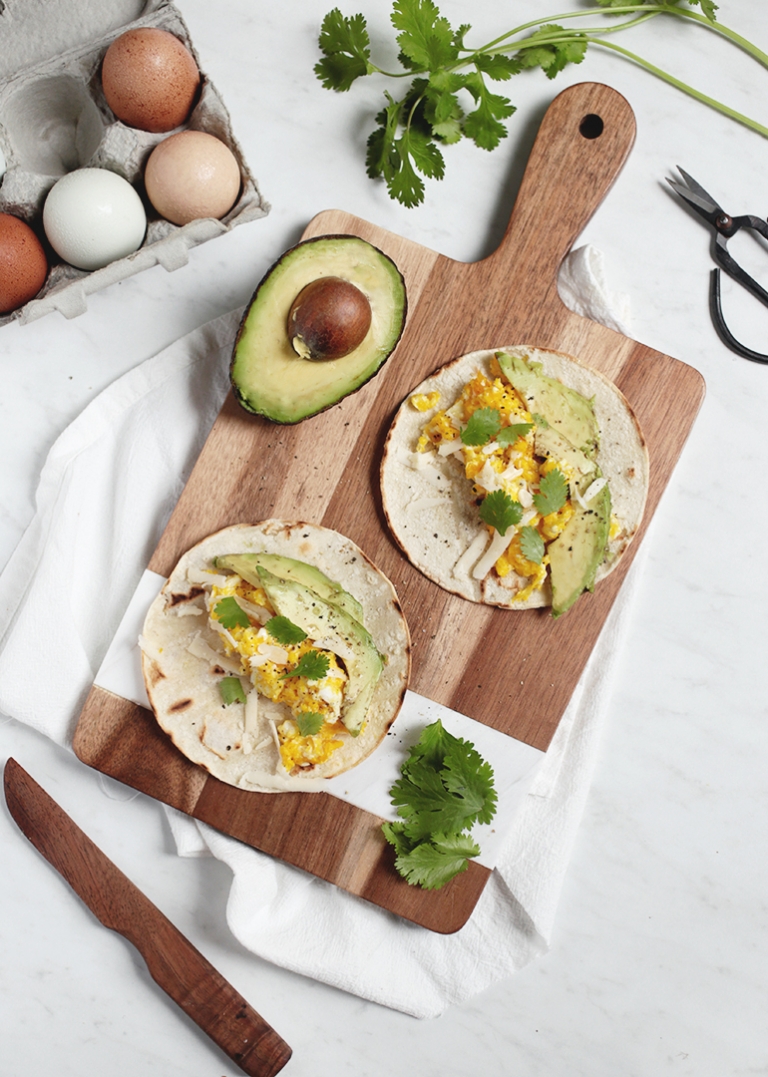 Simple Breakfast Tacos
An easy and healthy breakfast recipe.
Ingredients
corn or flour tortillas

eggs,

scrambled

shredded cheddar cheese

avocado,

sliced

fresh cilantro

salt and pepper,

to taste
Instructions
Warm tortillas. Add scrambled eggs, cheese, avocado and cilantro. Sprinkle with salt & pepper. Enjoy!
Recipe Notes
These can be made ahead of time - without the avocado. Wrap in plastic wrap, and placed in the fridge overnight. Remove plastic wrap and reheat in microwave, 30-40 seconds or until heated through. (You can add avocado once heated if desired). Works best with flour tortillas if you're making them ahead.