I spotted these sweet eggshell place card holders a while back and loved them. Then last year, after Caitlin posted her macrame wheat grass eggs and how to grow microgreens, I realized that the place cards were those two projects combined and something I wanted to try for our Easter table this year!


I think these are perfect little place card holders for Easter dinner! And they really weren't too hard to put together, especially if you're like me and eat eggs everyday, you can just start saving those eggshells! (And I don't have a green thumb and managed to get mine to grow, so fellow plant-killers, take heart, you can do this!) And once dinner is over, you and your guests can use the microgreens to make a tasty recipe with – maybe an Egg White Omelette with Avocado, Goat Cheese and Microgreens for breakfast the next morning!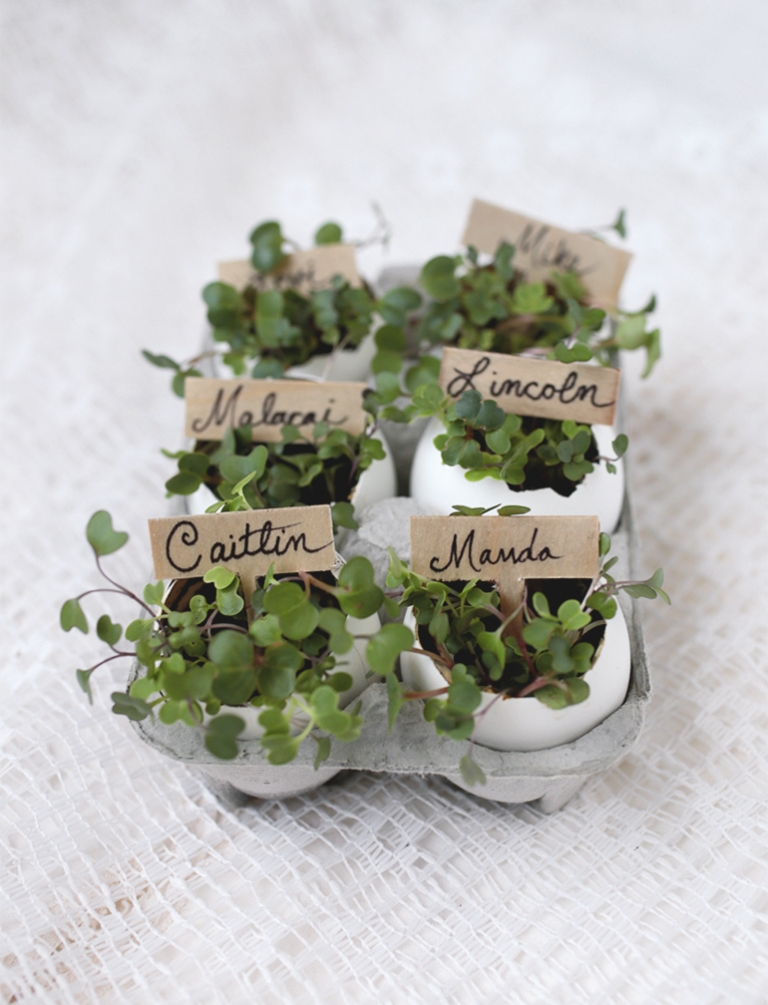 What you need:
– eggs
– microgreen seeds
– potting soil
– birch plywood (I used a 1/64″x6″x12″ piece) – optional for name cards


Directions: Gently tap the egg a few times to crack it, making sure you're tapping near the top of the egg. Remove the top part of the shell, pour the egg out (save the eggs & make yourself some French Toast!). Gently clean the eggshell in warm soapy water and set aside to dry.
Poke a small hole or two in the bottom of the egg (I used a needle) to allow for drainage. Fill eggs about halfway with soil.  Place seeds on top of soil (be generous with the seeds for a more full look – I wish I had put even more in my eggs, some were a little sparse looking) and sprinkle a thin layer of soil on top of the seeds, gently patting down.  Water the soil and keep moist throughout the growing process.  Keep the eggs near a window that gets lots of sunlight. The seeds should sprout in about 7-12 days.  (Make sure to plan accordingly if you're using them for Easter!)
If you're making the wooden name cards, cut the wood to the desired shape/size (you can use scissors if you use wood this thin). To help keep the pen from bleeding, first coat the wood with some kind of finish (I used Polycrylic Protective Clear Finish).  Write out your names and stick the name cards in the eggs.  You could also just write the names on cardstock paper and set that in the egg or write the names right on the eggshell (just be gentle so it doesn't crack!).


-Manda