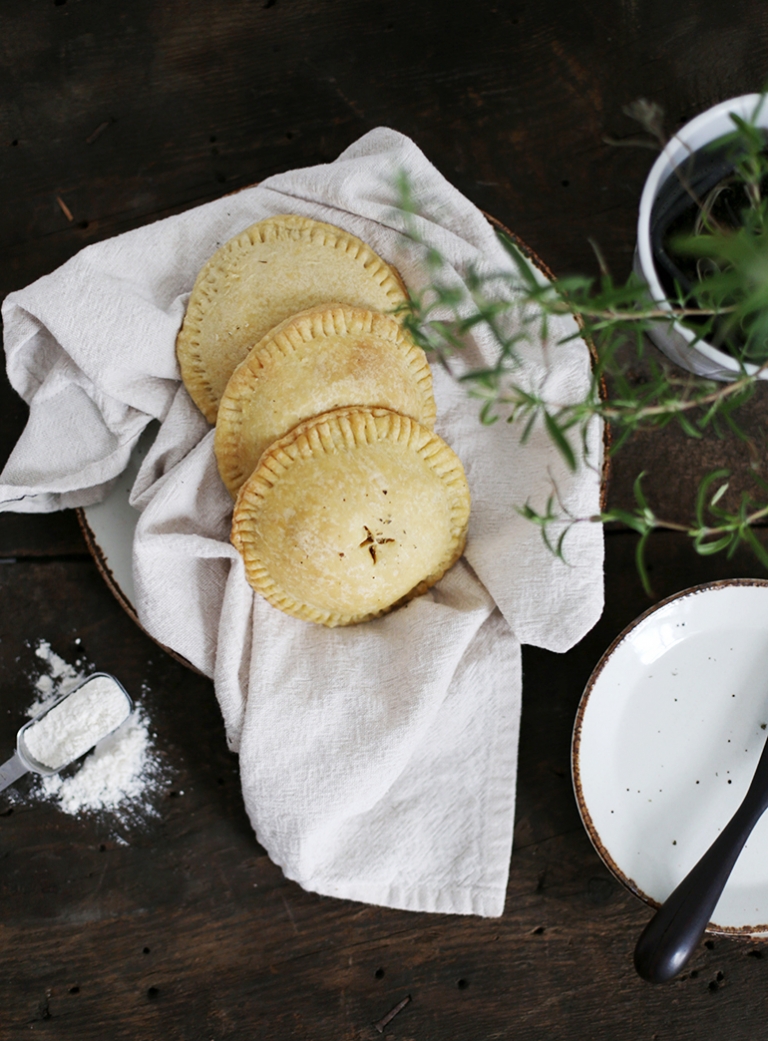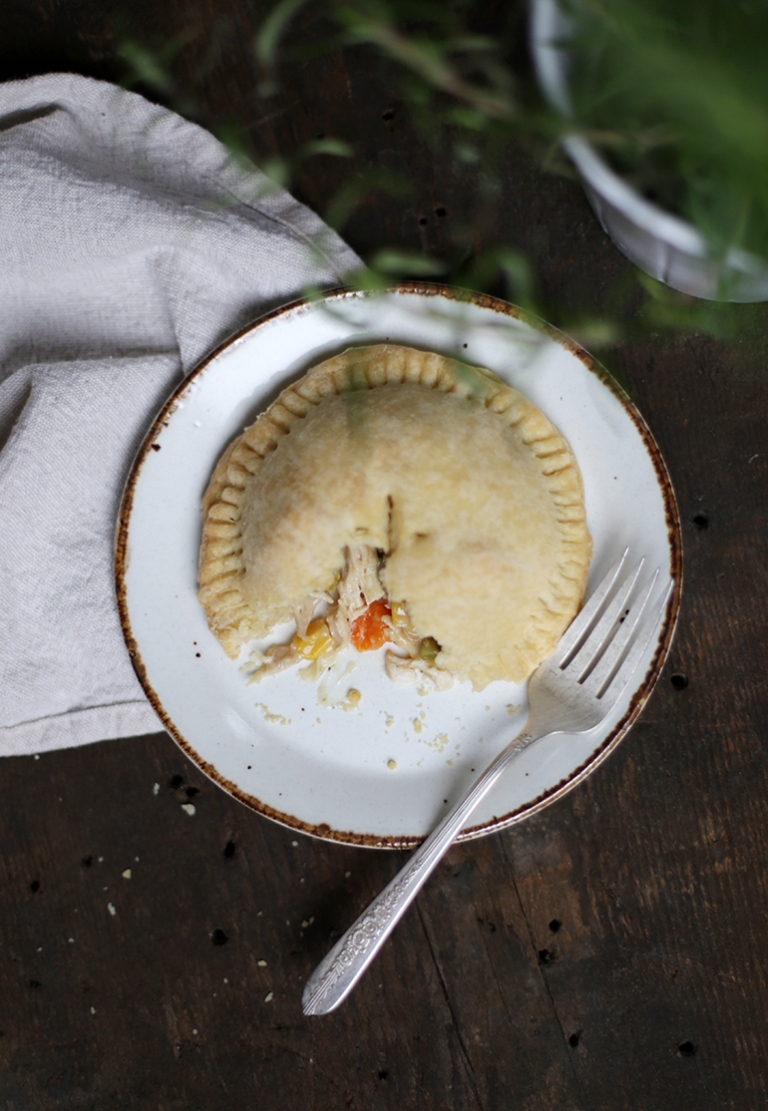 I'm always tempted to buy chicken pot pies from the frozen section when I'm grocery shopping because they seem like the most delicious thing ever. But whenever I buy them I remember they're a terrible idea – they always take over an hour to cook and then they burn my mouth every. single. time. And the "chicken" inside is always pretty questionable… 😉 I've been seeing a lot of recipes for savory hand pies recently and wanted to try out a chicken pot pie version. So good! Easy to make in a big batch for the family or freeze before baking to take out and pop in the oven for dinner on another night.

Chicken Hand Pie
(Makes 8-12 hand pies)
Filling
4 tbsp butter
2 cloves minced garlic
2/3 cup chopped onion
1/2 cup chopped celery
2/3 cup chopped carrots
1 teaspoon salt
4 tbsp flour
2 cups chicken broth
1/2 shredded cheddar cheese
3 cups shredded chicken
2/3 cup peas
2/3 cup corn
Salt and pepper to taste
Melt the butter in a skillet and add the garlic, onion, celery, and carrot. Saute over medium heat for 3 to 5 minutes. Add in the salt and flour and stir to combine. Add chicken broth and stir until thickened, 2-3 minutes. Add in cheese, chicken, peas and corn. Cool in the fridge.
Preheat the oven to 375 degrees Fahrenheit.
Dough (From Oh Sweet Basil)
3 cups flour
1 1/4 cup crisco
1 teaspoon salt
1 egg
1 teaspoon apple cider vinegar
cold water
Place the flour into a mixing bowl with the shortening and cut together. In a 2 cup measuring cup, combine the egg and apple cider vinegar. Fill the cup with cold water up to 1 cup. Combine the wet and dry ingredients and stir with a fork until combined.
Flour the counter and roll out the dough. Cut out 5″ circles. Place 1/4 cup filling in the middle of a dough circle. Wet the edges of the dough with the water. Add another dough circle on top and crimp edges with a fork. Place the hand pies on a parchment lined baking sheet. Cut an "x" (or just a few little holes) in the top of each pie. Bake for 30 to 35 minutes, or until golden brown. Let cool for 5 minutes before serving.

xo. Caitlin