After our post a couple weeks ago on how we made our 3D cardboard stars, we had some of you asking how we made the larger paper stars that were in the photos. This craft was actually on my list to share last year, and never got around to it, so finally here it is – how to make paper bag stars! These paper bag stars are such an easy craft to make – just a few supplies and cheap too (well I guess depending on the bags you use).
The first time I made these it was kind of fun and shocking to see such a cool craft come from just lunch bags!! I then of course had to branch out with my bags and get some in black and white to go with the kraft bags. I found my paper bags at Michaels, and they come in a couple different sizes as well as lots of colors, so you're not limited to my neutral, minimal color scheme! 😉 Scroll down for the steps on how to make these, and there's a video on it too!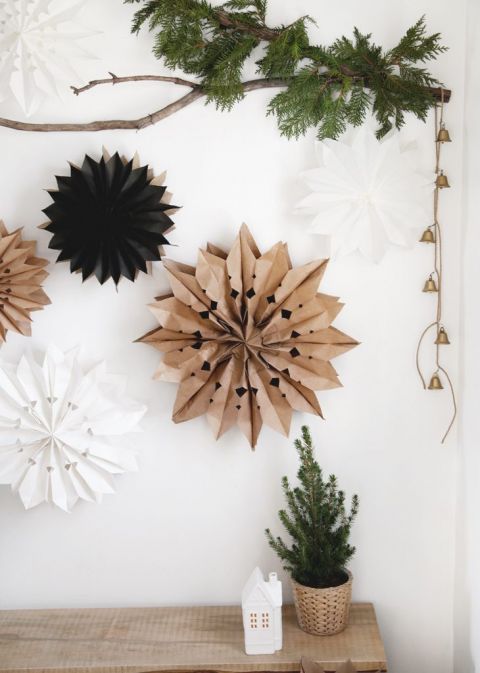 Supplies:
paper bags (use a variety of sizes and colors, I used these, these and these from Michaels as well as regular lunch bags)
glue (any glue will work: Elmer's, hot glue, glue stick)
hole punch
string or fishing line

Directions:
(There's a video below of all the steps, it's easier to watch how to do this craft!)
Count out number of bags. For standard size lunch bags you'll need to use 7-9 bags, I like to use 8 or 9, just for a slightly more bunched look. For the smaller size paper bags, you'll need to use 12-14.
Add glue to the back of each bag, along the bottom and up the center.
Stack another bag on top (facing the same direction), press in place and continue adding glue and bags.
If you're using a lot of bags, they can be hard to cut through, so I recommend making two stacks of glued bags, cutting as desired, then glue the two cut stacks together.
Once you have all the bags glued together, cut tops of bags off, forming a point (or whatever shape you want).
Open the bags to make sure the ends meet, add more bags if needed.
Cut small triangles or other shapes into sides of bags to create designs if desired.
Once bag is cut as desired, add more glue to one side. Open bags and hold sides together for a minute to let glue dry.
Punch hole in bag, loop string through, and tie off.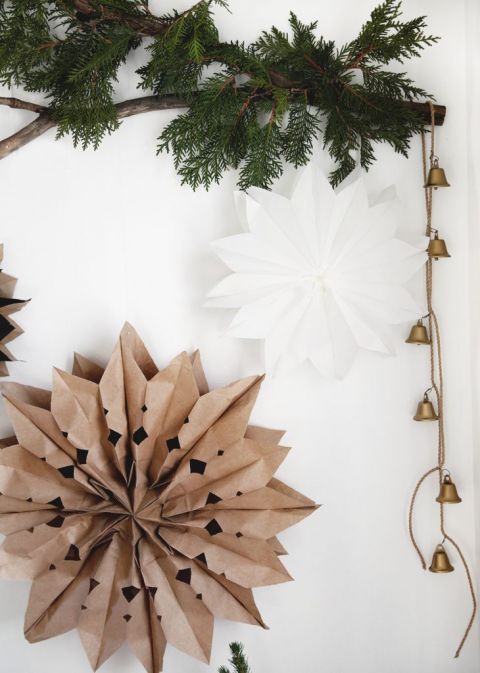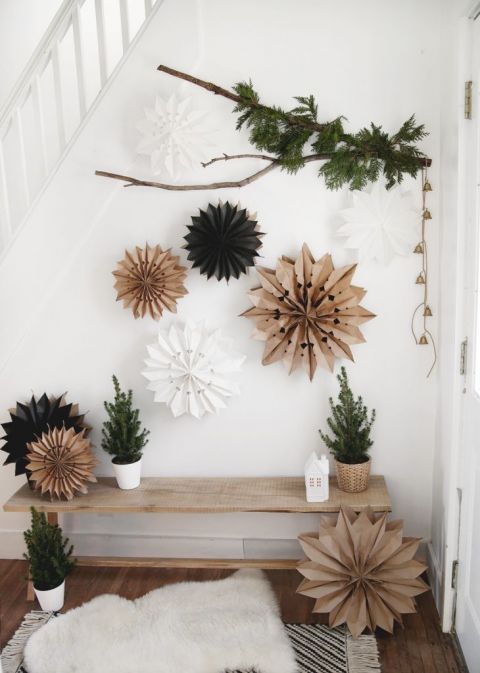 For more Christmas inspiration check out these posts.
-Manda