Last year I shared how to make paper stars from lunch bags. It was a super easy, fun craft to do; and I've still got mine and am using some again in my Christmas decor. I guess this is the year for paper crafts for me, since I just shared how to make 3D paper ornaments last week!
Today's is similar to the paper bag stars from last year, but these paper stars are made with parchment paper! I love the look of these, they seem a little more delicate than the paper bag stars. We even used one of our large paper stars as our tree topper this year! I hung some in our window too, it was hard to capture in a photo, but in person they look really nice. I think the smallest size would be cute as ornaments or to use as gift toppers!
They only require a few supplies, and are easy to make. I used both white and brown parchment paper. While I haven't made these with regular paper yet, I think it would work fine. They won't have quite the delicate look that these have, but might have straighter points, which is nice too!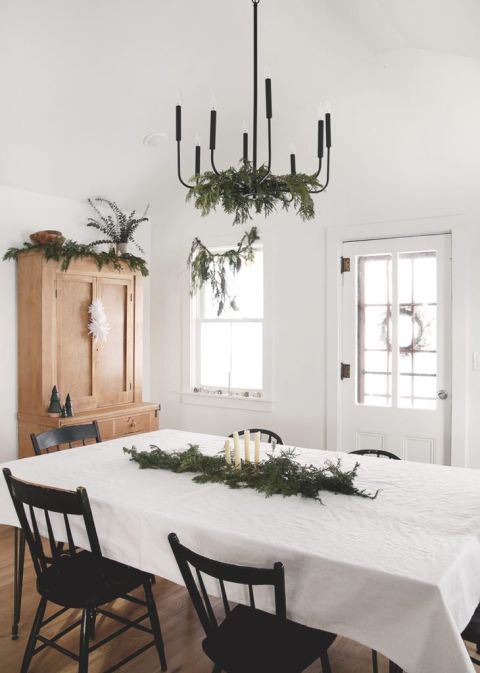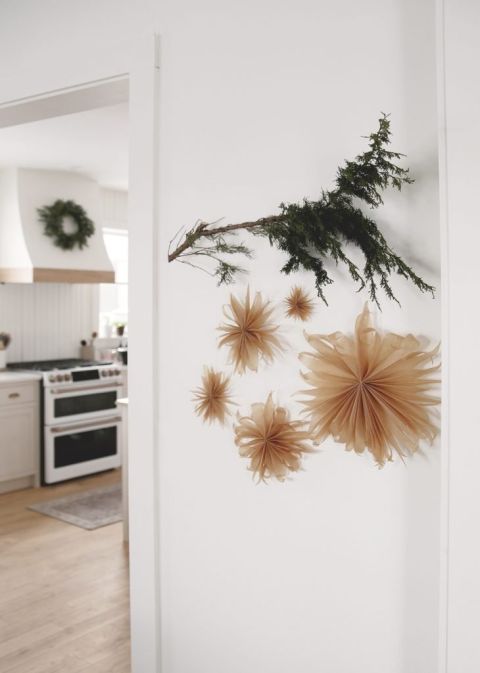 Supplies needed:
ruler
pencil
glue (I used a few different kinds, I thought glue stick worked best)
string or fishing line for hanging, if desired

Directions:
Steps are written out below or you can watch the video tutorial here:
Cut rectangles out of parchment paper. You will need 5 rectangles of the same size. The sizes I did are:

3″x4″
4″x7″
6″x10″
9″x16″

Fold rectangles in half.
Draw points on folded part of one of the rectangles. I found that the longer, skinner the points are, the straighter the points of the star end up. Also, the ends of the paper need to have half a point drawn (so you start cutting from a tip, not the bottom of a point on the ends, see photos).
Stick the remaining 4 rectangles inside the one with the points drawn on, and cut all 5 folded sheets at once. (If you use regular paper instead of parchment paper, you might not be able to cut all at once).
Separate cut rectangles and unfold.
Starting from one end, start folding the cut rectangle accordion style, flipping from back to front with each fold (like you're making a paper fan).
Once it's folded, fold each of those in half.
Add glue to the inside of the folded star, let dry.
Once all five are glued, you're going to glue those pieces together.
Once glue is dry, fan out into star shape, and glue remaining ends together.
For hanging: use a small hole punch to punch hold near tip of end, thread string or fishing line through and create a loop to hang.
Have you tried making paper stars yet??
-Manda