We are so happy to be partnering with Scotties Tissues again for another year! Last year we made a Merry Christmas garland and the year before we made holiday planters. We're really excited about this year's box designs and to share a simple craft you can make with your empty tissue boxes – these DIY 3D cardboard stars!
This has been the year for cardboard crafts, Caitlin shared quite a few earlier in the year. And these 3D cardboard stars are another easy, simple craft that are a great way to upcycle your old tissue boxes! We added our stars to our holiday decor, but really they're great to use anytime of year!
This is the second year Scotties Tissues is partnering with Genevieve Gorder on these box designs and once again, we LOVE them! We're so happy to have tissue boxes that fit so well into our decor – we actually want to have these out instead of trying to hide our tissue boxes. You can see our favorite designs in a photo below, and be sure to check out all of them here. There's a design to fit every style! We love the mix of holiday designs and the neutral designs that can be used after the holidays are over (be sure to scroll all the way down to the last photos for the coziest box that matched one of my blankets)!
I was also really happy to see that this year's collection is offered with Scotties Triple Soft tissues, that have three layers of softness for ultimate protection. I have sensitive skin and am always looking for the softest tissues, so I'm thankful for the three layers of softness and strength, these really are so soft on my nose!!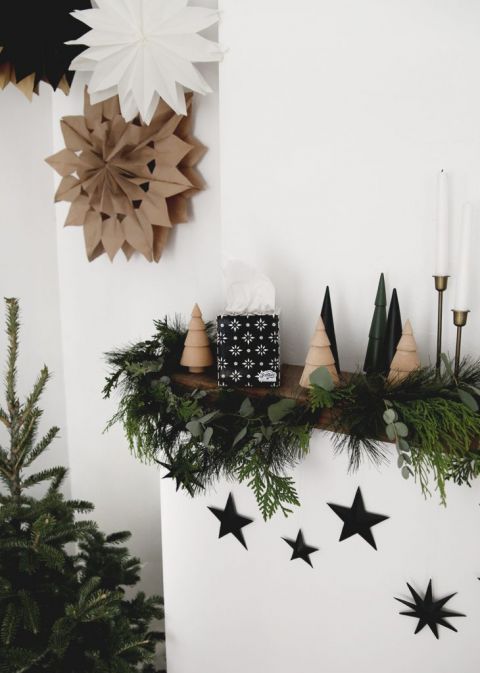 My Christmas decor is minimal, and yup, neutral colors, who would have thought?! 😉 And this year I guess I'm going heavy on the trees and stars theme, and was so excited to see a black & white star design tissue box! What's great about these stars is you can make them to fit with any decor/color scheme, just choose the paint color you like. You can even use the box pattern too. For my 3D stars hanging on the mantel, I used fishing line and made small loops, then used a pushpin to hang them at various lengths. I also made a garland of them, and have some to hang as ornaments. So many great ways to display them! Scroll down to see how to make them.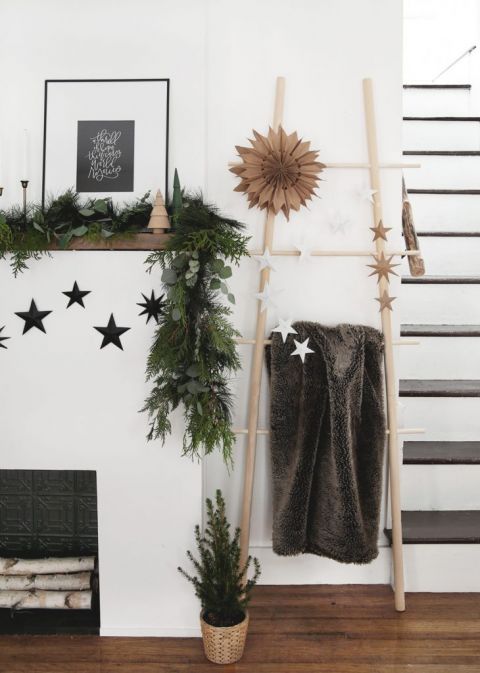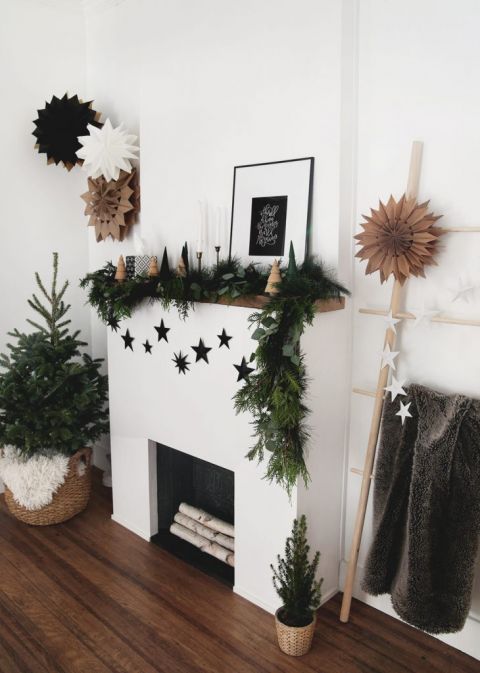 Materials:
empty tissue boxes
star template (I just printed one out and traced it onto cardboard)
pencil
scissors
ruler
x-acto knife
paint (spray paint or acrylic)
large needle (or something to poke a small hole the stars)
fishing line or string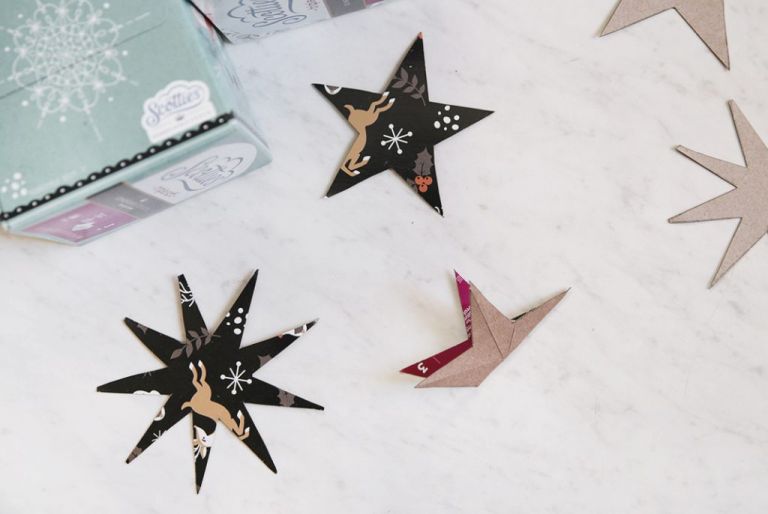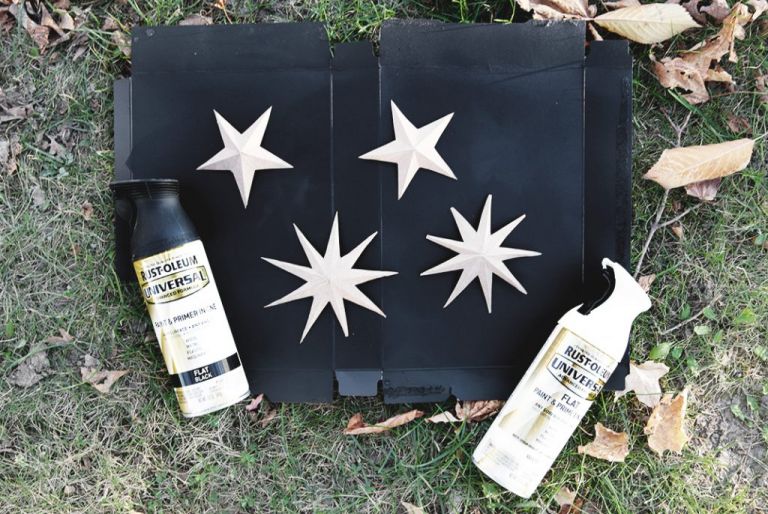 Directions:
trace stars onto cardboard and cut out
line up a ruler from the tip of the star straight down to opposite end, use the x-acto knife to score along the ruler edge (do not cut all the way through the cardboard)
repeat with each star tip
once every tip has been scored, fold along scored line and crease firmly
open up fold, and repeat with each scored line
if needed, pinch along folded lines to raise up the star a little more
leave natural or paint if desired
use a large needle point to poke a hole large enough for your fishing line or string to go through
thread along string to make a garland or tie off into loops to hang stars individually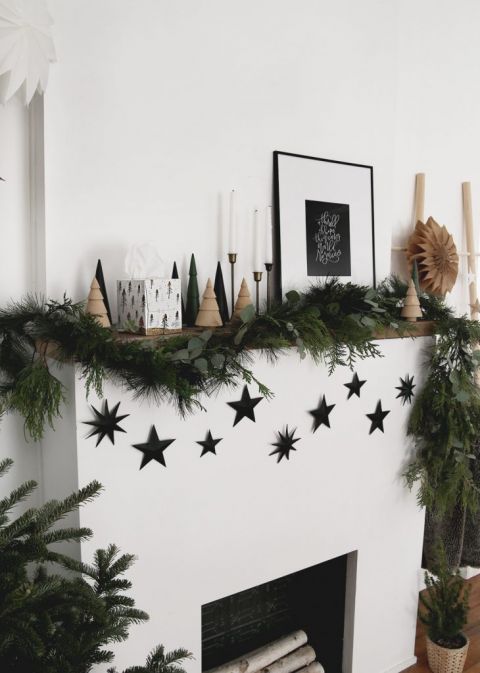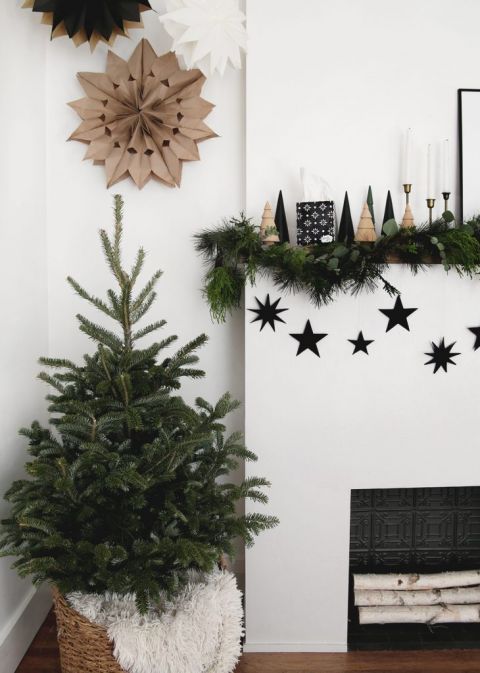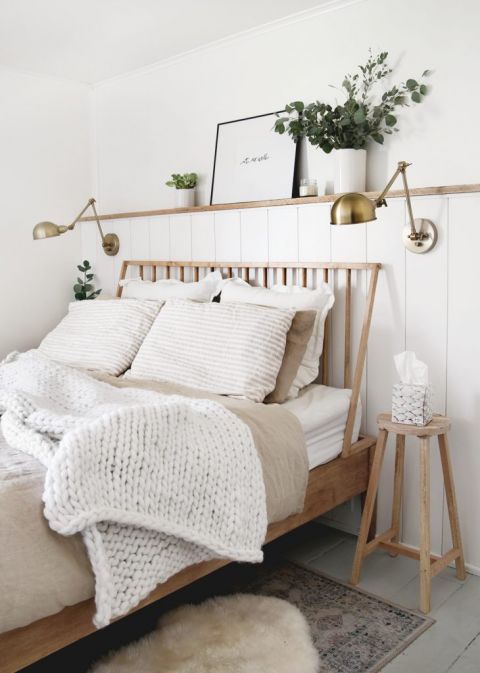 Sponsored by Scotties. All ideas, thoughts and opinions expressed are our own. Thanks for supporting the brands that keep us bringing fun, new content to you!