Soaking in a hot bath always seems like a good idea this time of year. Not only does it feel great on these cold winter days, but it can also be healing and nourishing for your skin when you add something like this lavender oatmeal bath soak! I wanted something to help make a soak in the tub a little more spa-like, and since I can't resist trying out a good beauty DIY, or a chance to make a pretty label 😉, I decided I needed to make my own bath soak recipe! This Lavender Oatmeal Bath Soak is very easy to make, inexpensive, and would make a fun DIY to do with some friends for Valentine's Day – make a crafternoon happen! And we've included a free printable label you can add to your jars!
These dry, cold winter days can be rough on your skin – the ingredients in this bath soak help to soothe and calm irritated skin. Oats help soothe dry, itchy skin. Lavender helps promote a feeling of calm and also can help reduce inflammation. The salts and baking soda in this help with aches and releasing toxins. There's quite a few essential oils that are good for your skin that you can add to this recipe and mix & match to your preference. I went with lavender, frankincense and sandalwood for this batch – there's a list below of oils that are good for your skin. You just want to make sure to add between 30-40 drops of whichever oil you choose.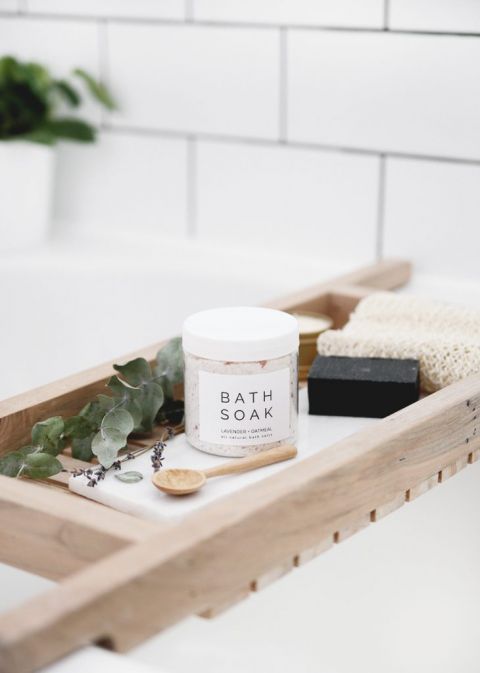 I always use Young Living essential oils – it's really important to use high quality oils on your skin! You can read more about that here. I'm big into mixing scents and always tend to lean more toward woodsy scents.
Essential Oils for your Skin:
Lavender – gentle, nourishing and soothing to skin
Frankincense – help maintain the appearance of radiant, smooth skin
Tea Tree – antibacterial and anti-inflammatory properties
Royal Hawaiian Sandalwood – helps give skin brighter, more youthful-appearance
Geranium (or Rose) – reduce inflammation and enhance the appearance of healthy-looking skin
Patchouli – has antiseptic, antibacterial, and anti-fungal properties
Chamomile – reduces inflammation
Northern Lights Black Spruce – improve the appearance of dry skin and help maintain the appearance of healthy-looking skin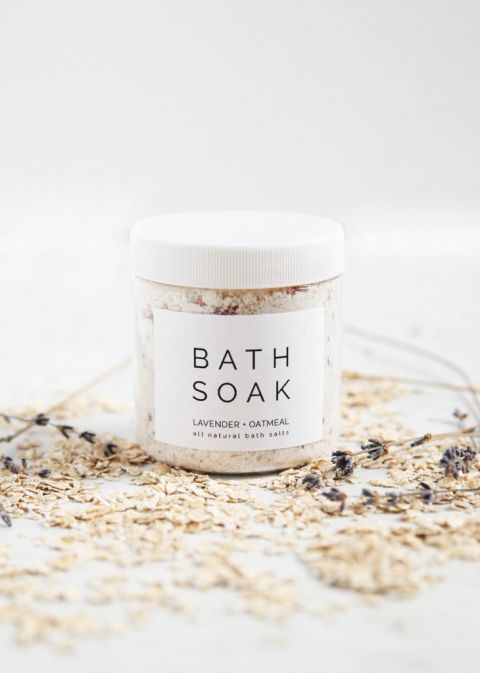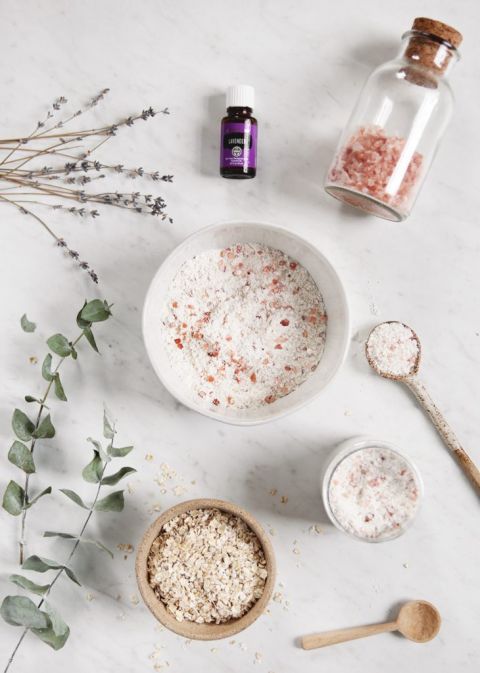 Lavender Oatmeal Bath Soak
1/2 cup Himalayan pink salt
Grind oats in a food processor or coffee grinder until it's a flour-like texture.
Pour the salts into a mixing bowl and add essential oils. Mix well. Add quick oats and baking soda and mix until combined. 
Store in jar and use about 1 cup of mixture per bath.
*You can mix & match essential oil combinations to your preference, see list above for oils good for your skin. Just make sure to use between 30-40 drops.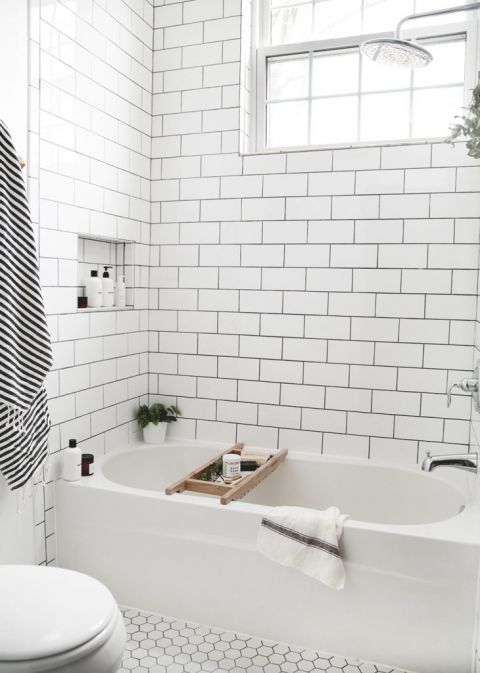 You can find more beauty related DIYs here. The bathroom details for the bathroom featured here can be found here. And you can find the DIY for the wood bath tub tray here.
-Manda