Well it was bound to happen in these crazy times. I'm down to my last few drops of hand sanitizer and stores around here are pretty much wiped out. So, back to what we always do – make our own! Thankfully something as needed as this right now is something I feel very comfortable making, after spending the last few years making my own cleaning supplies and beauty product DIYs. This DIY hand sanitizer spray is kind of a mix between those worlds – cleaning and beauty, not sure what category it really fits into. I've made everything from hand soap, to cleaning spray and wipes, to body butter, face wash, and hair spray. You can also find our DIY Disinfectant Cleaning Spray here.
This DIY Hand Sanitizer is very easy to make – it's only 3 ingredients, but can be made with just 2 if you leave out the essential oils! This homemade hand sanitizer uses rubbing alcohol (or isopropyl alcohol), vegetable glycerin and essential oils. The rubbing alcohol is what sanitizes. The glycerin (or you can substitute natural aloe vera gel if you'd like) is used to protect your hands from drying out too much from the alcohol. You can also follow up with a little hand lotion or cream (or body butter!) to help keep skin moisturized. The essential oils are not well, essential for this. 😉 They may help to boost antibacterial properties and add a nice scent – there's a list below of the best essential oils to use to help boost antimicrobial properties. 
Hand washing with soap and water is best! When that is an available option, choose that first! Hand sanitizer is for those times when soap and water is not available. The CDC recommends using a hand sanitizer with at least 60% alcohol, so it is EXTREMELY IMPORTANT that you pay attention to the isopropyl alcohol you are using and use the right percentage along with using the right ratio of other ingredients with it. The ratio used in this recipe is only good if you are using 91% isopropyl alcohol (or higher). You will need to adjust your ration if you are using anything different – go read more about that here. This recipe ends up being slightly over 60% alcohol, just to be safe since measuring can be slightly off and if you're adding essential oils or using glycerin/aloe vera that might contain a few other ingredients, this will keep your sanitizer in the "safe" zone still. 
And I'll add the disclaimer that this recipe has not been tested in a lab, we are not scientists or medical professionals, just DIYers that did a lot of research on this. 
The essential oils in this recipe may help boost the antibacterial properties of the spray as well as making it smell nice. It's important to use high quality oils though, or it might irritate your skin (I use Young Living, you can read more about that here). The list below includes oils that may help boost the antibacterial properties of the spray.
Antimicrobial Essential Oils: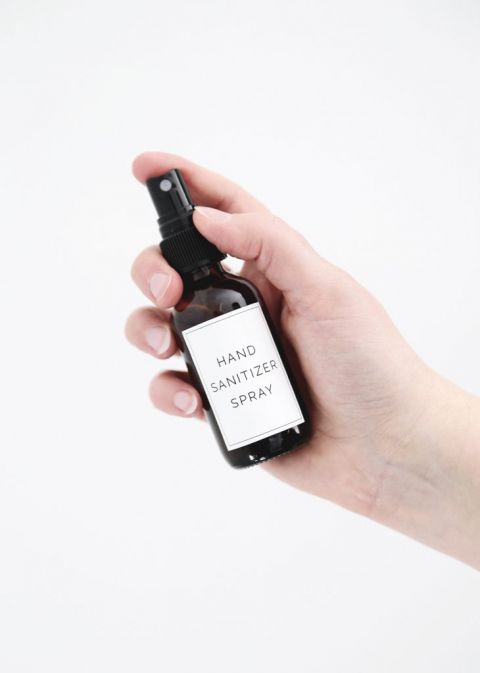 Supplies:
20 drops essential oil, optional (see list above for good ones to use)
Directions: Watch the video below to see how easy it is to make. Add ingredients to a bowl and whisk together. Pour into bottles. Let sit for a minimum of 72 hours so the sanitizer has time to kill any bacteria that might have been introduced during the mixing process.
And just like washing your hands, be sure to rub hands together vigorously after applying hand sanitizer, for 30 seconds, making sure to completely cover hands!
*UPDATE: a reader let us know that there is a different ratio suggested to use for healthcare providers in healthcare settings (as opposed to usage in community settings), which is at least 70% alcohol in the final product. So if you'd like to do that use: 1 cup of 91% isopropyl alcohol and 1/4 cup glycerin (same amount of essential oils if using those). You can find that article here.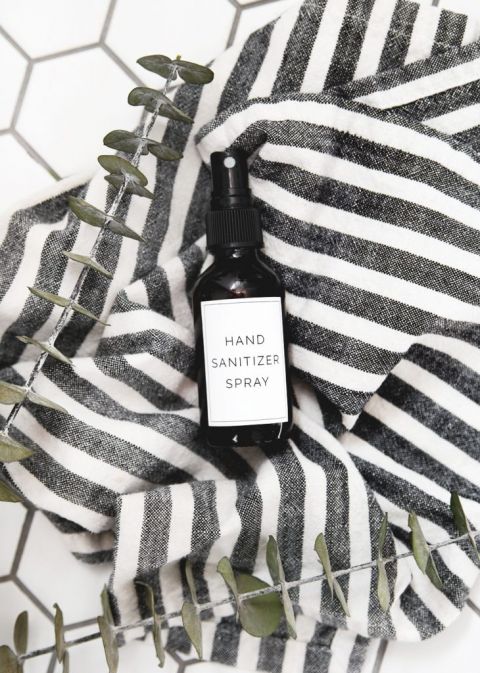 -Manda