So we're back to running out of supplies again around our area…including most cleaning supplies! 🥴 So many of you have been interested in the DIY Hand Sanitizer Spray we shared a few months ago and so we're sharing the surface cleaner companion to that. I will say that I personally have been using my Thieves Household Cleaner for years and really like that. It's an all natural, plant based cleaner and something I feel comfortable using around my kids. So many cleaners are filled with chemicals that I just don't want to be in my house. (And yikes, after all the hand sanitizers that have been recalled recently, it just seems so iffy to be trusting some companies to be using safe ingredients!). I've also shared a homemade natural cleaning spray using simple ingredients that does an excellent job cleaning. That being said, I know there's times when people need or want an actual disinfectant, especially over the last few months and aren't able to find any at the stores right now. So this spray is for those looking for a disinfectant spray that's easy and quick to make with only a few simple ingredients.
This homemade disinfectant spray uses rubbing alcohol (or isopropyl alcohol), distilled water, hydrogen peroxide and essential oils. The rubbing alcohol and peroxide are what disinfectant. For disinfecting surfaces, the CDC recommends to use alcohol solutions with at least 70% alcohol. The CDC states that hydrogen peroxide is a stable and effective disinfectant for surfaces. (If you can only find 70% isopropyl alcohol, then just use that in your spray bottle with the peroxide and essential oils (without the water). The amount of essential oils being used aren't enough to dilute it and will help with the smell, as well as may help to boost the antibacterial properties).
I've also included some printable labels for your spray bottle, find those below! There's one for a 16 ounce spray bottle and one for a 2 ounce spray bottle. The small spray bottles are nice for carrying around with you to use on the go!
I'll once again add the disclaimer that this recipe has not been tested in a lab, we are not scientists or medical professionals, just DIYers that did a lot of research on this. Also, the best thing to do is continue to wash your hands with soap and water and wear a mask when you're out in public! And keep working on building up a healthy immune system by eating right, taking your vitamins and getting exercise! 
Just like with the DIY hand sanitizer spray, this disinfectant spray uses essential oils, which as I said before, aren't necessarily essential for this. They may help to boost antibacterial properties and add a nice scent – I always use essential oils in my homemade cleaning and beauty products! I used Thieves and Orange in my spray! It's important to use high quality oils though, or it might irritate your skin (I use Young Living, you can read more about that here). The list below includes oils that may help boost the antibacterial properties of the spray.
Antimicrobial Essential Oils:
Thieves
Tea Tree
Eucalyptus
Peppermint 
Lemongrass
Orange
Lavender
Cinnamon Bark
Thyme
Clove
Rosemary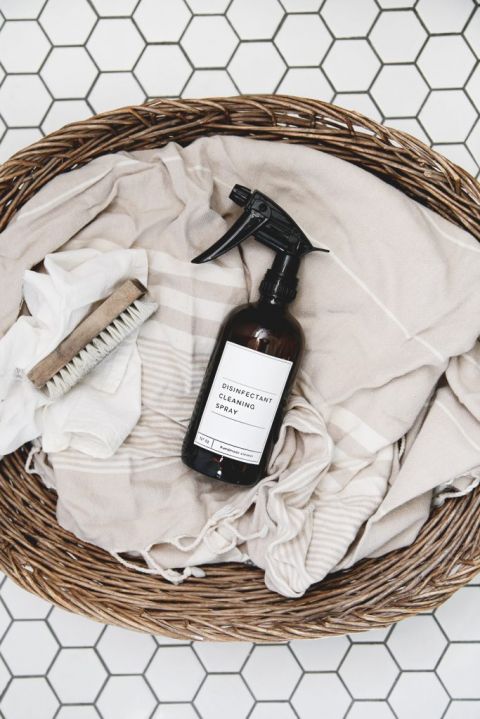 Supplies:
Directions:
Add ingredients to a bowl or large measuring glass. Stir until well mixed. Pour into spray bottle. I like to give my spray bottle a gentle shake before each use. Spray on surface (doorknobs, counters, steering wheels, etc), let sit for a minute and wipe clean with a cloth or paper towel. 
The recipe above is for a 16 ounce spray bottle, so if you using smaller spray bottles, you'll have enough to fill a few!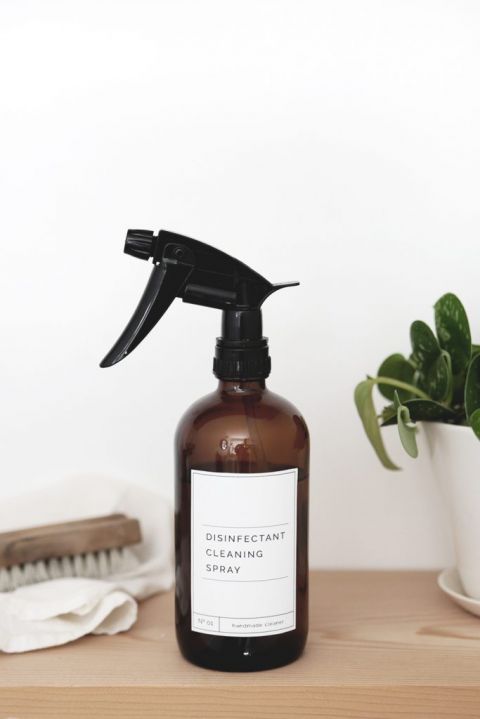 If you're into making your own cleaning products, check out our DIY Hand Sanitizer Spray, DIY Natural Cleaning Wipes, Homemade Natural Cleaning Spray and DIY Foaming Hand Soap. Our DIY beauty products can be found here.
-Manda