Confession: I made this dried orange wreath last year! I still have all my fall decor and pumpkins sitting around. The good news is, I can tell you that the wreath made it through a whole year of storage just fine! I'm starting to get the urge to start adding some Christmas decor after editing this post. We'll see if any appears before Thanksgiving or not!
Every year I end up making some dried orange slices around the holidays. It's just such a nice tradition. Last year, I still had lots of dried orange garlands from previous years (yes, you can store your garlands, and this wreath, from year to year! The oranges will get a bit darker). So besides decorating a cake with some, I decided I would make a wreath with them!
This dried orange wreath is incredibly easy to make. You just need a couple supplies and a little bit of time. They even sell dried orange slices for those that don't want to take the time to do that.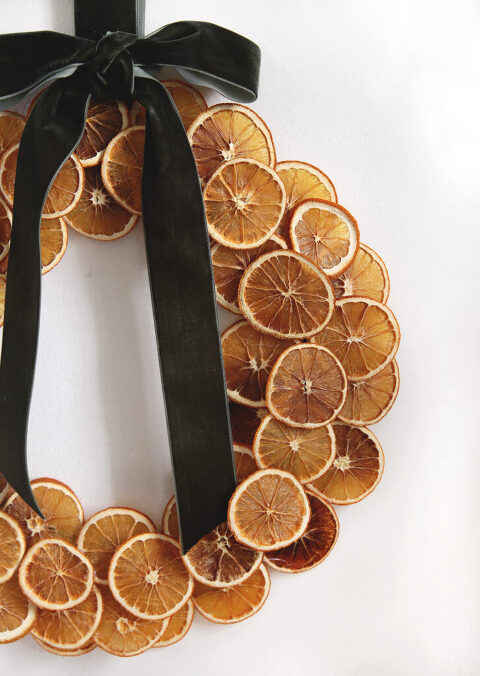 Supplies for Dried Orange Wreath:
Directions:
Watch the video or see the steps below:
Add hot glue to one side of a dried orange slice, and place the orange on the wreath form. Continue until the wreath form is covered. Layer up the orange slices as desired, to get the look you want. 
Once your wreath form is covered, slowly lift it up and make sure all of the orange slices are secure. You may need to re-glue some. 
To add the ribbon, gently turn the wreath over and add a loop, making sure to secure it to the wreath form. 
Turn the wreath back over and tie a bow with the ribbon.
Glue the bow to the ribbon loop.