We've got three Christmas cake ideas for you to transform a plain store bought cake into a beautiful holiday dessert! Let's be real, the holiday season can feel quite overwhelming sometimes with the amount of gatherings, errands, food to make and gifts to buy. We are definitely all about making delicious food and drinks, but sometimes you need to give yourself a break and take some shortcuts where you can. So if you're needing a holiday dessert, but don't want to spend the time baking a cake, then these Christmas cake ideas are for you!
In the picture below, you can see the plain store bought cake we started with (it's the mini ultimate white cake from Wegmans, and it tastes amazing, so you're not skimping on taste!). Each of these ideas are simple, especially if you plan to make dried oranges and/or sugared cranberries – which you definitely should for the holidays. (And both of those can be made ahead). If you're looking for something really simple, the rosemary tree cake is definitely the easiest/quickest to pull off.
Rosemary Trees Christmas Cake
What you need:
plain frosted cake
fresh rosemary
powdered sugar
Cut the rosemary stems to size. I trimmed a bit off the top and then pulled some leaves off near the bottom to create a "trunk" that could be stuck down into the cake. Dust trees and top of cake with powdered sugar.
Sugared Cranberries Cake
Supplies:
plain frosted cake
rosemary stems, optional, as extra garnish around cake
Make sugared cranberries. Top cake with sugared cranberries. Place rosemary stems and more sugared cranberries around base of cake.
Dried Orange Cake
Supplies:
plain frosted cake
rosemary leaves, optional, as extra garnish for cake
Make dried orange slices. Garnish cake with dried orange slices (you can cut slices in half if needed). Add rosemary leaves around slices.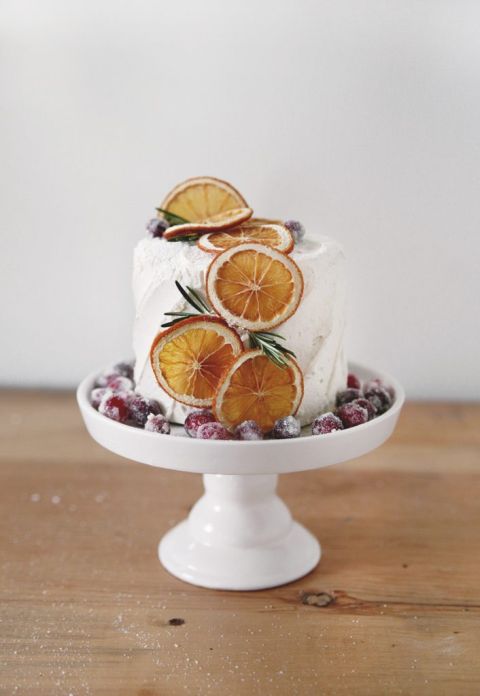 Or maybe a combination of all three – dried orange slices, sugared cranberries and rosemary might be the way to go! I may have started having too much fun playing around with decorating the cake! 😉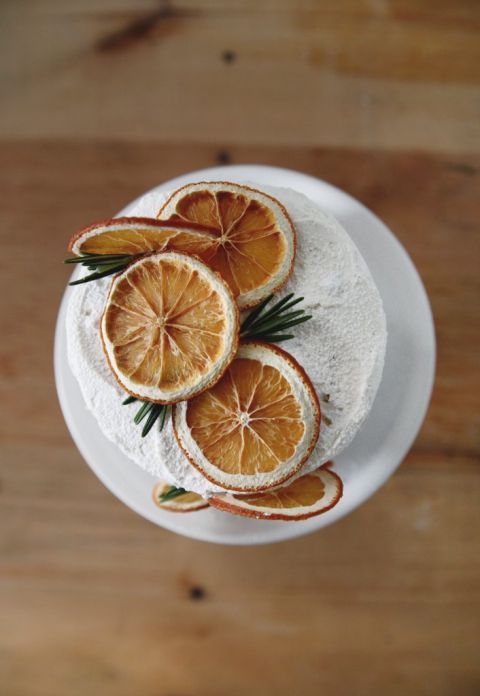 Which Christmas cake idea is your favorite? You can find more holiday decor, DIYs and recipe inspiration here.
-Manda