Last week, I shared how to make hot honey with the promise of a delicious appetizer to use it with. So today's post is that delicious appetizer – whipped feta with hot honey! If you've been a follower for a while, you know that whipped feta has been one of my favorites for years. Knowing how much I love it, my sister made this appetizer for my 40th birthday party, and I haven't stopped thinking about it since. So I'm sharing this for you to enjoy, and for it to be in my online recipe box…this blog – haha!
If you've never had whipped feta before, put it on your to-make list immediately. It's perfection. Smooth, creamy, a little salty and a little tangy. It's great for appetizers, it pairs well with sweet or savory. Since I love a good spicy kick in my food, topping the whipped feta with hot honey makes for an amazing combination of sweet, spicy and salty. And of course, we enjoyed it with crostini – because when don't we try and make something into a crostini appetizer?! 😉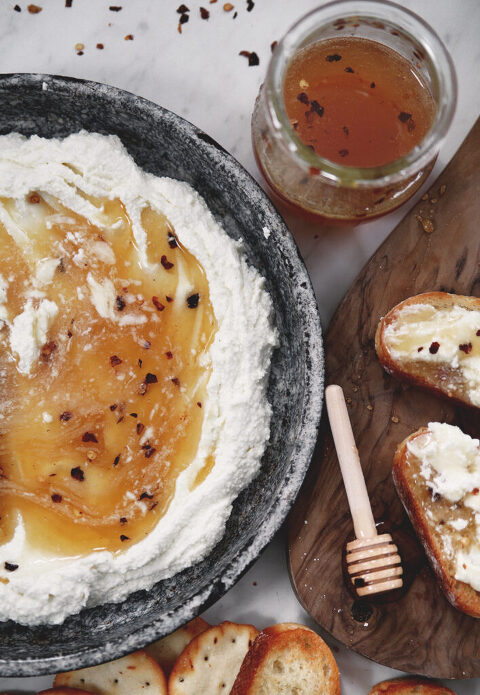 How to Make Whipped Feta with Hot Honey
I love that this appetizer dip is so easy to make. And it's one you can make ahead! Start by making the hot honey. You'll just need honey, red pepper flakes and vinegar. Add your ingredients to a saucepan, heat it up, and let it cool.
For the whipped feta, you just need feta, cream cheese, olive and salt and pepper. Whip together in a food processor for a few minutes, and it's done.
Find the measurements and details in the recipe boxes below!
Whipped Feta with Hot Honey
Smooth and creamy whipped feta topped with hot honey.
Ingredients
6

ounces

crumbled feta

2

ounces

cream cheese, softened

2 

tablespoons

 olive oil

fresh ground salt & pepper to taste

hot honey (recipe below)

crostini, pita, crackers, veggies for dipping
Instructions
Whipped Feta
In a food processor, whip together feta, cream cheese, olive oil and salt & pepper.

Blend until smooth and creamy (drizzle in more olive oil if you'd like a creamier consistency), about 3-5 minutes, scraping the sides of the bowl as needed.
Dip
Spread whipped feta in pie plate or on a large platter.

Top with hot honey. The amount of hot honey to use is to your liking, the more honey, the sweeter the dip.

Serve with crostini, pita, crackers or veggies.
Recipe Notes
Both the hot honey and whipped feta can be made ahead of time. Store whipped feta in the refrigerator, take out about 30 minutes to one hour before using, so it softens enough to spread.
Hot Honey
Hot honey is honey infused with red pepper flakes and is the perfect blend of spicy & sweet!
Ingredients
1/2

cup

honey

2

teaspoons

crushed red pepper flakes

1

teaspoon

apple cider vinegar (optional)*
Instructions
Stir together honey and red pepper flakes in a small saucepan over medium heat.

Heat to just a simmer, stirring occasionally. Make sure it doesn't boil at all.

Remove honey mixture from heat and stir in vinegar. Cool.

You can leave in the red pepper flakes or strain them out. Leaving the red pepper flakes in will make the honey spicier over time.
Recipe Notes
*the apple cider vinegar is not necessary, it adds a bit of tanginess to the honey. You could do a couple of dashes of hot sauce instead of (or in addition to) the vinegar.  
Sources: