Not that I ever need an excuse to eat tacos – but every Tuesday I end up seeing someone on social media posting about eating tacos. And once I get a craving, I'm just never satisfied until I go get whatever it is. Half the time that ends up with me at Taco Bell because I don't want to cook. BUT I made these sweet potato tacos with avocado crema a couple weeks ago and they are so good!! So even if Tuesdays aren't a good enough reason for you to celebrate with tacos, Cinco de Mayo is right around the corner! So you need to save this recipe and make it for that!
I used Manda's recipe for sweet potato fries because they're my favorite and the flavor is just so good! But if you've never tried them, they're one of my favorite things to throw in the air fryer for a late night snack!
Sweet Potato Tacos with Avocado Crema Ingredients:
2 large sweet potatoes
1/3 red cabbage
queso fresco or cotija
fresh cilantro
lime wedges
tortillas
1 avocado
1/2 cup sour cream
2 large garlic cloves, minced
juice of one lime
1/4 cup fresh cilantro
1/2 large jalapeno
salt and pepper, to taste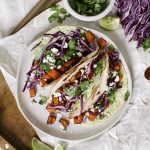 Sweet Potato Tacos served with Avocado Crema
Course:
Lunch, Main Course
Ingredients
Sweet Potato Taco
2

large sweet potatoes

1/3

red cabbage

queso fresco or cotija

fresh cilantro

lime wedges

tortillas

avocado crema
Avocado Crema
1

avocado

1/2

cup

sour cream

2

large garlic cloves, minced

juice of one lime

1/4

cup

fresh cilantro

1/2

large jalapeno

salt and pepper, to taste
Instructions
Sweet Potato Taco
Dice and roast sweet potatoes (check out our sweet potato fry recipe! but try it in the air fryer – it's so quick!)

Cut red cabbage into thin slices.

Heat up tortilla in pan over medium-low heat.

Spread avocado creama, add sweet potatoes, red cabbage, cilantro, cheese, and cilantro.

Squeeze lime over taco and serve immediately.
Avocado Crema
Add all ingredients to a food processor and blend until smooth.