So these sweet potato fries…one of my favorite side dishes. Ever. And I don't even have to feel guilty about eating them because they're healthy! The dip might skew that
good-for-you
factor a bit – but hey, you can always skip that if you're being good! I'm usually not! 😉 I prefer these over regular fried sweet potatoes fries, which is saying a lot because I love me some nice crispy fries! But the flavor of these is so delicious and I feel like frying sweet potatoes takes away from that flavor. And of course, with my love of dips, they're even better when dipped in this spicy ranch! My boys prefer to dip theirs in honey, so that's always an option too! Whatever you choose – just bake some of these up soon! And if you need more reason – your house will smell amazing while these bake! Healthy, delicious, a yummy dip, smells great…really, why aren't you making these already?!!
Baked Sweet Potato Fries
2 medium sweet potatoes
2 tablespoons olive oil
1/2 teaspoon salt
1/2 teaspoon paprika
1/4 teaspoon cinnamon
3/4 teaspoon cornstarch
Directions
Preheat oven to 425ºF. Line a baking sheet with aluminum foil and spray very lightly with cooking spray.
Peel sweet potatoes and cut into matchsticks. Place the sweet potatoes into a gallon size ziploc bag. Add cornstarch, zip up the bag, and shake it around to coat the fries. Open the bag and add oil, salt, paprika, and cinnamon (adjust any of the seasonings to your liking – but don't add to much oil, you want them very lightly coated). Zip up the bag again and shake well to thoroughly coat the fries. Spread the potatoes out onto the baking sheet in a single layer and make sure your fries don't overlap. Cook for 30 minutes, turning every 10 minutes, until slightly browned. Serve warm with spicy ranch dip or honey.
Spicy Ranch Dip
3 tablespoons mayonnaise
3 tablespoons sour cream
1/2 teaspoon ranch dressing/dip dry mix
1/4 teaspoon red pepper (I always add a little bit more than this…I like it spicy!)
a couple dashes hot sauce (I use Frank's Red Hot)
Directions
Stir together all ingredients until combined. Store covered in the refrigerator.
Fries adapted from Sarah's Cucina Bella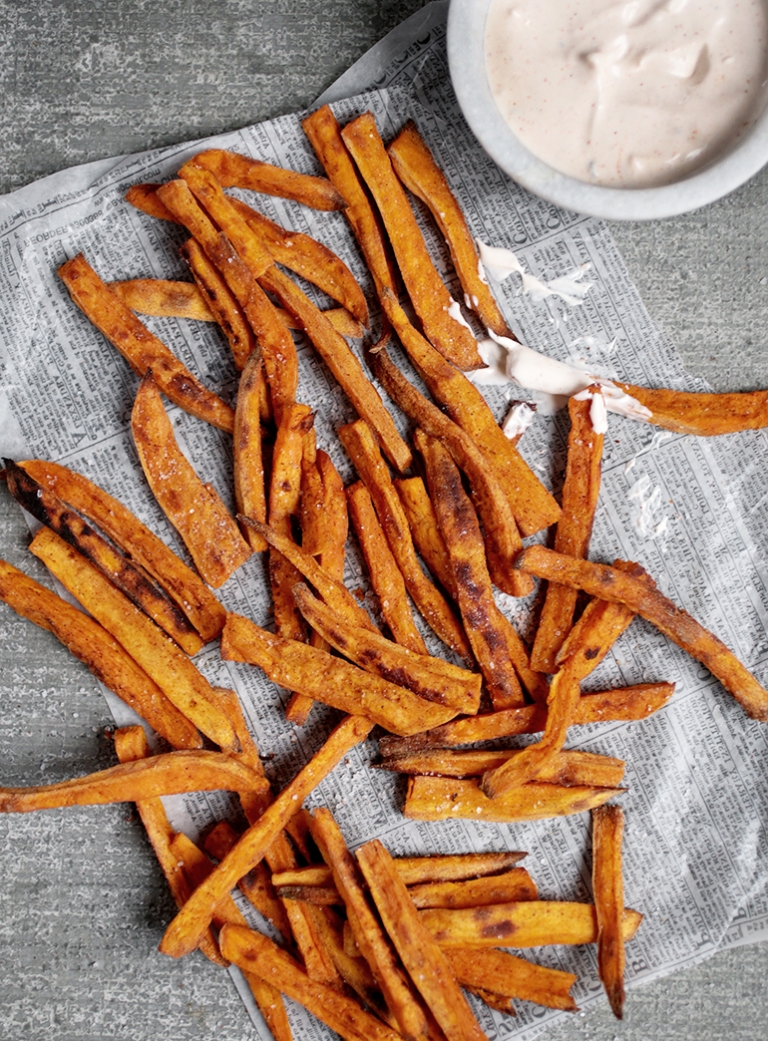 If you're a sweet potato lover here's a couple other recipes you might want to give a try: Sweet Potato and Black Bean Quinoa Bowl or Roasted Sweet Potato and Coconut Curry.
-Manda