Strawberry rhubarb cupcakes are the perfect dessert for spring and summer! They have a fresh strawberry cupcake base, are filled with a strawberry rhubarb compote, and are topped with a whipped fresh strawberry buttercream frosting.
We recently celebrated my mom's 70th birthday. Hard to believe she's hit that milestone, and no one really does believe she's that age when they see her! We threw a small party for her and our food theme was lots of fruit, veggies and herbs; all things she loves. While discussing dessert options with my little sister, this idea to make strawberry rhubarb cupcakes popped into my head, and so of course it had to be done.
I based this recipe off my fresh strawberry layer cake, that always gets rave reviews. I filled them with a strawberry rhubarb compote and topped them with fresh strawberry whipped buttercream. For any strawberry rhubarb lovers out there, these cupcakes are a must have! They were loved by all.
What is compote?
Compote is fresh (or frozen) cut up fruit cooked with sugar on the stove. It cooks down and thickens slightly into a sauce. It can be used on ice cream, yogurt, waffles, oatmeal, or in cupcakes.
When I made the strawberry rhubarb compote, I wanted the rhubarb flavor to stand out a little more, so there's more rhubarb than strawberries in it. You could also just do a rhubarb compote if you're a rhubarb lover. I know a lot of people don't love rhubarb the way I do, so I decided to temper it a bit with some strawberries.
You also may need to adjust the sugar level of the compote, depending on the sweetness of your strawberries. I found a little less than half a cup worked well.
The compote can be made ahead and stored in the refrigerator until ready to use.
Whipped Strawberry Buttercream
Whipped buttercream is my favorite frosting! It's fluffy and creamy and easy to make. It's lighter, and a bit less sweet, than traditional buttercream. I think whipped buttercream is similar to swiss meringue buttercream, but so much easier to make! I love swiss meringue buttercream, but man, it can be hard for it to come together sometimes.
The key is to really whip the frosting, not add too much powdered sugar (it will become too sweet), and add as much fresh strawberry puree as you can without making the buttercream too thin.
Strawberry Puree
For the strawberry puree, I originally just removed the stems from the strawberries, roughly chopped them, and then pureed them until smooth with a blender. I used the puree in the cake batter and frosting, just like that, no other steps. This works fine, I've done it numerous times, so it's fine to just make and use the puree like this.
Recently though, I started cooking down the strawberries a bit, just to get a slightly thicker sauce. I just put the chopped strawberries in a saucepan over medium low heat and stir constantly. Once they start to break down a bit, I use an immersion blender to puree them until smooth. Once the sauce has thickened some, I remove from heat, let it cool, and use it like that.
I do feel like using the cooked down puree adds a bit more strawberry flavor, especially with the frosting. You're able to add a little more without it making the frosting too thin. The strawberry puree is also something you could make ahead.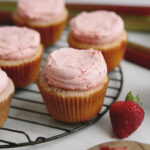 Strawberry Rhubarb Cupcakes
Fresh strawberry cupcakes, filled with a strawberry rhubarb compote, and topped with a whipped fresh strawberry buttercream frosting.
Servings
:
30
cupcakes, approximately
Ingredients
Strawberry Rhubarb Compote:
2

cups

rhubarb, cut into small pieces

1

cup

strawberries, stems removed and roughly chopped

7

tablespoons

granulated sugar

2

teaspoons

pure vanilla extract
Strawberry Cupcakes:
5

large

egg whites, at room temperature

1/2

cup

whole milk, at room temperature

1-1/2 

teaspoons

pure vanilla extract

2-1/2

cups

cake flour

1-3/4

cups

granulated sugar

1 tablespoon

+ 1 teaspoon

baking powder

3/4

teaspoon

salt

12

tablespoons

unsalted butter, at room temperature and cut into cubes

1/4

cup

strawberry puree made from fresh strawberries*, room temperature
Whipped Strawberry Buttercream:
3 sticks

(24 tablespoons)

unsalted butter, room temperature

3

cups

powdered sugar

1/2

teaspoon

pure vanilla extract

5

tablespoons

strawberry puree, room temperature
Instructions
For the strawberry rhubarb compote:
The compote can be made ahead and stored in the refrigerator until ready to use.

Combine all ingredients in medium saucepan over medium low heat.

Heat, stirring occasionally until the fruit softens and is beginning to break down.

Increase the heat to medium. Continue to cook, stirring often, until the mixture reaches a light boil. Reduce heat back down to medium low.

Allow to simmer for another 10 minutes or so, until the mixture has reduced and juices become thick. (Cook it longer for thicker sauce).

Remove from heat and let cool. 
For the cupcakes:
Line cupcake pans with paper liners. (I get about 30 cupcakes from this recipe).

In a large measuring glass or small bowl, combine egg whites, 1/4 cup of the milk and vanilla extract; set aside.

In the bowl of an electric mixer, stir together cake flour, sugar, baking powder and salt, on low for about 30 seconds.

Add butter, keeping mixer on low speed and adding one cube at a time.

Add remaining 1/4 cup of milk and strawberry puree and blend on medium speed until butter is mixed in.

Add the egg white/milk/vanilla mixture a little at a time (divide it into about 3 additions), mixing well at medium speed for about 20 seconds after each addition. (Batter should be smooth, but don't over mix!)

Fill liners with batter. Each liner should be a little over half full.

Bake about 16-18 minutes, rotating position of pans halfway through, or until a toothpick inserted in center of cupcake comes out clean.

Allow to cool in pans for about 10 minutes.

Remove cupcakes from pans and set on wire rack to cool completely.
For the whipped buttercream:
In the bowl of an electric mixer, beat butter on medium speed for 8 minutes. Butter will become very pale and creamy.

Add powdered sugar, a little at a time, mixing after each addition.

Add vanilla extract and strawberry puree, mix on low until combined. Then turn mixer up to medium and beat for 6 minutes. Frosting will become very light & fluffy.

You can add a little more powdered sugar or a little more pureed strawberries to thicken/thin the frosting if necessary. Be very careful about adding in too much strawberry puree, a little at a time is best.
To assemble cupcakes:
Cut a small round piece out of the tops of each cooled cupcake and pour in 1 teaspoon of cooled strawberry rhubarb compote. Replace the cake piece and set cupcakes aside. (I use a cupcake corer to cut out the center of the cupcakes).
Recipe Notes
*To puree strawberries: place washed strawberries (with stems removed) in food processor and puree until smooth. You can also cook down the strawberries to thicken the puree. Read more details in the blog post. 
If you love strawberries, be sure to try this Fresh Strawberry Layer Cake. And this Rhubarb Cake with Vanilla Sauce is a must have during rhubarb season!
-Manda