In our family, it's kind of become my thing to make the cakes for birthdays. Mostly because I love baking. And cakes. 😉 We're birthday heavy May-June in our family, so I'm pretty much baking a cake every weekend for almost 2 months straight! I've gotten pretty good at traveling to parties balancing a cake on my lap. A couple years ago, my nephew told my sister that he wanted the "baker" to make him a superhero cake. She asked him who he meant by the "baker" and he said the person who made the cakes for our parties. When she asked him if he meant Auntie Manda, he just kind of shrugged, like sure, if that's who's doing it. So apparently, I'm also good at sneaking the cakes into the party, because my nephew didn't even realize it was me making the cakes – ha!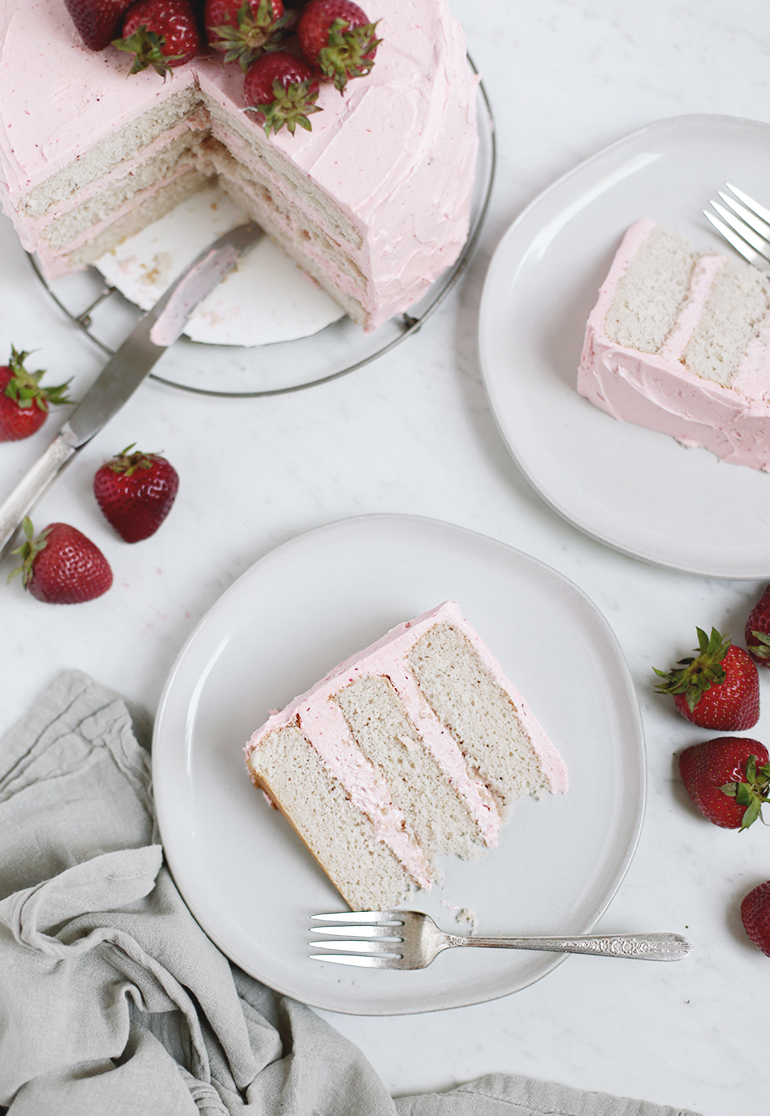 This strawberry cake has become a favorite in our family, and I've got to admit, it's one of my favorites and I'm happy whenever someone requests this. I adapted the recipe from one of my favorite
vanilla cakes
, and for years I didn't bother to write down the changes I would make, and then would have to try and remember what I did every time I made it. Finally, I took the time to write it out while I was making it and now am adding it to my recipe box…the blog.
My goal with this cake was to use only fresh strawberries as the strawberry flavor addition. I didn't want to use anything different that I wouldn't have on hand (like freeze dried strawberries or strawberry jello). I also didn't want a lot of extra work or steps beyond just pureeing the strawberries, so there's no cooking down the strawberries or anything like that. It's just a simple, pure strawberry cake. The cake part is a good mix of strawberry-vanilla cake, not overly strong in strawberry flavor, just enough to notice (that's also why it's not very pink). The frosting is the true gem of this cake though. It's fluffy and creamy and the strawberry flavor is just perfect! Seriously, it's hard to resist just eating this frosting by the spoonful. The key is to really whip the frosting, not add too much powdered sugar (it will become too sweet), and add as much fresh strawberry puree as you can without making the buttercream too thin. And after a few years of playing around with this recipe, I think it's finally just right!
Strawberry Cake with Whipped Strawberry Buttercream Frosting
Ingredients
For the cake:
5

large egg whites,

at room temperature

1/2

cup

whole milk,

at room temperature

1-1/2

teaspoons

pure vanilla extract

2-1/2

cups

cake flour

1-3/4

cups

sugar

1

tablespoon

+ 1 teaspoon baking powder

3/4

teaspoon

salt

12

tablespoons

unsalted butter,

at room temperature and cut into cubes

1/4

cup

strawberry puree made from fresh strawberries*,

room temperature
For the frosting:
3

sticks

(24 tablespoons) unsalted butter,

room temperature

3-1/4 - 3-1/2

cups

powdered sugar

(keep it as close to 3 cups as possible)

1/2

teaspoon

pure vanilla extract

5

tablespoons

strawberry puree,

room temperature
Instructions
For the cake:
Preheat oven to 350ºF. Grease and flour three 8-inch cake pans (or use

Cake Release

).

In a large measuring glass or small bowl, combine egg whites, 1/4 cup of the milk and vanilla extract; set aside.

In the bowl of an electric mixer, stir together cake flour, sugar, baking powder and salt, on low for about 30 seconds.

Add butter, keeping mixer on low speed and adding one cube at a time.

Add remaining 1/4 cup of milk and strawberry puree and blend on medium speed until butter is mixed in.

Add the egg white/milk/vanilla mixture a little at a time (divide it into about 3 additions), mixing well at medium speed for about 20 seconds after each addition. (Batter should be smooth, but don't over mix!)

Divide batter evenly between 3 prepared pans.

Bake about 20 minutes, rotating position of pans halfway through, or until a toothpick inserted in center of cakes comes out clean. Allow to cool in pans for 10 minutes. Loosen edges of cakes with a knife and invert onto cooling racks. Flip cake layers back up (so tops are up) and allow to cool completely.
For the frosting:
In the bowl of an electric mixer, beat butter on medium speed for 8 minutes. Butter will become very pale and creamy.

Add powdered sugar, a little at a time, mixing after each addition.

Add vanilla extract and strawberry puree, mix on low until combined. Then turn mixer up to medium and beat for 6 minutes. Frosting will become very light & fluffy. (You can add a little more powdered sugar or a little more pureed strawberries to thicken/thin the frosting if necessary. Be very careful about adding in too much strawberry puree, a little at a time is best).
Recipe Notes
*To puree strawberries: place washed strawberries (with stems removed) in food processor and puree until smooth.
To assemble cake: Place one cake layer on a cake plate/stand. Add a generous dollop of frosting and smooth over layer. Place second cake layer on top of the frosting, and a generous dollop of frosting and smoother over cake layer. Place the third cake layer (placing the layer on upside down will give you a "flat top") on top of the frosting, add generous dollop of frosting and smooth a thin layer on top and down sides of cake (crumb coat). Place cake in refrigerator to chill, just until the frosting is set about 20 minutes. Add remaining frosting to cake, smoothing top and down sides of cake.

Recipe adapted from Sweetapolita.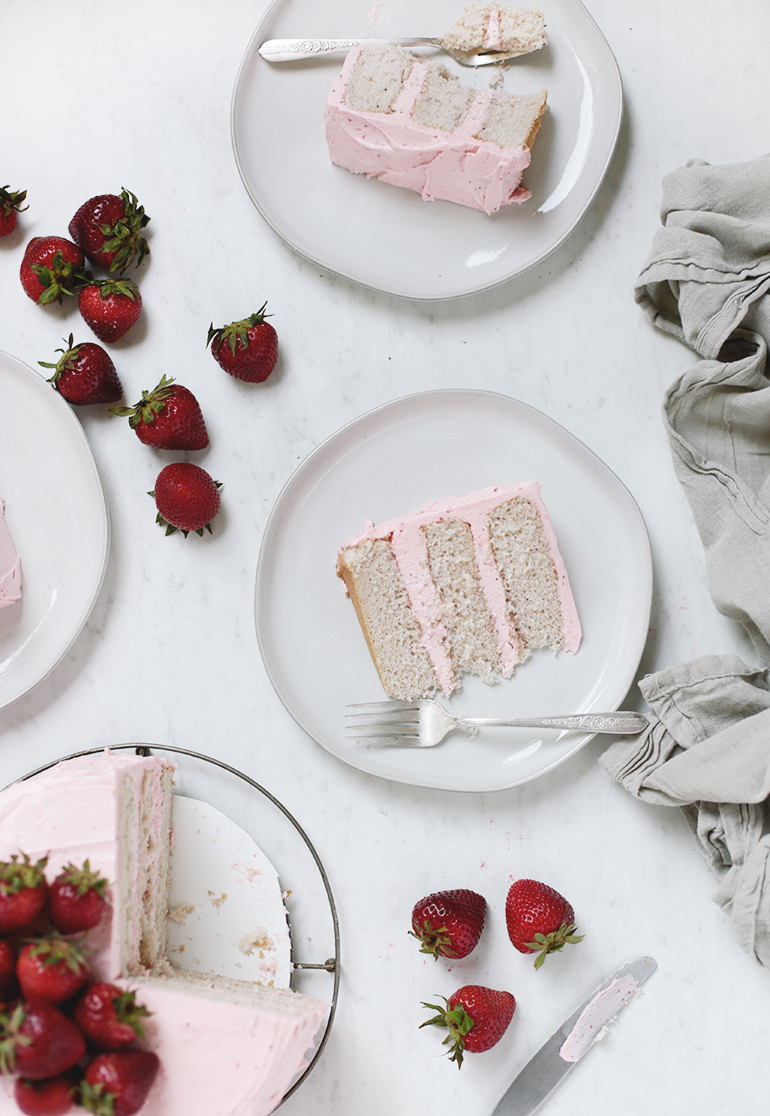 -Manda