Muddy buddies (or puppy chow) snack mix is a favorite treat in our house. We often make it for birthday parties. This past May, Levi requested a s'mores cake for his birthday (which I was told was one of the best cakes I've ever made, so I'm hoping I can remember what I did and recreate that to share the recipe here!). I've seen a lot of variations of s'mores muddy buddies on Pinterest, and I thought it would be fun to try instead of the classic muddy buddies to go along with the s'mores cake! The family loved it, so I thought we'd share our take on it.
It's not a surprise we loved it – we love s'mores around here! We've shared so many s'mores inspired recipes over the years and even had a s'mores party one summer. I can't believe it actually took us so long to get around to combing two of our favorite desserts. These s'mores muddy buddies are especially fun for summer parties!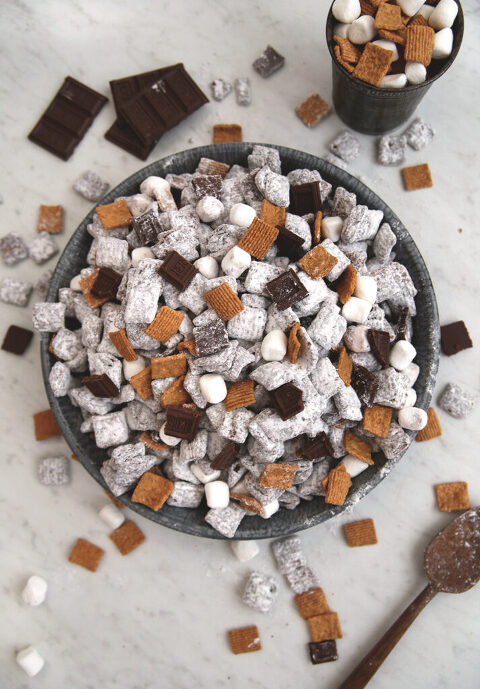 Muddy Buddies or Puppy Chow?
So what do you usually call this dessert, muddy buddies or puppy chow? We've always referred to it as puppy chow in our family. Since Chex calls it muddy buddies, I went with that for the official blog post name. But if you come to a party here, you're getting puppy chow! 😉
What's in S'mores Muddy Buddies:
Golden Grahams cereal
Chex cereal (rice or corn)
semi sweet chocolate chips
creamy peanut butter
butter
vanilla extract
powdered sugar
mini marshmallows
Hershey bars
See the full recipe down below…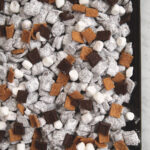 S'mores Muddy Buddies
Chocolate, peanut butter, powdered sugar with golden grahams, marshmallows and Hershey bars added in! A delicious, no bake snack mix!
Ingredients
5

cups

Golden Grahams cereal, divided

4

cups

Chex cereal (rice or corn)

1

cup

semi sweet chocolate chips

1/2

cup

creamy peanut butter

1/4

cup

salted butter

1

teaspoon

vanilla extract

2

cups

powdered sugar

1-1/2

cups

mini marshmallows, divided

3/4

cup

broken Hershey bars
You'll Also Need:
2

gallon size ziploc bags

wax paper
Instructions
In a large bowl, combine 4 cups Golden Grahams cereal and 4 cups Chex cereal. Stir to mix.

In a medium microwave safe bowl, microwave chocolate chips, peanut butter and butter. Microwave on high for one minute, stir until smooth and chips are completely melted.

Pour chocolate peanut butter mixture over cereal. Stir until all cereal are coated with the mixture.

Pour half of coated cereal mixture into a gallon ziploc bag. Pour the other half of the cereal mixture into the second gallon ziploc bag. Add 1 cup of powdered sugar into each bag and 1/2 cup mini marshmallows into each bag. Close bags and shake until cereal and marshmallows are coated with powdered sugar.

Spread mixture on wax paper to cool. Add remaining 1 cup golden grahams, 1/2 cup mini marshmallows, and broken Hershey Bars. 

Once mixture has cooled, pour into large bowl and serve.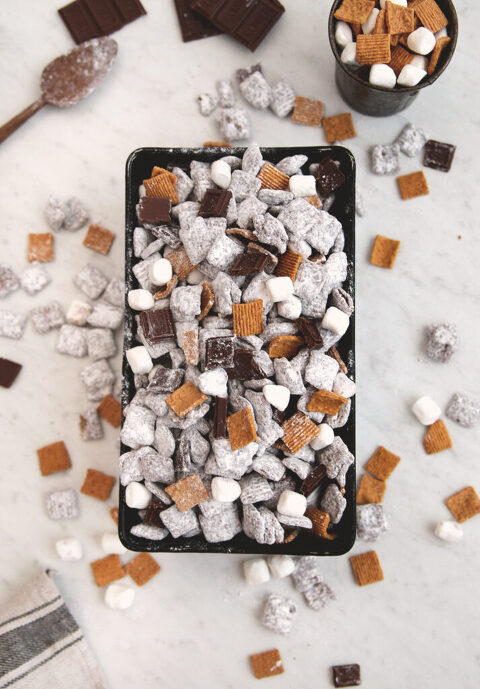 If you love s'mores desserts, check out our S'mores Treats recipe and our Peanut Butter S'mores Skillet Cookie recipe!
-Manda