This bread bowl dip is another one of our party must-haves.  I usually try to include this on all of my party menus because it's one of my absolute favs.  And, I usually bring it as an appetizer at holiday get togethers whenever I can.  I've never met a person that doesn't like it (if you don't, please introduce yourself, it'll be a first for me!); it's always a big hit at any party or get together.
I know that some stores sell containers of this dip already made that you can buy and then your only chore would be cutting bread (and if you're stressed and out of time, by all means do that and don't feel bad!) – but this dip is so delicious and so worth making.  And it barely takes any time to throw together – you just need to remember to do it ahead because it needs to sit overnight for best results.
I actually don't remember where I got this recipe from…I've had it for about 10 years. It may be a combination of a few different ones I found online…or maybe from my mom? We like to use the rye loaf as the bowl…that leaves more pumpernickel for eating and that's a bigger hit in our family. However, you can use either loaf for the bowl. Or buy 2 pumpernickel loaves, or 2 rye loaves. We also sometimes just leave the dip in a regular bowl and cut up both loaves completely so that none of the bread goes to waste (no one likes to eat the soggy bread that the dip was in!). The bread bowl makes for a nice presentation though. Whatever your preference – just make & eat this dip!


Rye Bread Dip
16 oz (2 cups) sour cream
2 cups mayonnaise
3 teaspoons dry minced onion
3 teaspoons dill weed
3 teaspoons parsley
1 teaspoon beau monde seasoning*
2.5 oz dried beef**
1 unsliced round loaf of rye bread
1 unsliced round loaf of pumpernickle bread
Combine sour cream, mayonnaise, onion, dill, parsley, and beau monde. Chop dried beef into small pieces and add to dip mixture. Cover and refrigerate 10-12 hours prior to serving. Cut the top of one of the loaves of bread, making a hole.  Save the piece(s) you cut out to use for dipping. Cut (or rip) the pieces from inside the first loaf into chunks as well as the remaining loaf. Place dip into hollow in the first loaf.  Dip bread chunks and enjoy!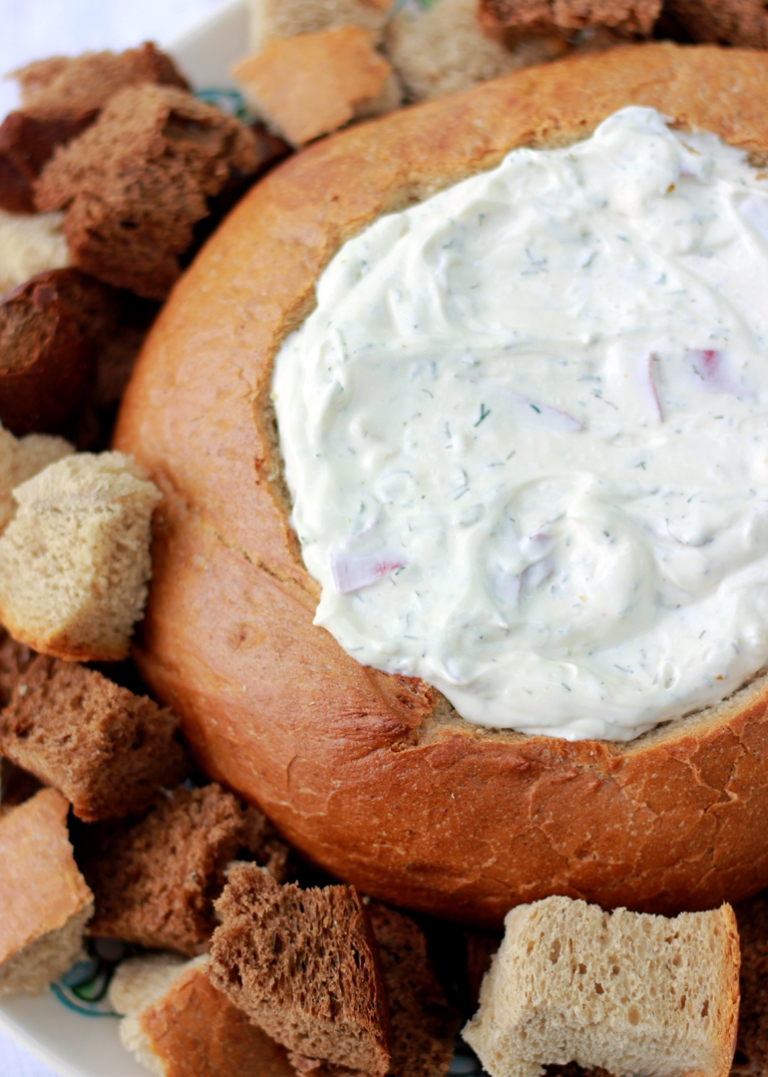 *This is a unique seasoning that I have never used in anything but this dip, feel free to leave it out if you don't feel like buying it just for this – or if you can't find it. If you're going to make this a few times a year as I do, it's probably worth it.
**Feel free to adjust the amount of dried beef you add. I don't like a lot in my dip, but it definitely adds to the flavor. I try to cut my beef in larger slices when I know Marla will be eating this so that she can easily avoid the "meat chunks". (She's a vegetarian – did you know that?) Vegetarians can leave this out – it will taste slightly different, but still be delish.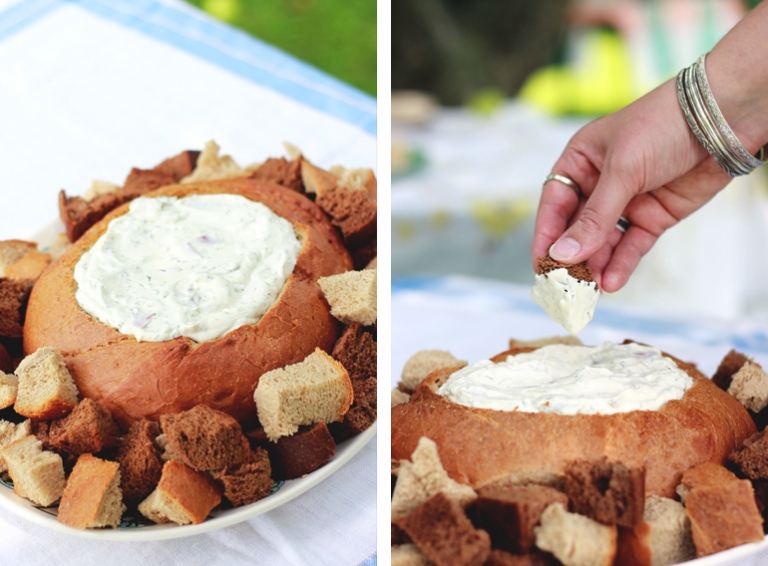 More of our party must-have appetizers: Veggie Pizza Appetizer, Artichoke Bread, 6 Layer Taco Dip and Sausage Dip
Here's to more dips & appetizers!  
Manda