We have a lot of parties and get togethers in our family. And at the heart of these parties and get togethers…amazing food of course! While we always love to try new recipes, we also have our classics, which show up on party menus again and again.  I thought I would share some of the recipes that are party must-haves for us.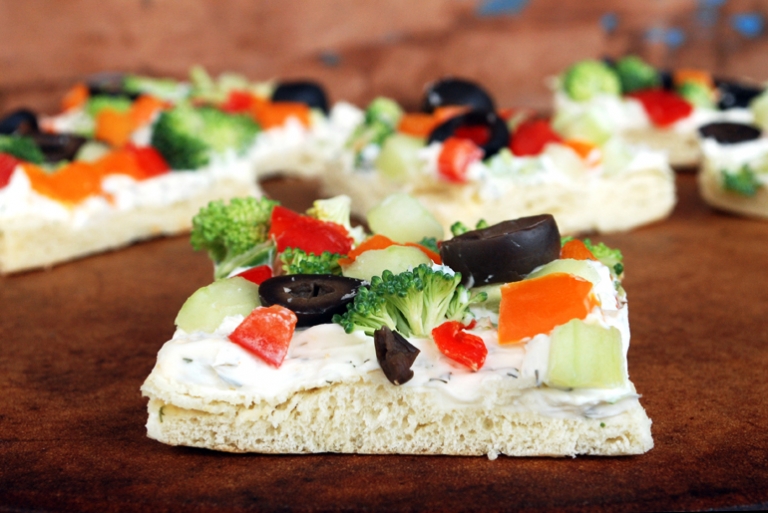 This veggie pizza appetizer is a favorite of mine. It's super yummy, easy to make, and gets some veggies on the menu!  It's also great because you can change up the veggies you put on depending on what you like or what you have on hand.  (Clean out that veggie drawer in the fridge!)

VEGGIE PIZZA APPETIZER
2 cans (8 oz. each) refrigerated crescent dinner rolls
1 pkg. (8 oz.) cream cheese, softened
1/2 cup Miracle Whip
1 tsp. dill weed
1/2tsp. onion salt
1 cup broccoli florets
1 cup chopped green/red/orange/yellow pepper (any color or combo of colors is fine)
1 cup chopped cucumber
1/2 cup sliced pitted black olives
Preheat oven to 375°F. Separate dough into 4 rectangles. Press onto bottom and up side of 15x10x1-inch baking pan to form crust.
Bake 11 to 13 minutes or until golden brown; cool.
Mix cream cheese, miracle whip, dill and onion salt until well blended. Spread over crust; top with remaining ingredients. Refrigerate. Cut into squares.
Tips:
Do some of the prep work ahead to make your work load lighter before a party; mix up the spread ahead of time and keep it in the fridge. I also chop all my veggies ahead and keep those in the fridge.

I don't measure out my veggies, I just throw on what looks good.
(Source: barely adapted from Kraft)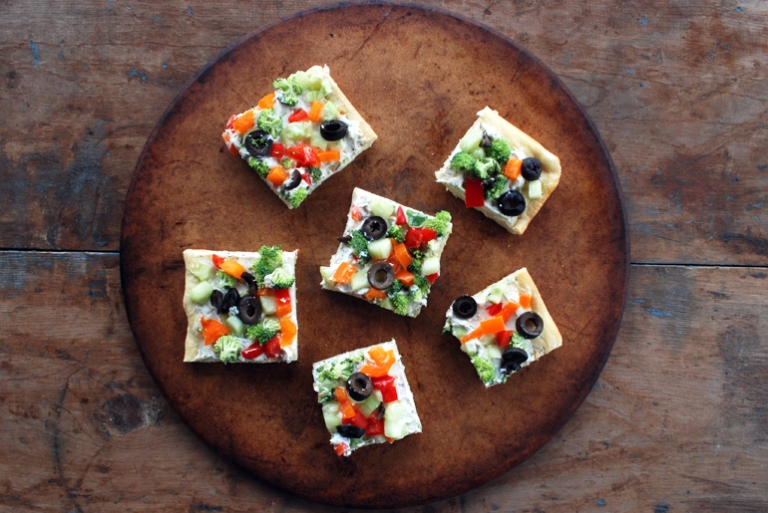 Now invite some people over and make this appetizer!  Have a yummy day! Manda