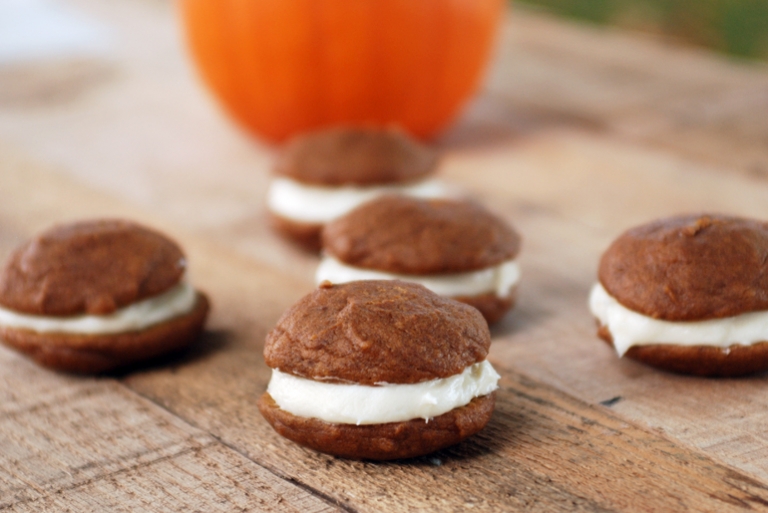 These are the perfect cookie for fall.  I have a confession though: I've spent a lot of my life avoiding pumpkin foods and desserts. I've never been a huge fan of them – but I desperately wanted to be. It's just so fall-ish. And it smells wonderful while baking. The good news is, I'm starting to like it more.  Some pumpkin things I would even call delicious and want seconds. I actually tried my first ever pumpkin spice latte a couple weeks ago! And the cake I made for Fabienne's birthday last year, with pumpkin in it, has been one of my most favorite cakes (now that it's fall, I can't wait to make that again. I've been daydreaming about that cake all year!). I still won't choose a piece of plain old pumpkin pie for my dessert, but pumpkin mixed in with something else? Sure. And pumpkin with maple cream cheese filling – definitely!


Pumpkin Whoopie Pies with Maple Cream Cheese Filling
Yields: About 2 dozen assembled whoopie pies (will vary depending on how large you make them)
For the Whoopie Pies:
1½ cups all-purpose flour
1 tablespoon cinnamon
½ teaspoon baking powder
½ teaspoon baking soda
½ teaspoon salt
½ teaspoon ground ginger
½ teaspoon ground nutmeg
½ cup granulated sugar
½ cup dark brown sugar
½ cup canola or vegetable oil
1½ cups chilled pumpkin puree (canned pumpkin)
1 egg
½ teaspoon vanilla extract
For the Maple-Cream Cheese Filling:
2½ cups powdered sugar
6 ounces cream cheese, at room temperature
6 tablespoons unsalted butter, at room temperature
2 tablespoons maple syrup
1-2 drops maple extract (if desired…for less maple flavor, just use 1/2 teaspoon vanilla extract)
1. Preheat oven to 350 degrees F. Line baking sheets with parchment paper.
2. In a medium bowl, whisk together the flour, cinnamon, baking powder, baking soda, salt, ginger and nutmeg. Set aside.
3. In a separate bowl, whisk the granulated sugar, dark brown sugar, and the oil together. Add the pumpkin puree and whisk to combine thoroughly. Add the egg and vanilla and whisk until combined.
4. Gradually add the flour mixture to the pumpkin mixture and whisk until completely combined.
5. Use a large spoon to drop a rounded, heaping tablespoon of the dough onto the prepared baking sheets, about 1 inch apart.
6. Bake for 10 to 12 minutes, making sure that the cookies are just starting to crack on top and a toothpick inserted into the center of a cookie comes out clean. Remove from the oven and let the cookies cool completely on a cooling rack.
7. To make the filling, beat the butter on medium speed until smooth with no visible lumps, about 3 minutes. Add the cream cheese and beat until smooth and combined, about 2 minutes. Add the powdered sugar a little at a time, then add the maple syrup and extract and beat until smooth.
8. To assemble the whoopie pies: Turn half of the cooled cookies upside down. Spoon filling onto that half. Place another cookie, flat side down, on top of the filling. Press down slightly so that the filling spreads to the edges of the cookie. Repeat until all the cookies are used. Put the whoopie pies in the refrigerator for about 30 minutes to firm before serving.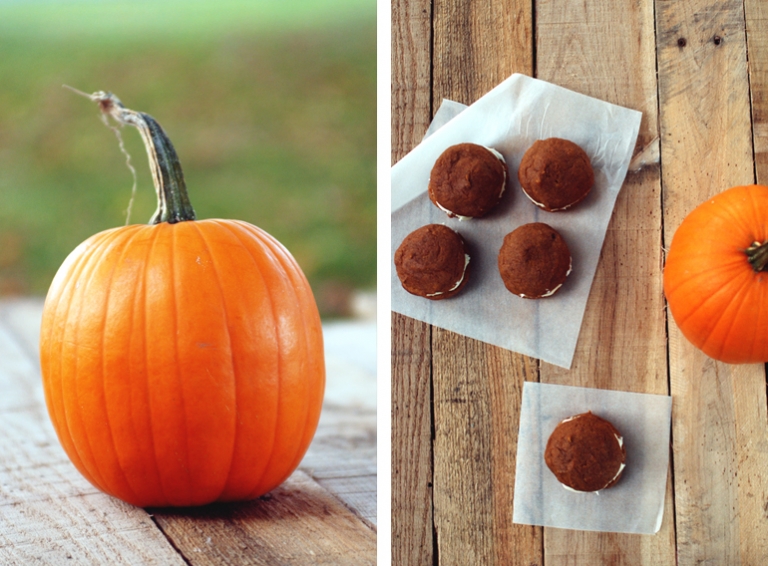 barely adapted from Brown Eyed Baker
Hope you're enjoying fall and all the yummy foods that come with it! Manda