Back with another ghost post! Can't help myself this time of year. These chocolate dipped ghost wafer cookies are so easy to make. They're similar to the ghost rice krispies treats we shared a couple years ago. Even easier though because you're buying cookies instead of making the treats!
To make these, you'll just need wafer cookies and chocolate. That's it! The longest part of this is melting the chocolate and waiting for them to dry.
Chocolate dipped wafer cookies is something we shared years ago; as a fun little treat for Valentine's Day. I thought they needed a little Halloween update. And as I've mentioned before, I just think ghosts are so cute for Halloween. This easy Halloween snack is perfect to do with kids!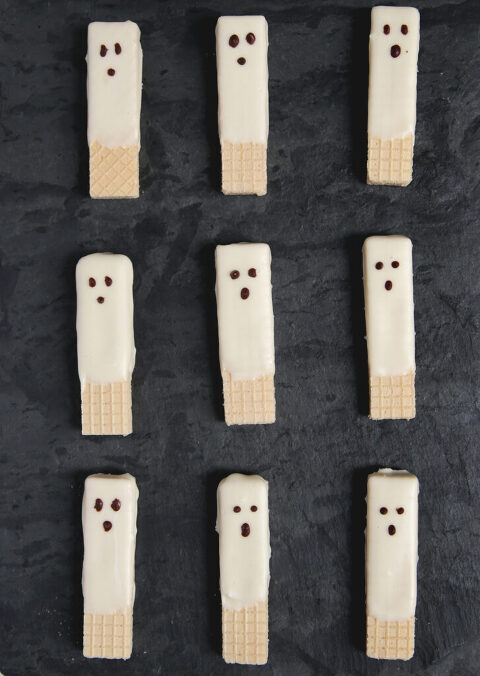 Ingredients for Chocolate Dipped Ghost Wafer Cookies:
How to Make Ghost Wafer Cookies:
Melt chocolate.
Dip wafers cookies in melted chocolate. Let chocolate set.
Add eyes and mouth.
Let chocolate set, and serve!
See the video and recipe below for all the details.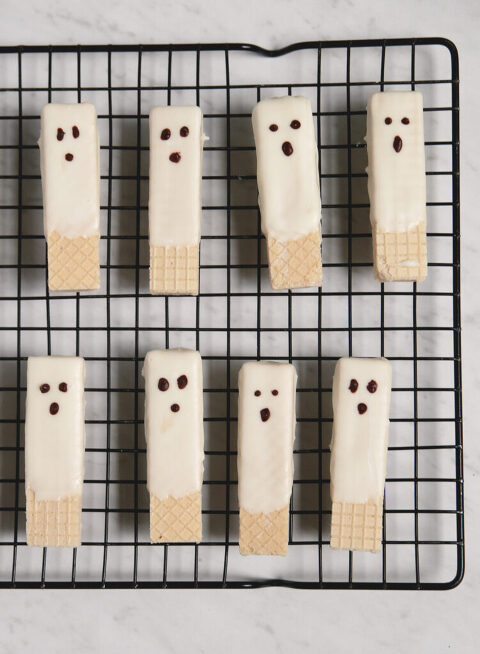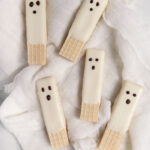 Chocolate Dipped Ghost Wafer Cookies
Chocolate dipped ghost wafer cookies, a cute Halloween snack. So quick and easy to make.
Ingredients
There's no specific amounts listed, as it will vary depending on how many wafer cookies you want to make and how thick your chocolate layer is. It's very easy to estimate this.
vanilla wafer cookies

white chocolate chips or white chocolate candy melts*

semi sweet chocolate chips or chocolate candy melts*

vegetable oil (or other liquid oil)
Instructions
Pour white chocolate chips and about 1 teaspoon vegetable oil into a small microwavable bowl, stir to coat chips with oil.

Microwave 30 seconds, stir.

Microwave in 20 second intervals until the chips can be stirred completely smooth. Make sure not to over heat this though, or it can ruin the chocolate. (The chips should look just about all melted, with a few small lumps, those can be stirred smooth).

Add more vegetable oil if the chocolate is too thick.

Dip wafer into melted white chocolate, I use a spoon to help cover.

Place on wax paper to cool.

While white chocolate sets, melt semi sweet chocolate, using the same method as for the white chocolate. You will need about 1/4 of the amount of semi sweet chocolate, as white chocolate. You will not need as much oil, as the semi sweet chocolate melts better.

When the white chocolate is set, dot on eyes and mouth for ghost. I used a tooth pick to do this.

Let chocolate dry and then serve!
Recipe Notes
*I used chocolate chips, as that's what I had on hand. Candy melts are easier to melt, and you may not need to use any oil. The oil just helps thin out the chocolate a little and makes it smooth and glossy. White chocolate chips will need a lot more oil added to them. Just keep adding a tiny bit at a time, stirring until it's the right consistency.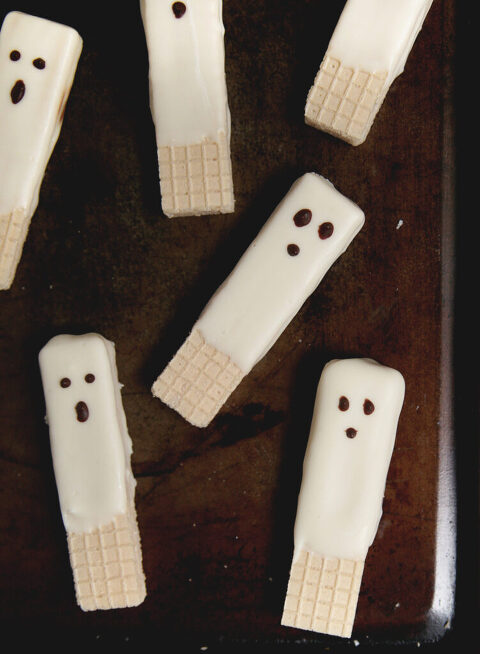 Be sure to check out these posts for more Halloween crafts and recipes!
-Manda