I guess it's time to publicly admit my Harry Potter obsession. Every fall I rewatch all the movies with my cousin (Don't worry… I watch them multiple times throughout the year too haha) and this Felix Felicis (Liquid Luck) Mocktail is going to be a new favorite for us to sip on while we watch! I started listening to the audiobooks years ago but I really got into them in 2020 during quarantine and I've probably listened to all of the books at least 12 times since then. (Which is quite a commitment if you know how many hours they are haha.) It's my comfort book while traveling, cleaning, and working. It's like the shows you've rewatched 50 times. But these audiobooks are SO good – I think everyone should listen to them.
I have some friends that have never seen the movies or read the books and we're planning to watch all the movies through this year and I'm going to make some themed snacks and drinks for each movie! But since apple cider is in abundance right now, I figured I'd start with this golden drink! Some sparkly Liquid Luck – guaranteed to give you one perfect day!
If you're looking for a cocktail instead of a mocktail, you can replace a bit of the cider and soda with some vodka or bourbon depending on your preference!
Felix Felicis (Liquid Luck) Mocktail Ingredients
apple cider
fresh lemon juice
cinnamon simple syrup
soda water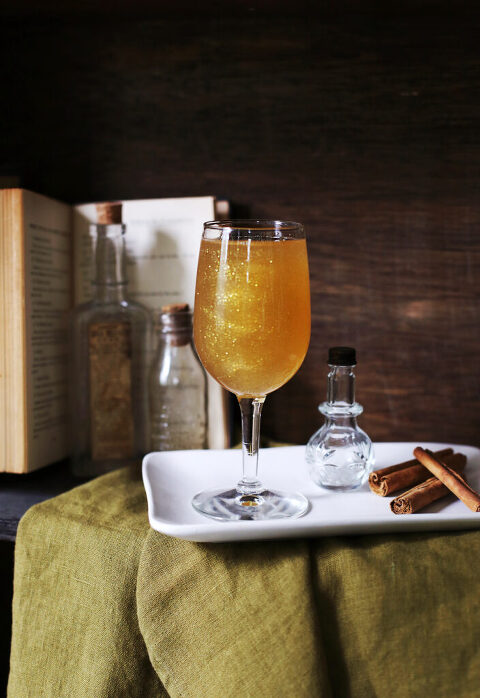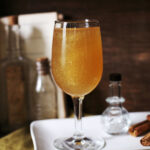 Felix Felicis (Liquid Luck) Mocktail
Ingredients
2

oz

apple cider

.5

oz

cinnamon simple syrup

dash

gold edible glitter

squeeze

fresh lemon juice

ice

3

oz

soda water
Cinnamon Simple Syrup
1

cup

water

1

cup

sugar

5

cinnamon sticks
Instructions
Felix Felicis (Liquid Luck) Mocktail
Add apple cider, cinnamon simple syrup, edible glitter, and lemon juice to cup.

Add ice and stir until chilled.

Add soda water and serve immediately.
Cinnamon Simple Syrup
Add sugar, water, and cinnamon sticks to small sauce pan.

Reduce to simmer for 10 minutes.