One of our favorite desserts is the No-Bake Blueberry Cheesecake Pie, it's incredibly easy and incredibly delicious. With fall and pumpkin everything in the air right now, I thought I'd adapt that to make a pumpkin flavored one. Friends, I wish for the love of our thighs that it didn't turn out so well. But it's terrific. Ah well, bathing suit season is ages away right?! The subtle pumpkin flavor paired with the gingersnap crust is amazing. Don't skip out on the gingersnap crust. This is really easy and quick to throw together – a perfect, stress-free dessert for your next get together. I will emphasize that I realize the whole dessert is technically not no-bake, since you bake the crust – it's the cheesecake filling that is no-bake. And if you've ever made real cheesecake, the 10 minutes of crust baking in this recipe is nothing compared to waiting on a real cheesecake to bake. But if you're really short on time, and must have no-bake everything, go ahead and buy a store bought crust. It'll be fine, just not as good, ha! 😉 I've mentioned before that I don't like really strong pumpkin flavor, and this doesn't have an overly strong pumpkin taste, so it's just perfect in my book. And while this cheesecake is delicious on it's own, the salted caramel sauce drizzled on top just makes it even better, so I recommend doing that.
No-Bake Pumpkin Cheesecake Pie
Ingredients
Crust:*
1-1/2

cups

gingersnap cookie crumbs,

(use the crispy gingersnap cookies for this, not soft)

5

tablespoons

butter, melted
Filling:
8

ounces

cream cheese, softened

1

cup

powdered sugar

1

teaspoon

vanilla extract

1/2

teaspoon

pumpkin pie spice

1/4

cup

canned pumpkin

8

ounces

whipped cream,

(I prefer homemade, but a tub of cool whip will work, just be sure it's thawed
Instructions
For the Crust:
Preheat the oven to 350 degrees.

Combine the cookie crumbs and melted butter in a small bowl and mix until all the crumbs are moistened.

Transfer the crumbs to a 9-inch pie plate. Use the bottom of spoon to press the crumbs evenly into the bottom and up the sides of the pie plate.

Bake in the preheated oven until it is beginning to brown, about 10 minutes.

Transfer to a wire rack and cool completely while making the filling.
For the Filling:
Mix together the cream cheese, powdered sugar, vanilla, pumpkin pie spice and pumpkin.

Fold in the whipped cream – make sure it is thoroughly combined.

Spoon filling into prepared pie crust.

Refrigerate for 2 hours or until chilled.

Drizzle with salted caramel sauce (recipe below). Slice, serve & enjoy.
Recipe Notes
*This specific crust recipe is not no-bake, it's the cheesecake filling that is no-bake. (And if you've ever made real cheesecake, the 10 minutes of crust baking in this recipe is nothing compared to waiting on a real cheesecake to bake). If you're short on time (or an oven), go ahead and buy a pre-made crust (graham cracker will do). 
Salted Caramel Sauce
Smooth and creamy, this salted caramel sauce is perfect for drizzling on desserts and drinks!
Ingredients
1

cup

sugar

6

tablespoons

salted butter, cubed and at room temperature

pinch or two

of sea salt flakes

2/3

cups

heavy cream, at room temperature
Instructions
Melt the sugar over medium heat in a large sauce pan.

Whisk the sugar as it melts and cook until it becomes a deep amber color.

Add the butter and sea salt flakes and stir it in until melted.

Pour in the heavy cream (mixture will foam) and whisk until you get a smooth sauce.

You may have some lumps but keep stirring until they have melted.

Remove from heat and let cool. (If you still have some lumps in the caramel after it has cooled – strain it through a fine mesh strainer).

Store in the refrigerator.

To use, heat in the microwave until it reaches desired consistency.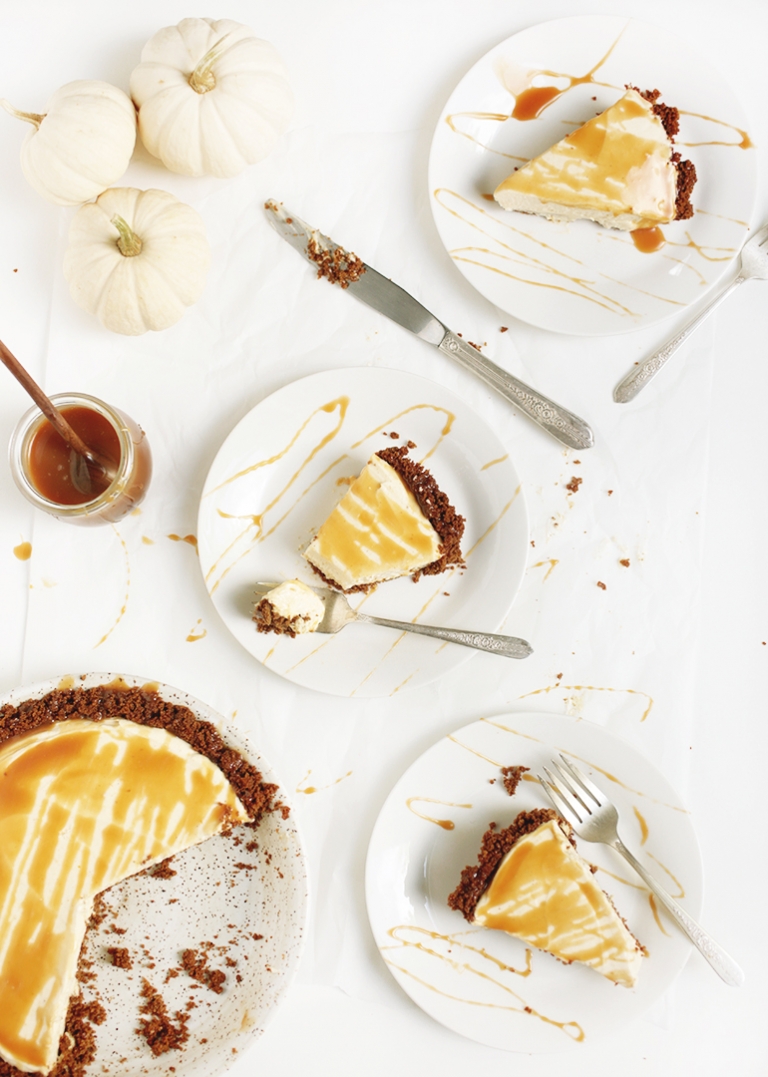 Here's a few other fall favorite recipes: Apple Crisp | Soft Pumpkin Cookies with Brown Sugar Frosting | Pumpkin Ice Cream with Gingersnap Bowls.
-Manda