This Peanut Butter Oatmeal Chocolate Chip Skillet Cookie is a decadent dessert filled with peanut butter, oats and extra chocolate!
Sometimes you're just craving something warm, sweet, and full of peanut butter and chocolate! Or maybe's that just me. But that's how I ended up making a skillet cookie filled with this goodness!
This peanut butter oatmeal chocolate chip skillet cookie has all key ingredients to satisfy sweet tooth cravings: it's filled with creamy peanut butter and chocolate (both chocolate chips & chocolate bars!), it's got oatmeal for that nice chewy texture, and served warm it's the perfect decadent gooey treat! And with oatmeal and peanut butter in it, we can just eat it for breakfast too, right? 😉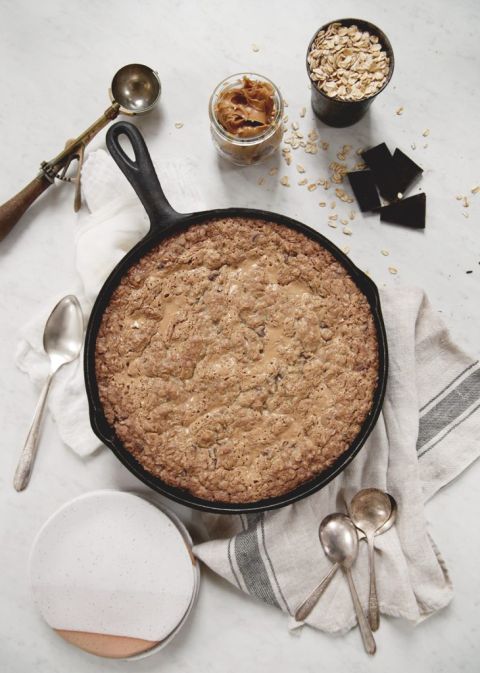 I've been a fan of skillet cookies for years! It's pretty much all I use my cast iron skillet for – haa! It's definitely worth getting one, even if it's just for making skillet cookies! There's just something about a giant, warm, gooey cookie that just can't be beat. Recently, I was craving a peanut butter dessert (um, when I am not ever craving a peanut butter dessert?!), had some oats to use up, and came up with this skillet cookie!
Peanut Butter Oatmeal Chocolate Chip Skillet Cookie
Ingredients
1

cup (2 sticks)

unsalted butter, room temperature

¾

cup

packed brown sugar

½

cup

white granulated sugar

2

eggs

1

teaspoon

vanilla

1

teaspoon

baking soda

2

teaspoons

cinnamon

½

teaspoon

salt

1-½

cups

all purpose flour

3

cups

oats (Old-Fashioned or Quick Oats*)

1

cup

chocolate chips (I use semi-sweet)

1

cup

creamy peanut butter, divided

4

(1.55 oz. size)

Hershey milk chocolate bars
Instructions
If your cast iron skillet is well seasoned you probably don't need to grease it; if it's not well seasoned or you want to be sure the cookie comes out easily, lightly grease your skillet. (I use a 10″ skillet).

In a stand or electric mixer, beat the butter and sugars until light and fluffy.

Add eggs and vanilla, continue to beat until well combined.

Add in the baking soda, cinnamon, and salt beating until mixed in.

Gradually add in the flour and oats, then the chocolate chips.

Divide the cookie dough in half and press half of the cookie dough into the bottom of the skillet.

Top with 3/4 cup of the peanut butter (use an off-set spatula for easier spreading), and chocolate bars (I broke mine into pieces and then placed them on).

Place remaining dough on top – I did this in pieces, flattening out small pieces in my hand and setting them on. The pieces can touch, but don't have to, the dough will spread as it bakes.

Add the remaining 1/4 of peanut butter, dropping in random spoonfuls around the dough. Use a butter knife to swirl the peanut butter as best you can. 

Bake for 25-30 minutes or until the top is golden.

Serve while still warm with some vanilla ice cream!
Recipe Notes
*Old Fashioned or Quick Oats both work fine in this recipe, I've used both. Old fashioned oats will give you chewier oats and more texture to the cookie, quick oats will blend a bit more into the dough. So it's just personal preference on texture for what you use!  
If you love skillet cookies, be sure to try our Peanut Butter S'mores Skillet Cookie and our Chocolate Chip Skillet Brookie!
-Manda