The perfect mix of desserts – chocolate chip cookies and brownies baked together in a skillet for an amazing chocolate chip skillet brookie!
You know how sometimes you're craving dessert, but can't quite decide what's going to hit the spot, cookies or brownies?? 🤔 How about both? And that's how brookies were invented. I have to admit, I haven't been overly into brookies; but Caitlin was recently on a kick and seemed to be sharing photos of them about every other night so I started craving them. And something I'm definitely into is skillet cookies…so a skillet brookie idea popped into my head and I couldn't just let it go. So I whipped one up, had my family taste-test it and they declared it worthy of sharing here!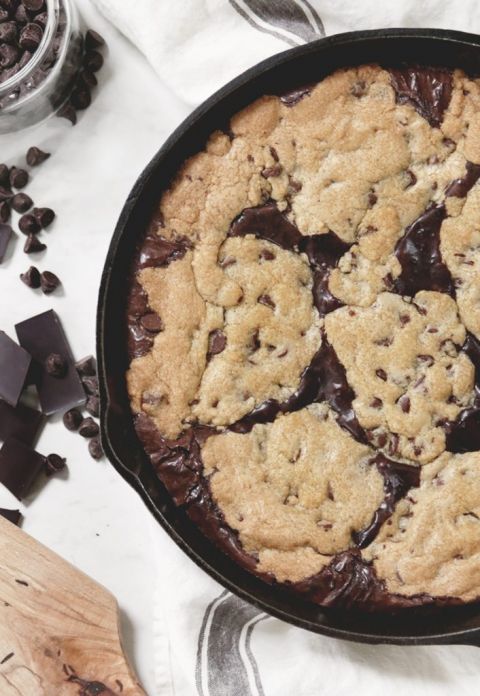 I've had to make this chocolate chip skillet brookie a few times, so I've learned a couple things. First, the brownies…yes, I used a box mix; because they're good + super easy, so I went with that. I use Ghirardelli Triple Fudge, and think they are the best! Also, the brownie part might seem slightly underdone (mostly on the bottom), but trust me, it's way better this way! I made one skillet brookie that was a little more on the done side (not burnt, just well done), and it just did not taste as good.
Another thing, you can freeze this! 🙌🏼 I made one to take on a recent trip and had it in the freezer for about 4-5 days, and it still tasted great! But it's best when it's still warm from the oven with some ice cream along with it!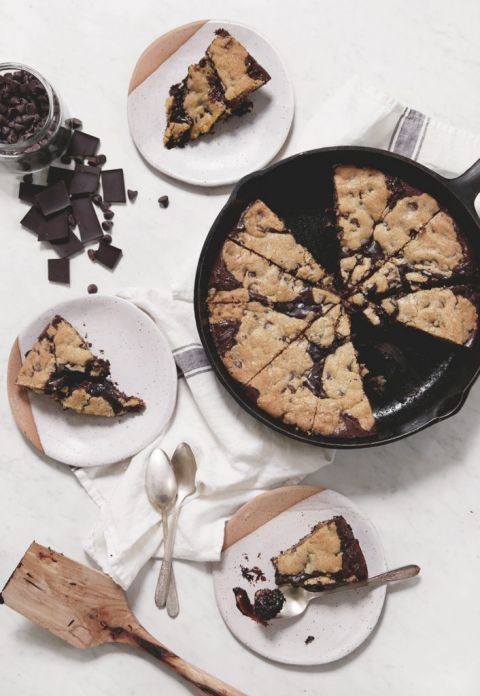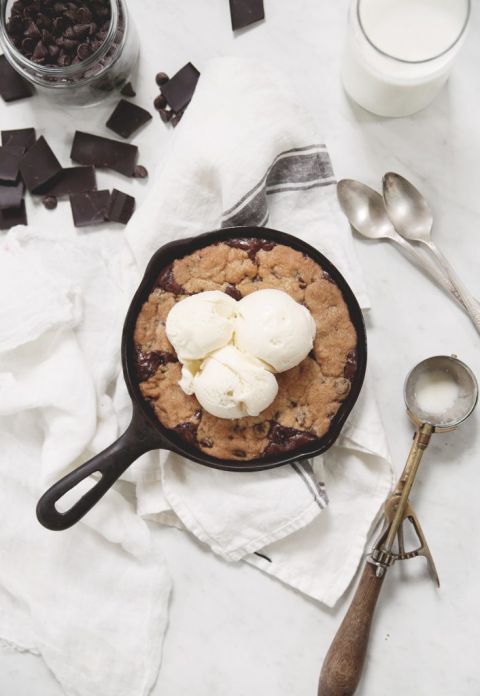 Chocolate Chip Skillet Brookie
The best of both worlds – a chocolate chip cookie and a brownie – baked in a skillet for the best dessert!
Ingredients
For the Brownies:
1

box

brownie mix – 19 ounce size

(I use Ghirardelli Triple Fudge)

ingredients listed on brownie mix
For the Cookie Dough:
8

tablespoons

unsalted butter, room temperature

1/2

cup

granulated sugar

1/4

cup

+ 2 tablespoons brown sugar

1

large

egg

1/2

tablespoon

pure vanilla extract

1/2

teaspoon

salt

1/2

teaspoon

baking soda

1-3/4

cups

all-purpose flour

1

cup

semi-sweet chocolate chips
Instructions
If your cast iron skillet is well seasoned you probably don't need to grease it…if it's not well seasoned or you want to be sure the cookie comes out easily, lightly grease your skillet. (I use a 10″ skillet).

In a medium bowl, mix together brownie mix following directions on box. Set aside.

In a stand or electric mixer, beat the butter and sugars until light and fluffy.

Add egg and vanilla, continue to beat until well combined.

Add in the salt and baking soda, beating until mixed in.

Gradually add in the flour, then the chocolate chips.

Pour brownie batter into prepared skillet. 

Add cookie dough, in slightly flattened chunks, on top of brownie batter (see photo above).

Bake for 35-40 minutes or until top is just turning golden and the dough jiggles just slightly when you gently shake the pan.

Let cool slightly. Serve while still warm for the ultimate treat! (Store leftovers in an airtight container. To freeze, let cool completely. Cut into pieces, and store in freezer in airtight container).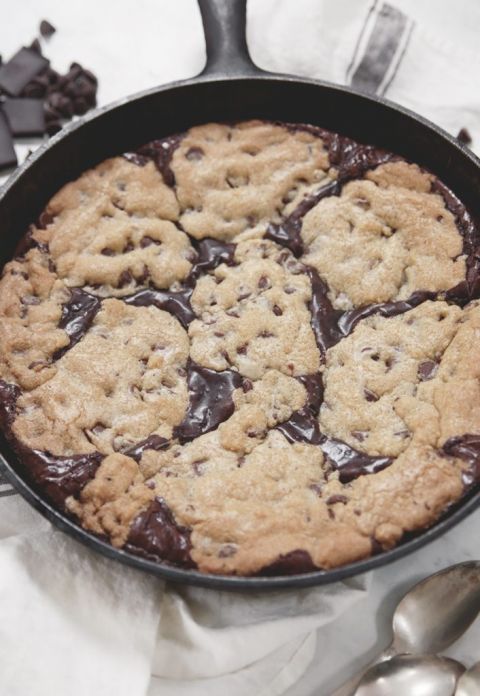 For one of my favorite desserts ever, you must try this Peanut Butter S'mores Skillet Cookie! And check out more delicious recipes here.
-Manda