Since I didn't have room to haul my whole pillow collection from NY out to CO, I've been slowly trying to pick up a few more throw pillows to make my space here a bit cozier! Especially because they keep my apartment building at 64° – the more blankets and pillows to surround myself with, the better! I honestly love my house temperature at night to be between 62° and 64° but during the day 64° just makes me want to snuggle up with a heating pad and not move from my chair – which doesn't typically make for the most productive day…
So, since IKEA is just a quick drive, I snuck up and grabbed some pillows and covers that I could put my own designs on. This was actually such a nice project to work on while watching a movie after getting home from work at night. So soothing! I always forget how fun painting is because I'm not actually that great at it so I usually get super frustrated. But these basic shapes were just the right amount of challenging for me! Haha!
What you need:
-Acrylic Paints
–Fabric Medium
–Paint Brush
-Pencil
-Pillow Covers (I got mine from IKEA: Gurli & Aina but you could try these similar styles: this, this, or this)
-Cardboard
–Iron
How to make it:
-Use pencil to sketch out your design lightly on the pillow cover.
-Mix acrylic paint with fabric medium according to directions.
-Put a piece of cardboard between the layers of fabric of the pillow cover so the paint doesn't soak through.
-Paint the design.
-Let dry completely. 12-24 hours.
-Use an iron to heat set. Don't iron directly on paint – put a piece of fabric over the paint.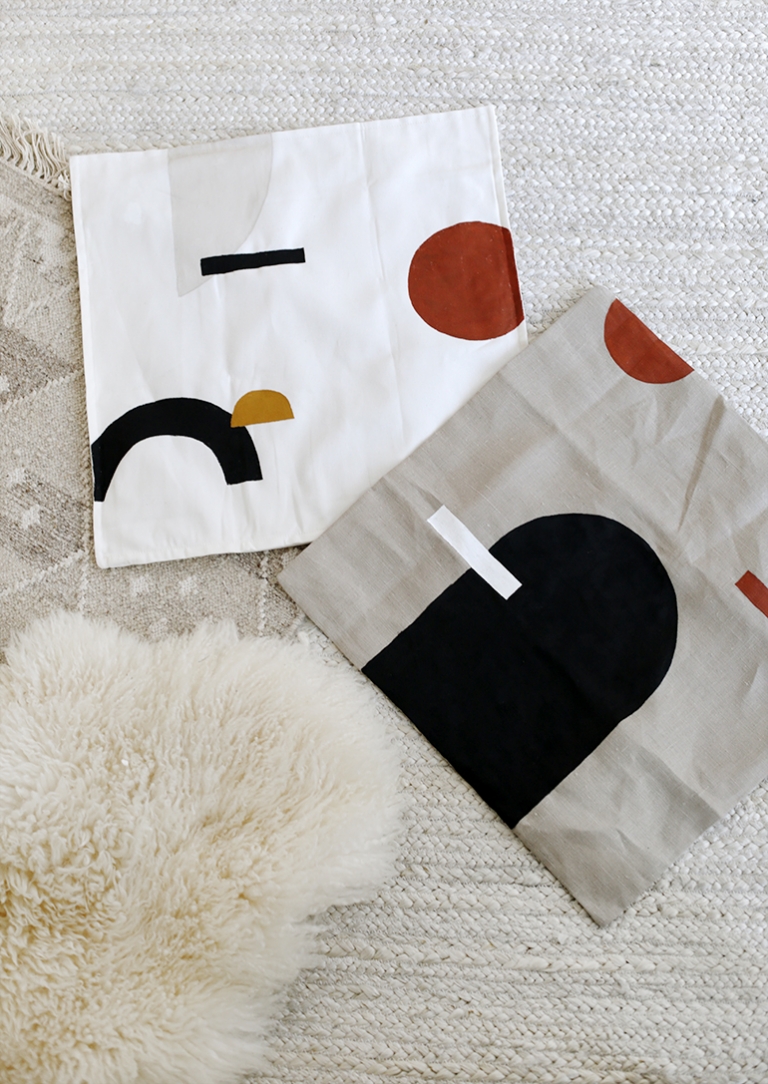 Easy and so fun! Would make a great girls night activity!
-Caitlin