Did you know that this coming Sunday, September 29th, is National Coffee Day?! Yay – coffee is definitely worth celebrating! In honor of such a terrific day and life-saving beverage, we're bringing you some recipes and projects that involve coffee over the next few days.  That way, you'll be ready to truly celebrate come Sunday.
As I've mentioned before, I'm a really big fan of coffee-flavored desserts.  These cupcakes originally were going to be a cupcake version of the famous Brooklyn Blackout Cake; but I of course couldn't resist injecting some coffee into my recipe. And I'm so glad that I did. These are oh so moist, perfectly chocolatey with a nice coffee flavor to top it off.  (The coffee flavor isn't over-powering, I had a few non-coffee drinkers try it and they loved it).  And this frosting…so smooth, creamy and light.  It's wonderful to frost with…and even better to eat.

Blackout Espresso Cupcakes
Makes about 32 cupcakes
For the filling:
1 tablespoon unsweetened Dutch-process cocoa powder
3/4 cup hot espresso or strong brewed coffee
1/3 cup sugar
1/3 cup semisweet chocolate, chopped
1 ½ tablespoons cornstarch dissolved in 1 tablespoon water
pinch of salt
2 tablespoons unsalted butter, cut into 2 pieces
½ teaspoon vanilla extract
Make the filling:
1. In a medium saucepan, heat the cocoa powder, hot espresso, sugar, and chocolate over low heat, stirring constantly until the cocoa powder dissolves and the chocolate melts. Add the dissolved cornstarch and the salt, increase the heat to medium-high, and boil gently for 1 minute, stirring constantly, especially where the sides and bottom of the pan meet.
2. Remove the pan from the heat, add the butter and vanilla, and stir until the butter melts. Pour the filling into a bowl and press plastic wrap onto the surface to prevent a skin from forming. Refrigerate until the filling thickens, at least 5 hours or overnight. It should be the consistency of soft pudding.
For the cupcakes:
1 (15.25 ounce) package devil's food cake mix
1 (3.9 ounce) package instant chocolate pudding mix
1 cup sour cream
½ cup vegetable oil
1/3 cup whole milk
4 eggs, beaten
½ cup warm coffee
Make the cupcakes:
1. Preheat oven to 350 degrees F. Line cupcake pan with paper liners.
2. In a large bowl, mix together the cake, pudding mix, sour cream, oil, beaten eggs, milk and coffee. Beat for 2 minutes on medium speed.
3. Fill paper liners 2/3 full (batter will be very thick).
4. Bake for 18-22 minutes, or until top is springy to the touch and a wooden toothpick inserted comes out clean. Cool cupcakes in pan for 10 minutes, then on wire rack till completely cool.
For the frosting:
12 ounces semisweet chocolate, chopped
1 stick (8 tbsp) + 3/4 cup unsalted butter, at room temperature
1/2 cup lukewarm espresso or strong brewed coffee, 88°F to 90°F
1 tablespoon light corn syrup
2 teaspoons vanilla extract
1 ½ cups powdered sugar
Make the frosting:
1. Place the chocolate and 3/4 cup butter in a heatproof bowl and place it over, but not touching, simmering water in a saucepan (or use a double boiler). Stir until the chocolate and butter are melted and smooth. Remove from the heat and set aside to cool slightly. Check with your fingertips that the temperature of the lukewarm espresso feels similar to that of the chocolate. (It should be 88°F to 90°F when measured with an instant-read thermometer.)
2. Add the lukewarm espresso all at once to the chocolate mixture and gently whisk until the mixture is smooth. It will thicken slightly when the espresso is added. Stir in the corn syrup and vanilla. Let the chocolate mixture sit at room temperature until it cools and thickens slightly.
3. In the bowl of an electric mixer fitted with the paddle attachment, beat one stick of butter on medium speed until smooth and creamy (3-5 minutes). Gradually beat in the powdered sugar until combined. Add the chocolate mixture to the butter and sugar and mix until thoroughly combined.
Assemble the cupcakes:
Cut a small round piece out of the tops of each cooled cupcake and pour in about 1-2 teaspoons of the filling. Replace the top of the cake piece. Top filled cupcakes with frosting. You can also garnish the cupcakes with cake crumbs, chocolate shavings or grated chocolate wafer cookie crumbs.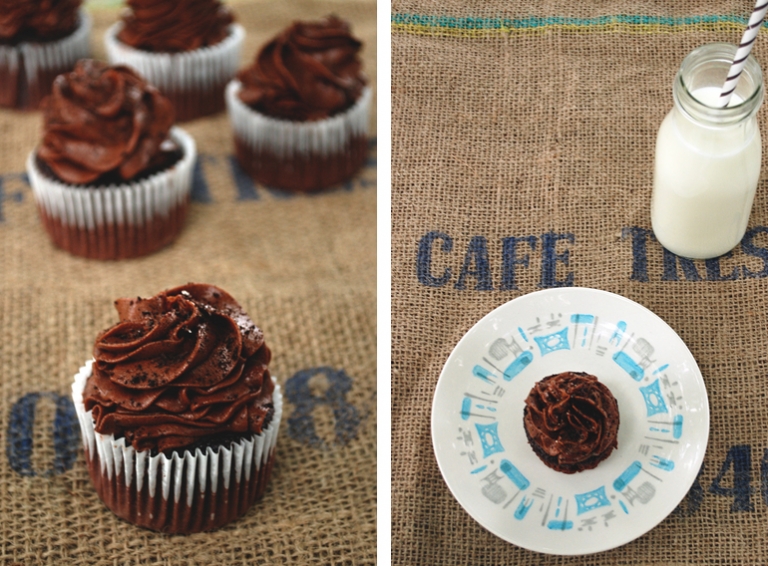 Adapted from Leite's Culinaria
Here's to more coffee! Manda
For the addicts, here's a few recipes to get more coffee in your life: Cappuccino Cheesecake // Mocha Ice Cream with Chocolate Covered Almonds // Homemade Frappuccino