Peanut butter is one of my favorite foods (is it considered a food? Condiment? Food accessory?). Whatever it may be, I can't live without it and try to work it into as many recipes as possible. Recently I made some dessert and added peanut butter and was telling my family what it was, and that I had added peanut butter, to which my sister replied, "of course, what don't you add peanut butter to?!". So yea, kind of my thing. But the ultimate favorite is always peanut butter + chocolate. That combination makes my heart happy. And yes, Reese's PB Cups would be my favorite candy. So today, in honor of National Peanut Butter Day, yup another weird food holiday, I thought I'd share a dessert celebrating my fav.
My sister got this recipe from a friend and shared it with me back in 2008. I know it was that exact year because my "recipe card" for this is actually the email from my sister that I printed out. She also included a note that said "
when will you be trying out this recipe? Since we know what the original tastes like, we have to be your taste testers, naturally.
" Ha! So this has been a favorite, easy recipe for years. I actually added the addition of sea salt flakes for a nice sweet-n-salty kick, but feel free to leave that off if that's not your thing. Also, I've seen dozens of variations of these kind of bars (in high school I actually use to buy a box mix of something like this, duhh, the things I used to buy from a box!!), and a lot of people talk about how they used to have these in school, made by the lunch ladies.
What?!!!
Where was this happening? I don't ever remember our lunch ladies whipping up any kind of peanut butter bars!! So I'm curious if anyone had these in school. (Some of the recipes do have oats in them, this does not, but maybe those were the kind served at school?? Considered a little healthier because of the oats??). So do let me know if you enjoyed something like this in school. Also, for those that are being good and enjoying healthy foods – we have a "healthier" peanut butter bar that I shared last year –
Natural Peanut Butter Fudge
. It's delicious and helps with those sweet tooth cravings!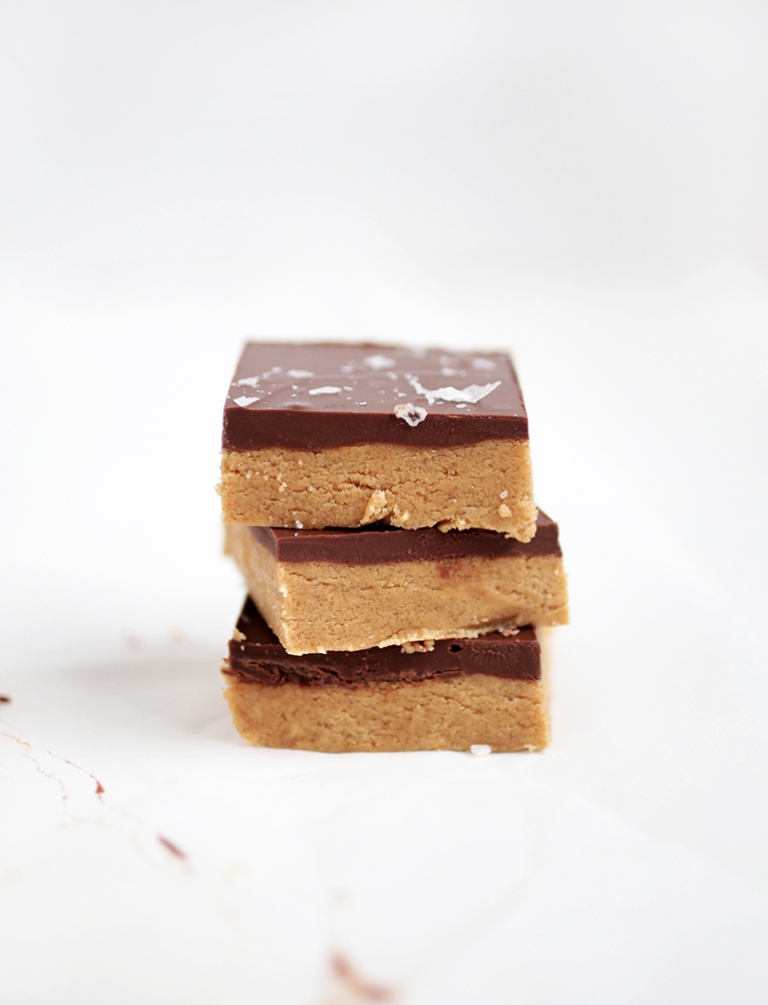 No-Bake Peanut Butter Bars
1 cup powdered sugar
1 cup creamy peanut butter
1/4 cup brown sugar
2 tablespoons salted butter, melted
1 tablespoon vanilla extract
6 oz chocolate chips (or chopped chocolate)
sea salt flakes, optional
In a medium bowl, mix together first five ingredients until completely combined. Press into an 8×8 pan (for easy cutting, line the pan with parchment paper first, leaving extra hanging over the ends to lift out). Melt chocolate and pour over peanut butter mixture. Smooth chocolate into an even layer and let set (you can place in the fridge to speed up the cooling process). Add sea salt flakes if desired. Cut into bars.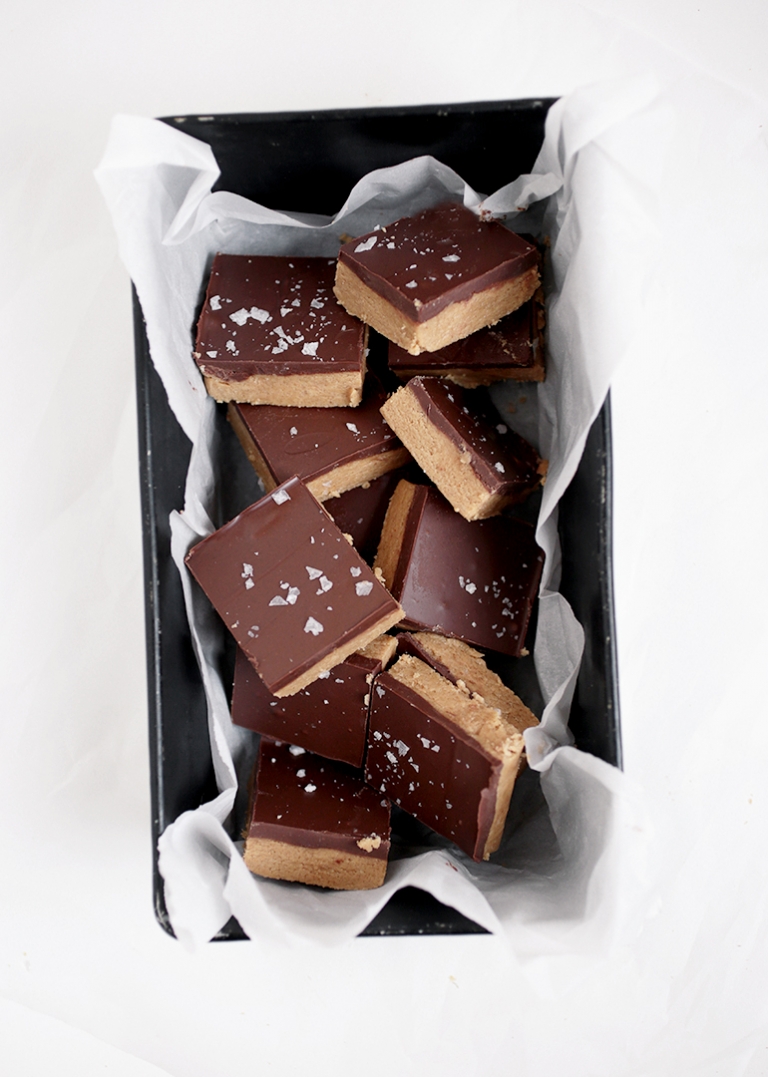 One of my boys said about that last photo, "if you put that on your blog, everyone will know you have tiny baby teeth because that is the tiniest bite ever". 😂 So I guess I need to feel embarrassed by my bite! And if you're a peanut butter lover, here's a few more PB recipes worth checking out!
-Manda