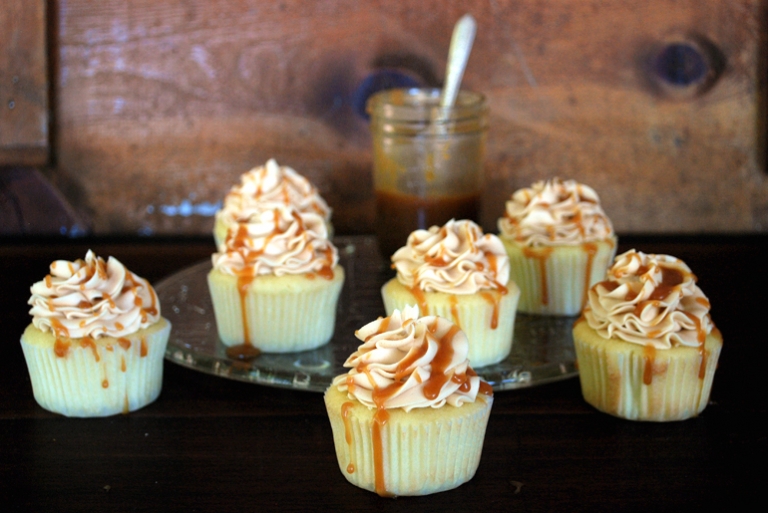 If you're a reader of my personal blog, you may have seen a version of these salted caramel cupcakes a while back. They are definitely my most popular and most requested cupcakes. Probably my personal favorite too – I can't resist salted caramel! I really liked the recipe I had, but something about the cake part never quite did it for me, even after adjusting the recipe a bit. And then I had the brillant idea to use my favorite vanilla cupcake recipe and pair that with the salted caramel filling and buttercream frosting. I think I can finally set down the spatula and declare this recipe a winner!

SALTED CARAMEL CUPCAKES
Makes approximately 30 cupcakes
Cupcakes:
1 3/4 cups cake flour
1 1/4 cups unbleached all-purpose flour
2 cups granulated sugar
1 tablespoon baking powder
3/4 teaspoon salt
1 cup (2 sticks) unsalted butter, room temperature, cut into 1-inch cubes
4 large eggs
1 cup whole milk
1 teaspoon pure vanilla extract
Preheat oven to 350 degrees. Line cupcake pans with paper liners; set aside. In the bowl of an electric mixer fitted with the paddle attachment, combine flours, sugar, baking powder, and salt; mix on low speed until combined. Add butter, mixing until just coated with flour.
In a large glass measuring cup, whisk together eggs, milk, and vanilla. With mixer on medium speed, add wet ingredients in 3 parts, scraping down sides of bowl before each addition; beat until ingredients are incorporated but do not overbeat.
Divide batter evenly among liners, filling about 2/3 full. Bake, rotating pan halfway through, until a cake tester inserted in the center comes out clean, 16 to 18 minutes.
Transfer to a wire rack to cool completely. Repeat process with remaining batter.
Salted Caramel Filling:
1 cup sugar
6 tablespoons salted butter, cubed
pinch or two of sea salt flakes
2/3 cups heavy cream, at room temperature
Melt the sugar over medium heat in a large pot. Whisk the sugar as it melts and cook until it becomes a deep amber color. Add the butter and sea salt flakes and stir it in until melted. Pour in the heavy cream (mixture will foam) and whisk until you get a smooth sauce. You may have some lumps but keep stirring until they have melted. Remove from heat and let cool. (If you still have some lumps in the caramel – strain it through a fine mesh strainer).
Cut a small round piece out of the tops of each cooled cupcake and pour in 1 teaspoon of cooled caramel. Replace the cake piece and set cupcakes aside.
Salted Caramel Buttercream Frosting:
1/4 cup salted butter, softened
1-1/4 cups unsalted butter, softened
pinch of sea salt flakes
4-6 cups powdered sugar
1/2-3/4 cup of salted caramel filling (from recipe above) – completely cooled
In a mixer fitted with paddle attachment, beat butter and salt together until light and fluffy, about 3 minutes. Reduce speed to low, and add 4 cups sugar (a little at a time). Mix until thoroughly combined.
Scrape down the side of the bowl and add the caramel – start with 1/2 cup. Beat on medium high speed until light and airy, and completely mixed (about 4 minutes). Taste test to see if you want to add more caramel. If necessary, gradually add remaining 2 cups sugar to reach desired consistency. Mixture should be ready to use without refrigeration.
Top caramel-filled cupcakes with frosting (I used a Wilton 1M tip to pipe the frosting). Drizzle cupcakes with salted caramel filling.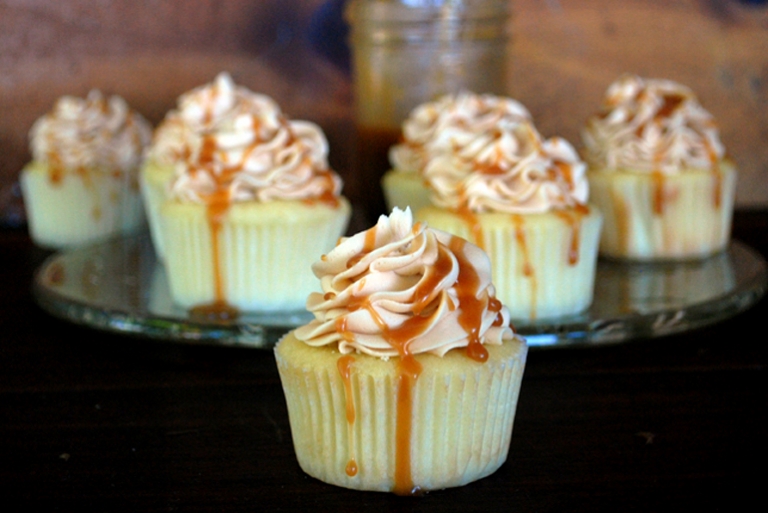 Happy baking!  Manda
Sources: adapted from Sprinkle Bakes and Martha Stewart