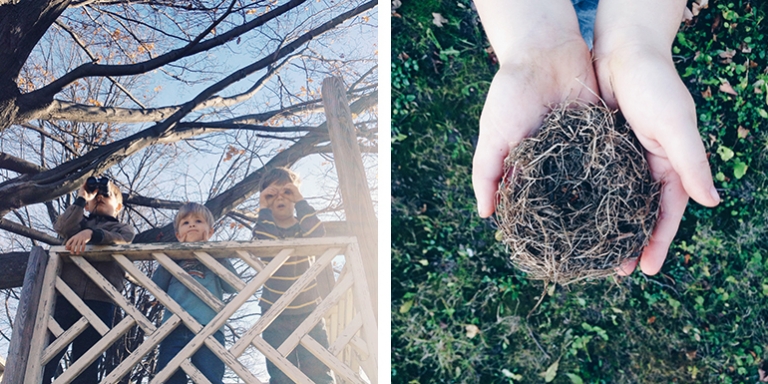 This week I'm thankful for:
-Donuts! Always donuts! And for my parents, who make sure to always stop and get some of these amazing donuts from Paula's for their kiddos when they're driving thru Buffalo!
-Family outings on lovely fall days! Marla and I met up with our aunt, who was watching two of her grandkids, and we took all eight kids on a walk to McDonalds! Yup, we be a little bit crazy!
-My little tractor-watching boys! I'm thankful we're surrounded by fields – all the farming is entertainment for the boys.
-Malacai was so excited to find this abandoned birds nest on the ground. He put it back up in a tree in hopes a baby bird would come live in it. 🙂
-Festive, yummy drinks…I love working in the kitchen!
-Levi's sweet little profile – part baby, part little boy. How quickly these days go…
-Our fall turned into winter in the blink of an eye this week! We're currently on our third snow day in a row – although right around our house it's perfectly fine, we've only had about 6 inches of snow…some nearby towns were getting 5 or 6 feet!! (I'm secretly jealous, if it's going to snow, I want it to really snow!)
-Levi was so excited by the first snowfall. We took a winter walk and threw snowballs and built tiny snowmen – he thought he was pretty funny throwing snowballs at his mama!
You can find me on IG @mandamooie and, of course, be sure to follow the blog @themerrythought!
Here are a few favorites from this week:

@rebekah.gough | @chrissatosh | @thatmagpie

@klizgill | @lspiercern | @sketchynotions
We'd love to see what you're thankful for – join in on the fun! Use #merrythankful – each week this month we'll share some of the photos here on the blog and on Instagram.
-Manda