If you've been following along, you've probably seen a few posts over the past couple months of my brother's kitchen that I made over. I decided to share a bunch of before and afters of the final project along with a full list of tips for an affordable [and renter friendly!] kitchen makeover!
I've mentioned before how you can feel trapped with an ugly kitchen because you rent or just don't have the resources to completely renovate your kitchen. BUT I'm here to tell you that you can easily update your kitchen to something you're much happier with so that you can feel proud of your space and enjoy your time with it until you move into a different home or decide to tackle that renovation process to create your dream kitchen!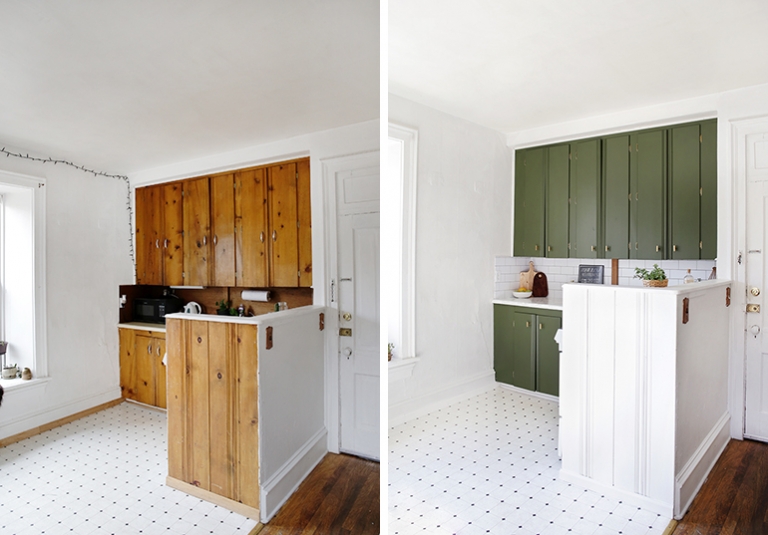 I'm going to break down all of the projects that we tackled and give you some tips to go along with each one along with a breakdown of costs!
Painted Kitchen Cabinets: $55
-This might not be an option for all renters but if the cabinets in your apartment are outdated enough you might be surprised at your landlord's willingness to have you refinish them.
-Because some landlords won't be able to envision your idea when you ask them for permission to paint the cabinets, I would recommend preparing some info before talking to them. I decided on a paint color and found a few images on Pinterest showing a similar style kitchen/color to give the landlord a better idea of what I was going to do when I asked her. I also did research on how to properly paint cabinets and had all of that information ready so they would know I wasn't just going to throw some paint around.
****PLEASE if you're going to paint an apartment, don't skip any of the steps in the process of painting the cabinets. Or else you'll ruin it for all of the other renters in the world and probably lose your security deposit in the meantime. Ha!
Update Cabinet Hardware: $39
-If you already like the color of your cabinets or you can't get permission to paint them, sometimes all you need to make a big difference is to swap out old, ugly hardware for some fresh, beautiful ones!
-If you use the same holes that are already drilled, you probably don't even need to ask for permission from your landlord. Just exchange the knobs and save the old ones to put back before your move out. Then you can keep the new ones to use at your next place!
-Since we refinished our cabinets, we actually moved the hardware because they were so high before I could barely reach the pulls on the upper cabinets. We patched the previous holes before painting and then drilled holes for the new hardware before putting everything back together.
-We used these brushed brass t-bar knobs and drawer pulls.
Update Countertop: $13
-If you have old, ugly laminate counters you can cover those up with faux marble contact paper and then peel it up before you move out and leave the landlord with the same ugly counters that you rented the place with!
-Ours has been on for a few months now and it's holding up beautifully – even around the sink! Super easy to clean and looks great!
-We used this faux marble contact paper.
Removable Tile Backsplash: $35
-If your walls are in need of a little something or you just want a bit of brightness or texture added to the room, a removable backsplash is an amazing way to add that in and is easily removable when you move out of the space or when your taste changes.
-We used this peel & stick tile wallpaper as our backsplash and love how much it brightened up the dark counter area!
My total for all of these updates was $142! And what a HUGE difference it made! Depending on what supplies you have on hand for painting, how long your counter space is, what hardware you want to go with, the price will obviously vary a bit. But it was super easy to keep all of these projects together under $200! So don't go on hating on your kitchen every time you walk in it, make a few easy changes and love your space!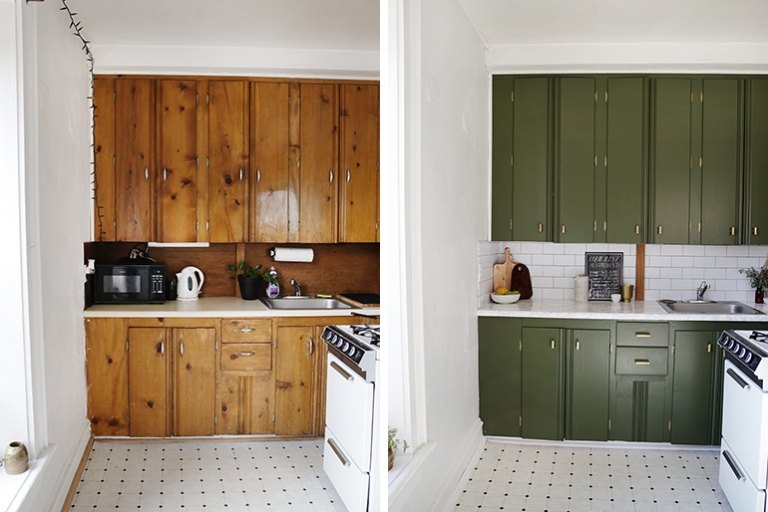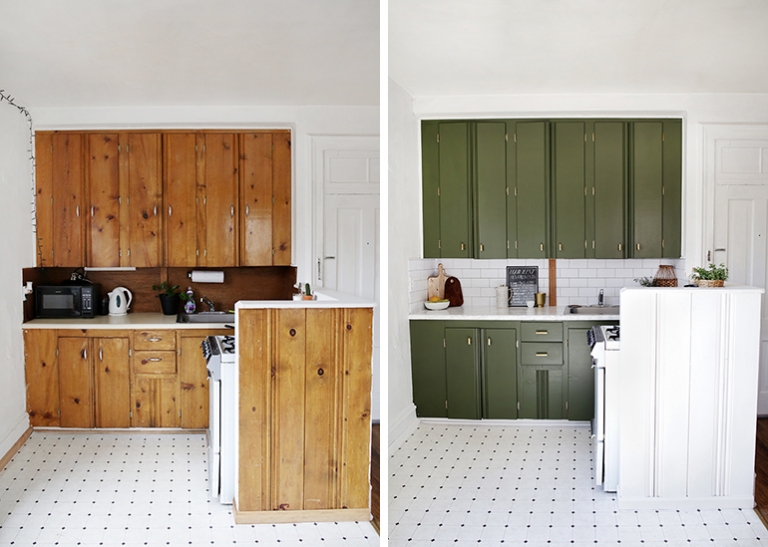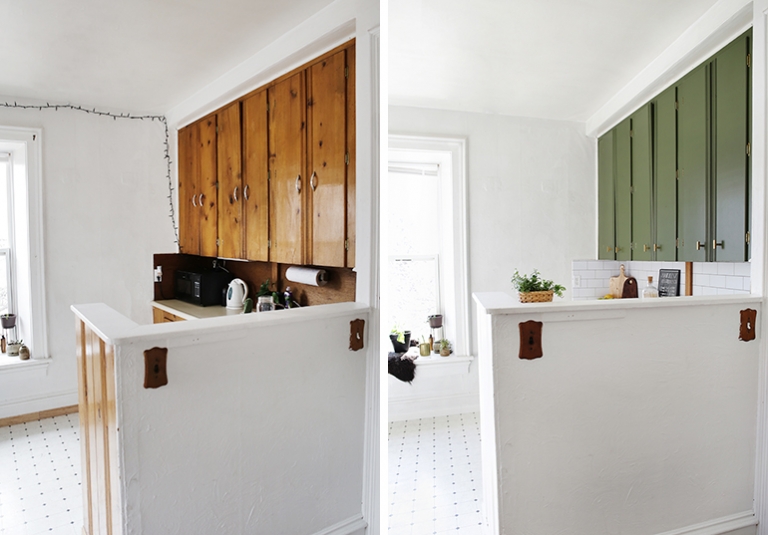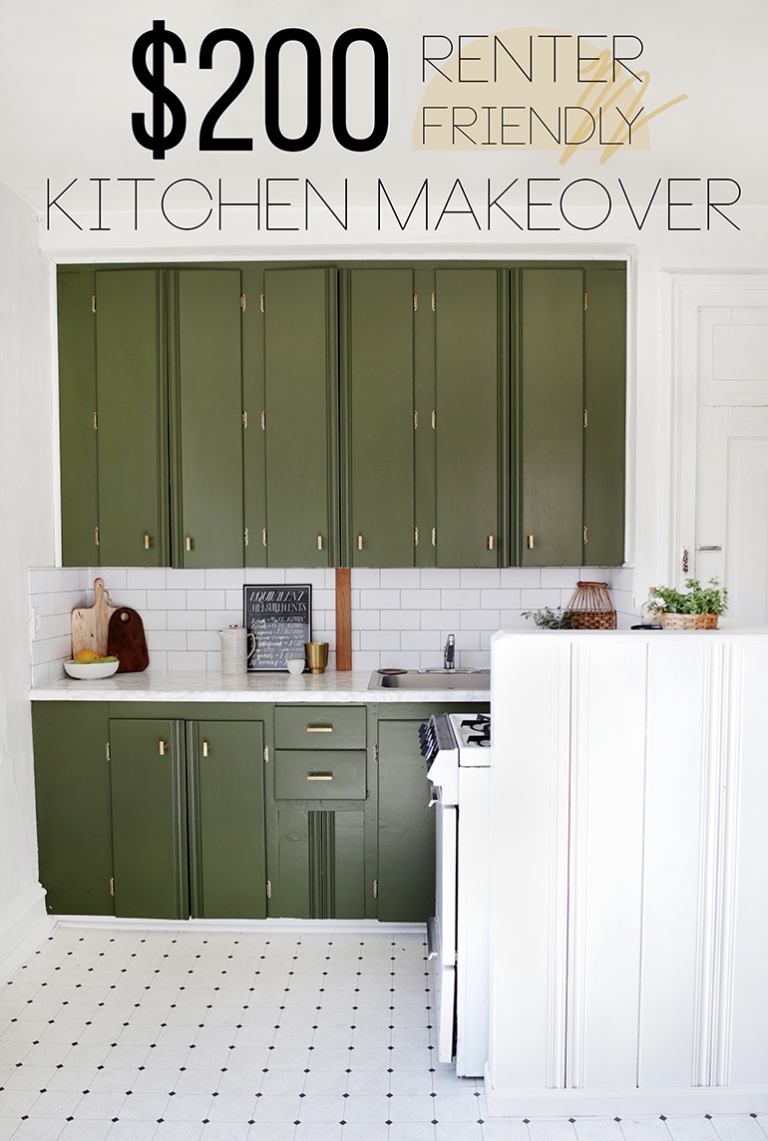 -Caitlin