While working on my brother's kitchen
cabinet makeover
, I decided to try out a few other easy fixes that would be renter friendly and see how they went. I know tons of people have used contact paper to cover up ugly countertops but I had never believed it would work well enough to try it. But I desperately wanted to cover up the annoyingly boring, beige laminate counters so I decided to just try it out so that I could at least know whether or not it works. It's been on for over a month now and my brother is not necessarily a careful or super cleanly person (ha!) and they've been holding up SO well! So I just wanted to share what I used/did because it's actually insane to me what a cheap and quick fix this is for all of the people out there dealing with hideous rentals! I can't recommend it enough!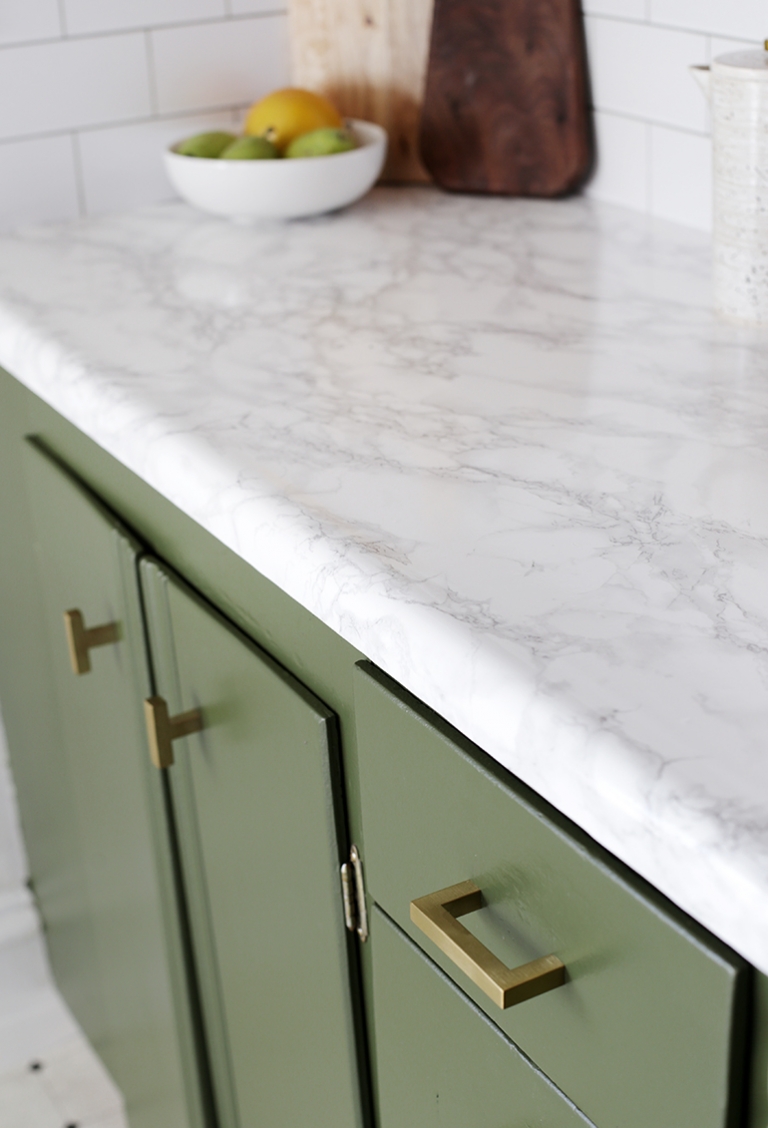 What you need:
–
Marble contact paper
(This stuff was great because it was actually wide enough to go across the counter! A bunch of the ones I looked at weren't.)
–
Plastic putty knife
or a credit card would work
–
X-acto knife
or utility knife
–
Scissors
How to do it:
This definitely takes a bit of patience and precision so don't rush the process! You want to make sure everything is square and there are no air bubbles under the contact paper.
Clean counter throughly and let dry completely. Start on one end of your counter and peel back some of the paper backing from the contact paper. Square the contact paper with the back and side edge of the counter and use the putty knife to smooth it out – making sure all bubbles are out. (You can leave the front edge free at this point, you'll wrap it around the counter later) Slowly work your way across the counter – unrolling the contact paper, and peeling off and cutting away more of the paper backing as you go. You can always pull it back up and readjust it if necessary. When you get to anything that you have to go around (like the sink), you can stick the contact paper down and then run the x-acto knife right along the edge of it and remove the excess paper. Once your contact paper is across the counter, you can wrap it around the front edge of the counter and use the x-acto knife along the bottom of the counter to trim off the excess paper.
So far ours has been holding up really well along the sink but you could always caulk around the sink if you're worried about it.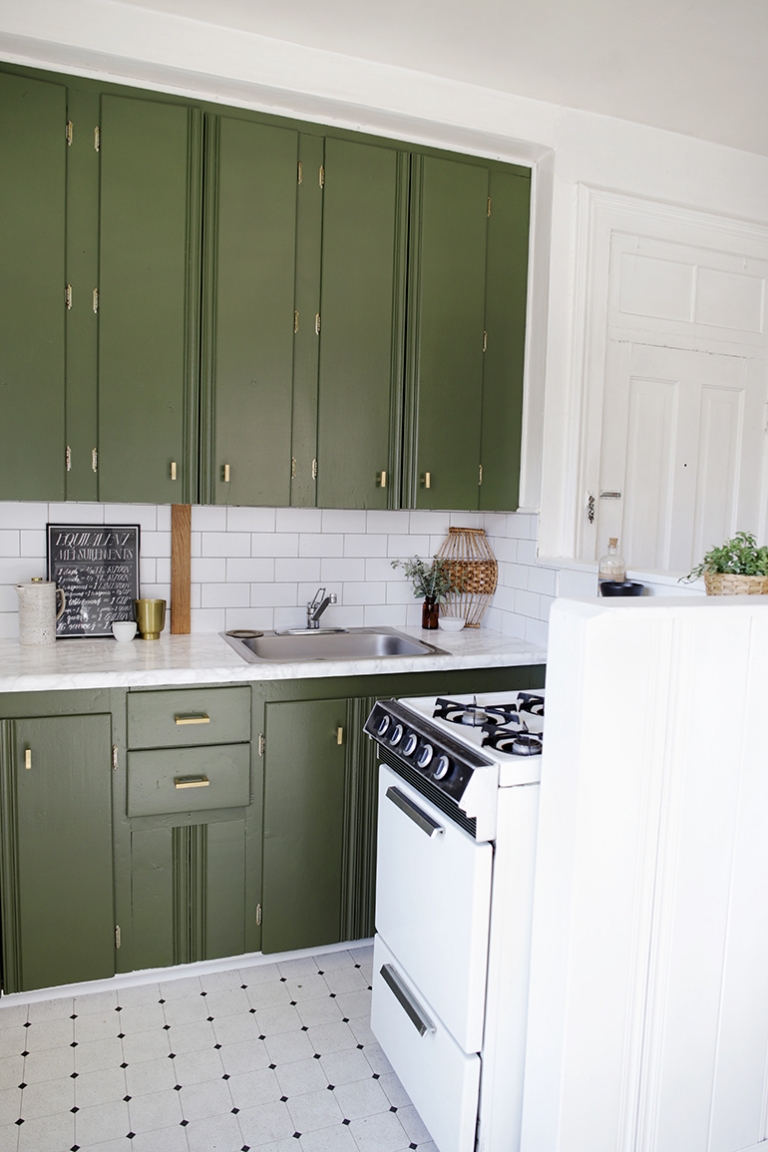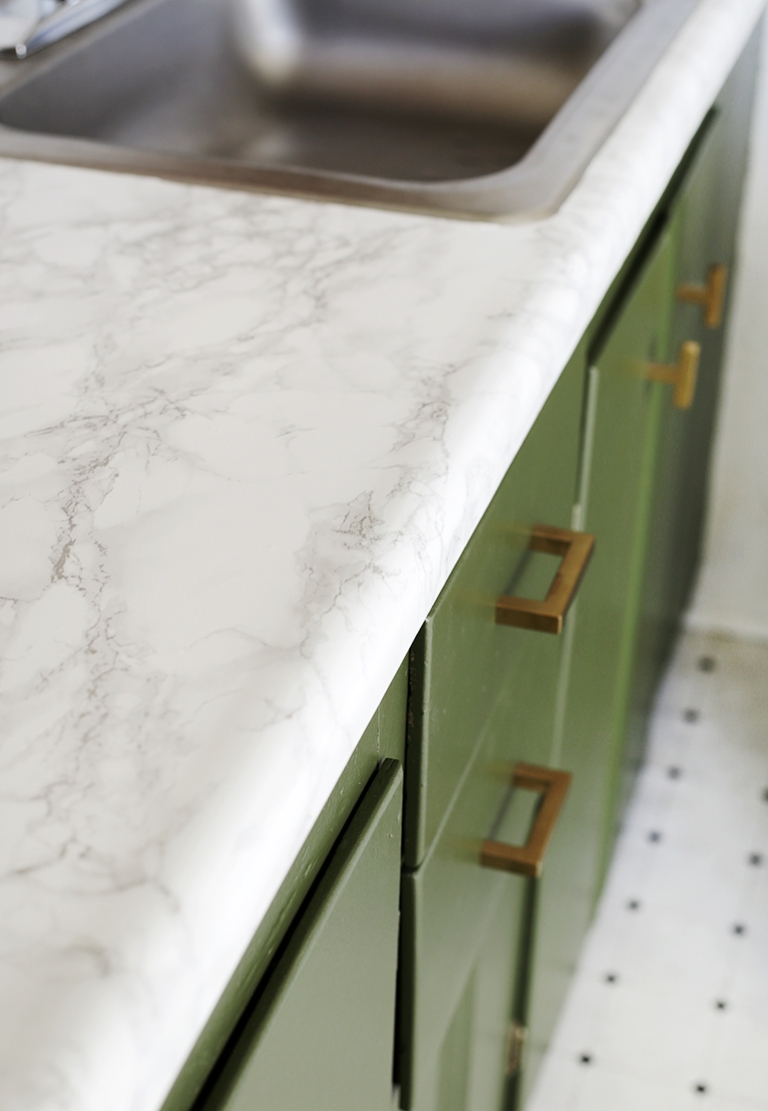 -Caitlin