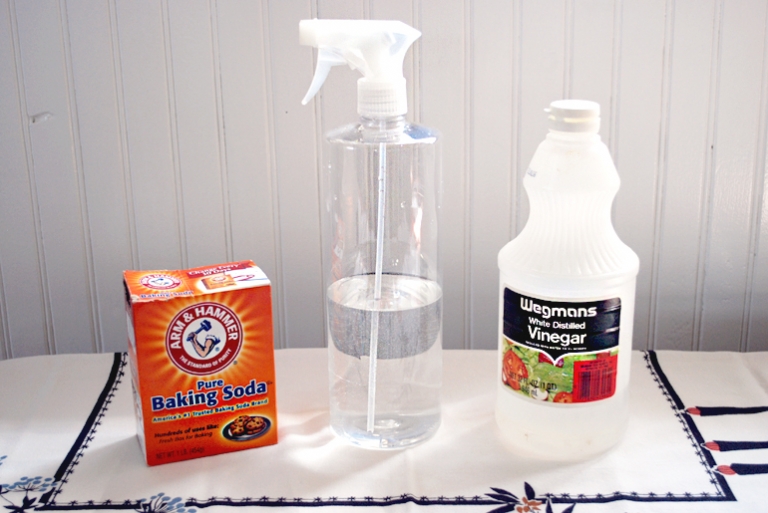 I must confess, I am no expert on natural cleaning. I'm a newbie at this, but love reading up on it, and thought I would share a little bit of what I have learned (and I want to have a place where I have all this info handy for myself!). I have a few reasons that I'm interested in natural cleaners.  I have three little boys that I do not want exposed to dangerous chemicals.  Right now, they love helping me clean (why can't this phase last forever?!).  They love to help clean windows and dust.  I love being able to give them a bottle of natural, safe ingredients and have them go crazy with their cleaning! I also like to find cheap ways of doing things. And if something is a little better and safer for our world, while being affordable, I'm in.  Second confession, I still do have regular cleaners in my home. Some I'm just using up what I had, and some things, I just haven't gone "all natural" on (like soap and dishwasher detergent). I'm doing my best to use natural as much as I can, but it's a process, and I'm not sure I'll ever be completely "all natural". And I guess while I'm making "green" confessions, I'll admit, I don't re-use plastic baggies…sorry mom!
If you're new to using natural cleaners, start out with a basic all purpose cleaner.  Vinegar is a great natural cleaning product as well as a disinfectant and deodorizer.  All you need is to mix a solution of equal parts water and vinegar in a spray bottle and you have a solution that will clean most areas in your home.
All-Purpose Cleaner:
1 part white vinegar

1 part water
Mix together in a spray bottle. Spray and scrub.
Don't worry about your home smelling like vinegar, the smell disappears when it dries. You could also add a couple drops of essential oil to your mixture to give it a nice scent. (More on essentials oils below)
Glass Cleaner:
1/4 cup vinegar

1 quart of water
Mix together in a spray bottle. Spray on glass and wipe clean with old newspaper or a lint-free cloth.  (I love the newspaper on windows trick!! It seems so odd, but it works so well).
I recently came across this recipe for washing fruits & veggies; I haven't tried it yet, but can't wait to after my next trip to the grocery store!
Fruit and Vegetable Wash:
1 cup water

1 tbsp. lemon juice

1 tbsp. baking soda
Mix together, spray on produce, wipe after 5 minutes.
Here are a few basics for natural cleaners and what they're useful for:
White Vinegar – cuts grease, removes mildew, odors, some stains and wax build-up.

Baking Soda – cleans, deodorizes, softens water, scours.

Lemon – effective against most household bacteria.

Borax – cleans, deodorizes, disinfects, softens water, cleans wallpaper, painted walls and floors.
Remember :: It's always best to test any cleaner on a hidden area first to make sure no color change or damage occurs.
Essential oils are something else that I've just started learning about. My friend Hanna is the expert in this area. She recently showed our MOPS group how to make our own natural air freshener room spray. It was so quick and easy and smells soo good!  Here's a few of the recipes we tried out:
What you'll need:
2 oz spray bottle

1/2 oz Vodka

4-5 drops essential oils

water
Add vodka and oils to bottle. Fill remainder of bottle with water.  Gently shake the bottle before each use to mix ingredients.
A few scent recipes to try:
Refresh:
2 drops Peppermint

2 drops Lavender
Sleepy:
3 drops Lavender

2 drops Chamomile
Perky:
2 drops Chamomile

2 drops Orange

1 drop Ylang Ylang
(If you're wondering about the Vodka in the recipe…alcohol will break down the oil while leaving the scent intact, allowing you to mix it with water. Otherwise, your oil will just float on top of the water).
If you have any questions about essential oils, you can see this page here for more info.
Do you use any natural cleaners? Any tips or tricks to share with me? I'd love to hear any recipes you use.
Happy mixing & cleaning!  Manda
"If you love the Creator, take care of Creation"