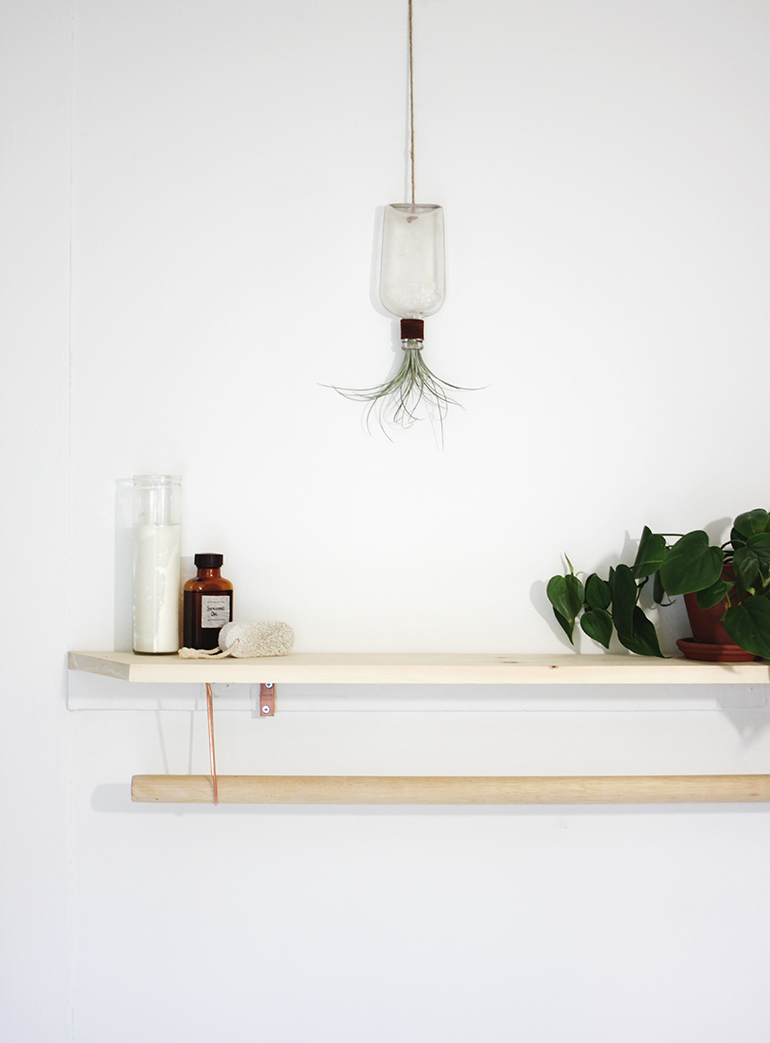 I finished this project for my bathroom yesterday! And I have a few items in the mail so that I can finish up a few more DIY projects and finally finish one of my rooms! Hopefully by the end of next week, I'll be sharing the completed room with you. This shelf is super simple – it took about 20 minutes! – and I love what it has added to my space!

What you need:
-Wooden Board (I bought a cheap 1x6x4″)
-1.25″ Round Dowel
-Flat Braces (I bought these and spray painted them copper)
–Copper Tubing Hooks (And use the leftovers to make some mini marble shelves!)
–Double Point Tacks
-Saw (I used a Miter Saw and a Scroll Saw)
-Drill
-Measuring Tape
-Hammer

How to make it:
-Cut board and dowel to desired length. (I angled the ends of my board in so that it would fit better in my space without me running into the corners all the time!)
-Attach copper hooks to the bottom of the board, 5″ in from the ends of the board using the tacks and a hammer.
-Attach braces to the bottom of the board right up against the edge (in the photo it shows that I attached mine from the edge – this is only because I have a molding that the shelf would be resting on top of.)
-Attach braces to the wall…. Done! Easy breezyy!

Does your bathroom need some updating? Would you try out this simple, affordable shelf?
xo. Caitlin