I've been needing a new shelf for my
oils
, my collection has been taking over the shelf they're currently on, and they're not very easy to organize where they are now. I spotted something similar to this in the background of an Instagram photo a while back and loved the look as well as how versatile it could be. So I gave Mike the challenge of making me something similar. 😉 It reminded me of our
DIY Pegboard Wall Organizer
, but a bit simpler of a design. I like that the shelves can be moved around to accommodate different heights, or adding in more shelves if needed. Perfect for a growing oil collection! 😉 I figured most might not be looking for a shelf for oils, so I took photos of it with some of my favorite "knick knacks" on it (which made me kind of want to keep it like that – ha!) but you can see it as my "oily" shelf in the last photo.
DIY Peg Shelves
Materials:
– 6 foot 1×2 pine board
– measuring tape & pencil
– drill press with spade bit
– scrap piece of wood
– plywood 3/8"x12"x24"
– table saw
– mitre box
– 1/2" dowel
– sandpaper
– drill & screws
Directions: Cut your 6' 1×2 board into two 25" pieces with a mitre box. Starting from one end, make a mark at 2" in the center of the wide side of the board and then every 3" from there until you get to the other end; make center marks at each of these lines. Using a drill press and a 1/2" spade bit, drill a hole in a scrap piece of wood; check to see if your dowel fits snugly in this hole. (The dowel we had was slightly smaller than the 1/2" hole so we used a metal file to file the spade bit's width until the dowel fit snugly). Drill a hole at each of the marks, placing a piece of scrap wood beneath your piece so that you can drill all the way through. Drill a 1/8" hole 3/4" from each end for the screw to mount the board to the wall.
Cut plywood 3-3/4" wide by 18" long for the shelves.
Cut dowels 4-1/4" long (you will need 2 for each shelf).
Sand everything as needed.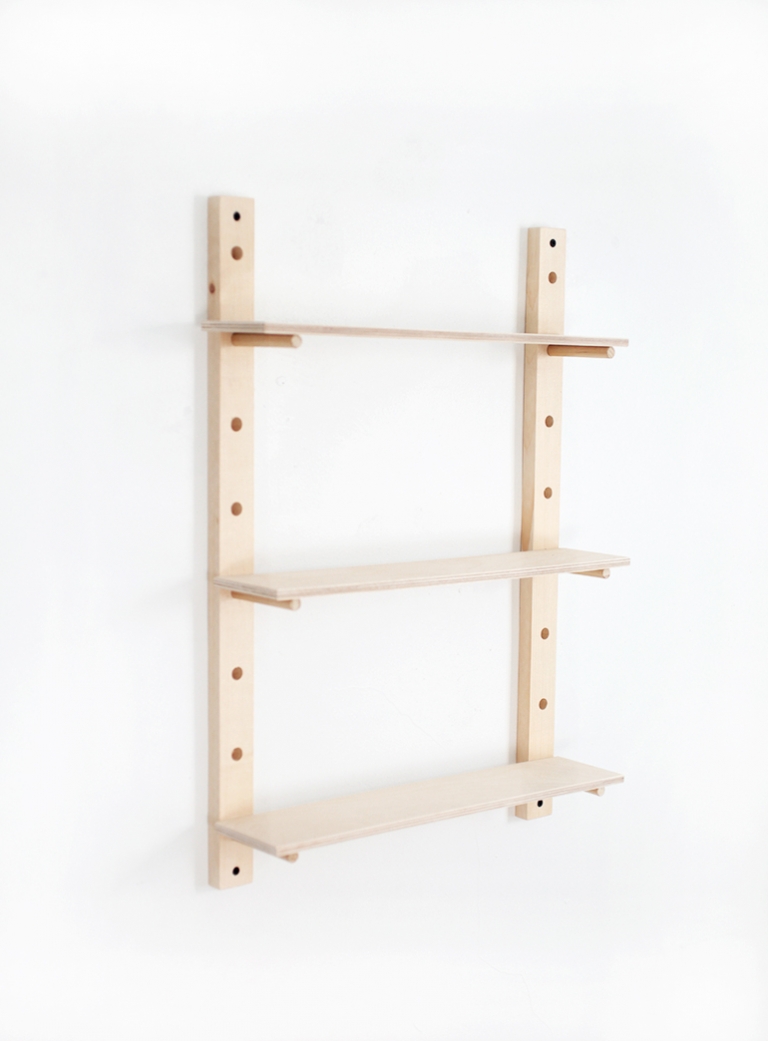 -Manda