Since I've been sharing DIYs from our bedroom makeover, I thought I'd share this DIY Linen Spray that I keep in my room to give our bedding a fresh, dreamy scent! If you've been following along for a bit, you know I love essential oils and using them to make natural, homemade cleaning and beauty products. This homemade linen spray has so many different uses. You can spray it on bedding, blankets, towels, rugs and even upholstered furniture that needs a bit of freshening up! Or just use it as a room spray to give rooms a clean, fresh scent. Since we've been spending sooo much time in our homes, and my house is filled with a bunch of boys, I feel like I want to run around freshening up every space those stinky boys are in! 😂
I've included a few different spray blends you can try with your DIY linen spray, depending on your scent preference and where you'll be using it. The bottle that I use in our room has a blend that is great for helping unwind and relax, so I like to spray my pillow with it right before bed. There's also a citrus blend for a fresh, clean scent and one that's a little more woodsy, because I just love woodsy blends so much and I want everything to smell like that! I've included a printable label you can use on your bottle!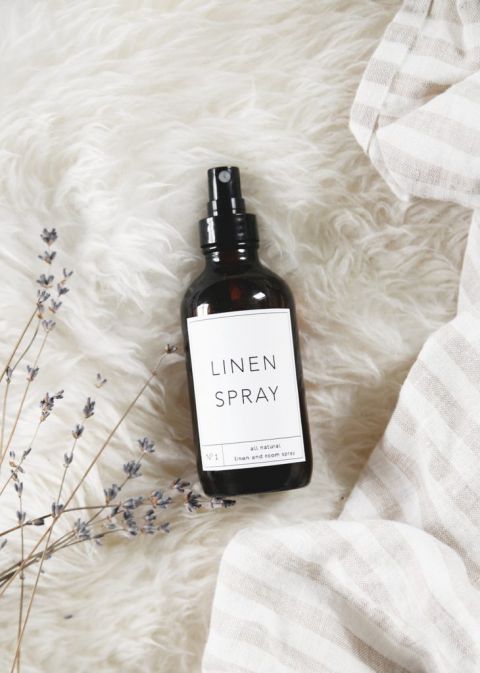 DIY Linen Spray:
label – download here (for 4 ounce spray bottle) (I use this sticker paper to print my labels on)
Add ingredients to spray bottle. Gently shake to mix together. Spray on bedding, towels, blankets, rugs, upholstered furniture (if you're not sure how your fabric will react to moisture, test in an inconspicuous place first), or just use as a room spray. Give bottle a gentle shake before each use.
Linen Spray Blends:
I didn't list specific number of drops for each oil, since everyone has a preference for which scents they like to be strongest; just use as many drops of each one as you wish to get about 30 drops total in your spray. (I use the most drops of the top oil, and the least drops of the bottom oil). I think it's important to use quality essential oils, since you'll be inhaling it, you can read about the oils I use here.
Fresh & Clean Blend:
Citrus Fresh Essential Oil
Relaxing Blend:
Frankincense Essential Oil 
Peaceful Blend:
Northern Lights Black Spruce Essential Oil
Black Pepper Essential Oil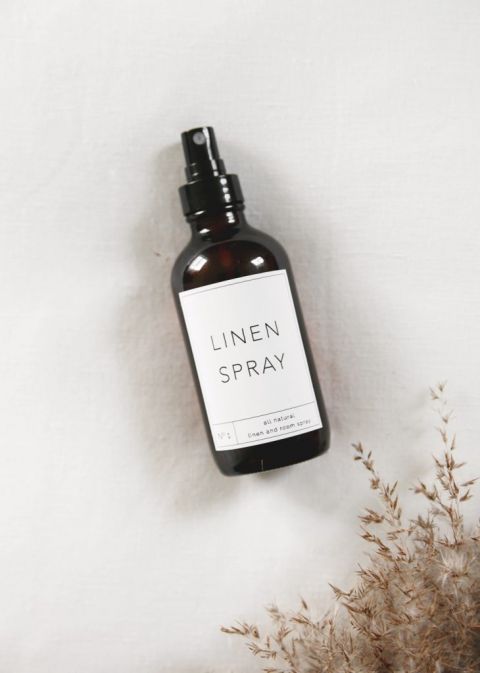 You can find more natural, homemade house, cleaning, and beauty related DIYs here.
-Manda