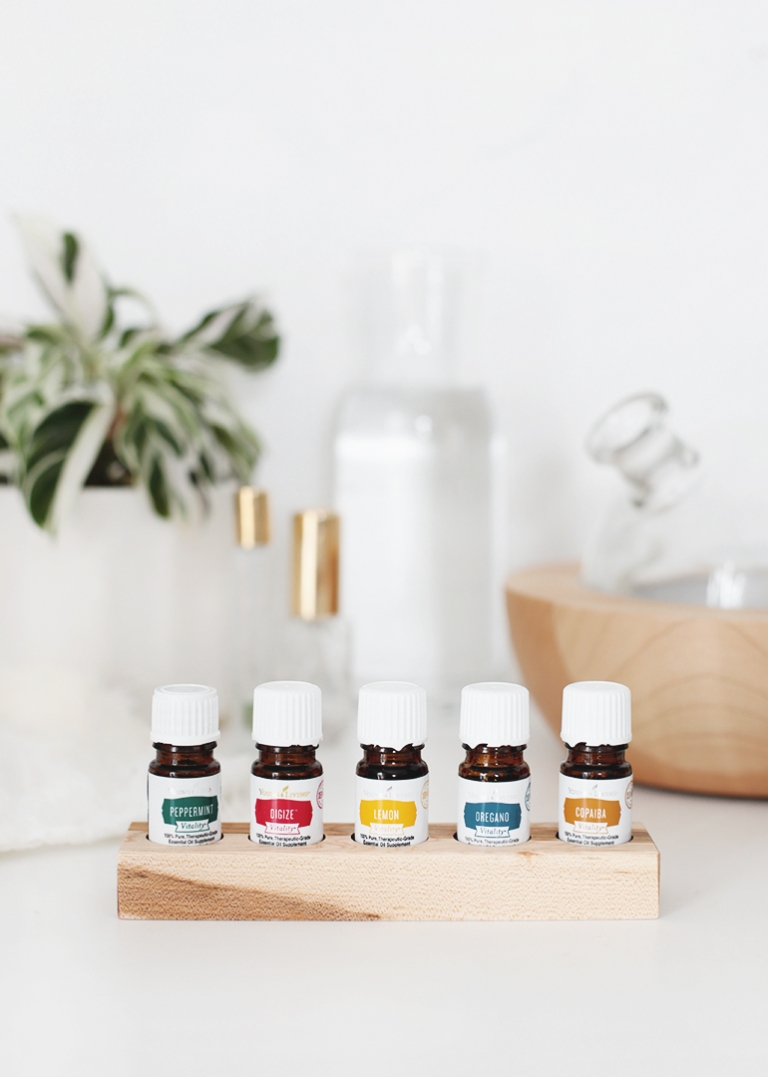 A while back we had asked what kind of projects you wanted to see more of here on the blog and what kind of new products you'd like to see in our shop…essential oil storage was something that came up for both, so here it is! This was also something I'd been wanting for my own oily collection as well, so win-win! 😉 For those that like tackling your own projects, we're sharing how you can make your own below. And for those that maybe don't have the time or tools, you can find them here in our shop!
While I have my peg shelf that I use as my main storage for oils, I'd been wanting some smaller storage to keep in other places around the house – in the kitchen for my vitality oils, by my diffusers and on my bedside stand (this is the main place I needed one – they are always getting knocked off when I'm fumbling for the light)! We made a few different styles and sizes – all my favorite wood types and different hole sizes to fit the three most common bottles I have – 5ml, 10ml (roller bottles), and 15ml. I've already found these so handy to have and plan to have Mike make a few more for me that offer various bottle sizes on one tray!
Some of you have asked questions about oils and getting started with them and for those of you that have been wanting to jump in, right now Young Living is running a sale on the original Desert Mist Starter Kit – 10% off! Annnddd, if you order your starter kit through me (which includes a diffuser + 11 oils + wholesale pricing/membership + other goodies), I'll send you one of these storage trays for free and give you an additional $10 off (from me, not through the site). 💃🏻🙌🏼 So now is the time, so you can score this great deal (it's normally $160, now $134 with the 10% off from YL and the $10 back from me) and get a free EO storage tray! (Young Living's sale is only good while supplies last, so don't wait too long!) Click here for more details or shoot me an email.
Materials:
– wood
– table saw
– power planer (or jointer or belt sander)
– mitre saw
– forstner bit
– drill
– sandpaper
Directions:
Cut wood to desired width on table saw. Use a power planer (or jointer or belt sander) to clean up saw blade marks on edges. Cut wood to length with a mitre saw. Lay out and mark the centers for the 5 holes. Drill the holes, using tape or a mark on the drill bit to get a consistent depth. (We made our hole sizes: 7/8″, 1-1/8″, and 15/16″). Sand and apply a coat of oil to seal the wood. (We used coconut oil).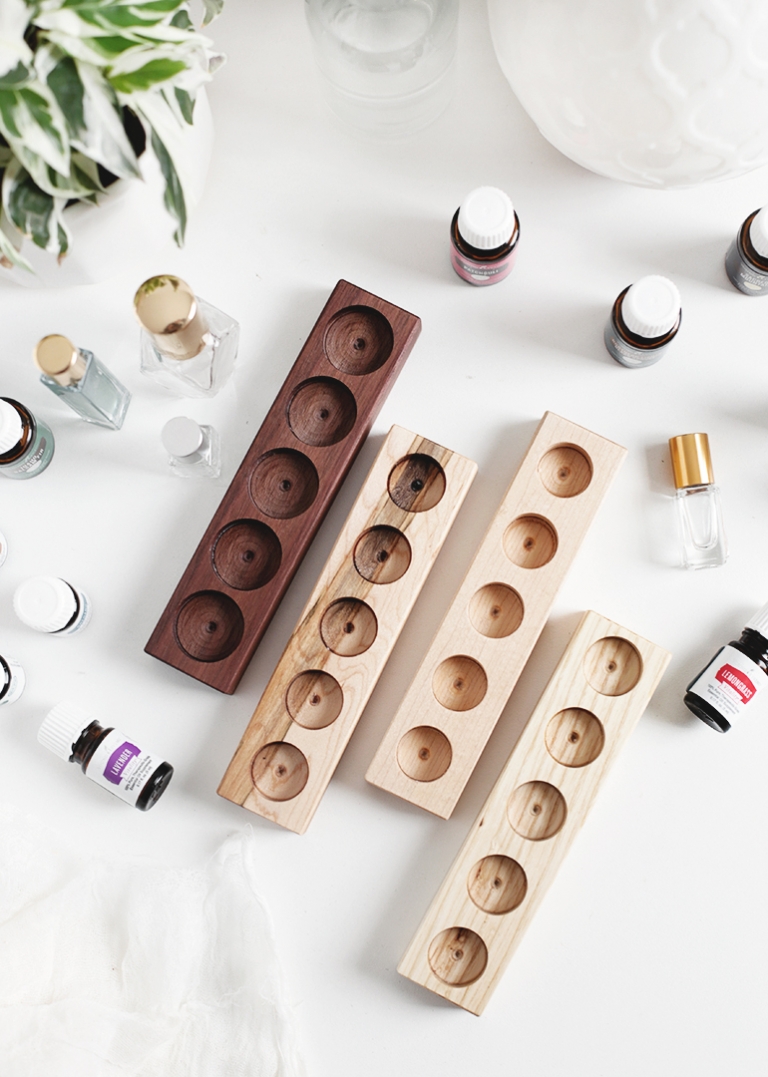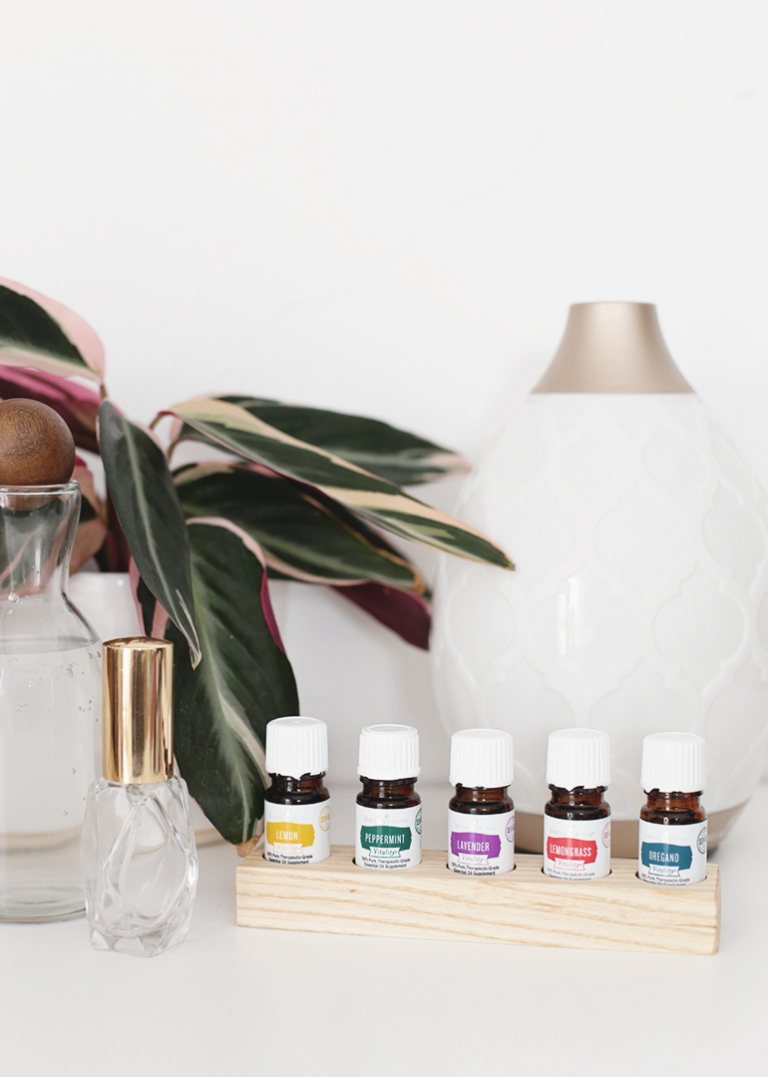 For all my fellow oil lovers, you can follow my wellness account @essentiallylivewell for more oily goodness!
-Manda