Summertime…filled with swimming, camping, bonfires, cookouts, s'mores, and sunburns! 😬 As someone who has dealt with skin cancer issues in the past, I usually do my best to just avoid direct sun exposure. And as a mom, I do my best to make sure my kiddos have sunblock on before heading out to swim or play. (I've switched to using mineral-based sunscreens because it doesn't contain all the bad chemicals that regular sunscreen does!). But even though I try to do my best to be diligent, sunburns do happen around here from time to time. So I made up some skin soothing after sun spray for those times we need relief from sunburns. I love how easy this after sun spray is to whip up and that it's filled with all natural ingredients!
This spray is filled with all natural ingredients that are good for your skin. Aloe vera gel (make sure it's the clear, natural kind!) has been used for years for soothing sunburns, and has anti-inflammatory and moisturizing properties. Witch hazel is an astringent that can help shrink your pores, soothe your skin and reduce inflammation. Vitamin E oil can moisturize and soothe dry, flaky skin. Lavender essential oil is one of my favorite oils and is great for soothing skin. Peppermint essential oil soothes skin and provides a cooling sensation. It is considered a "hot" oil though, so use caution if using on children. You can use less peppermint oil or just leave it out completely if this is for young children.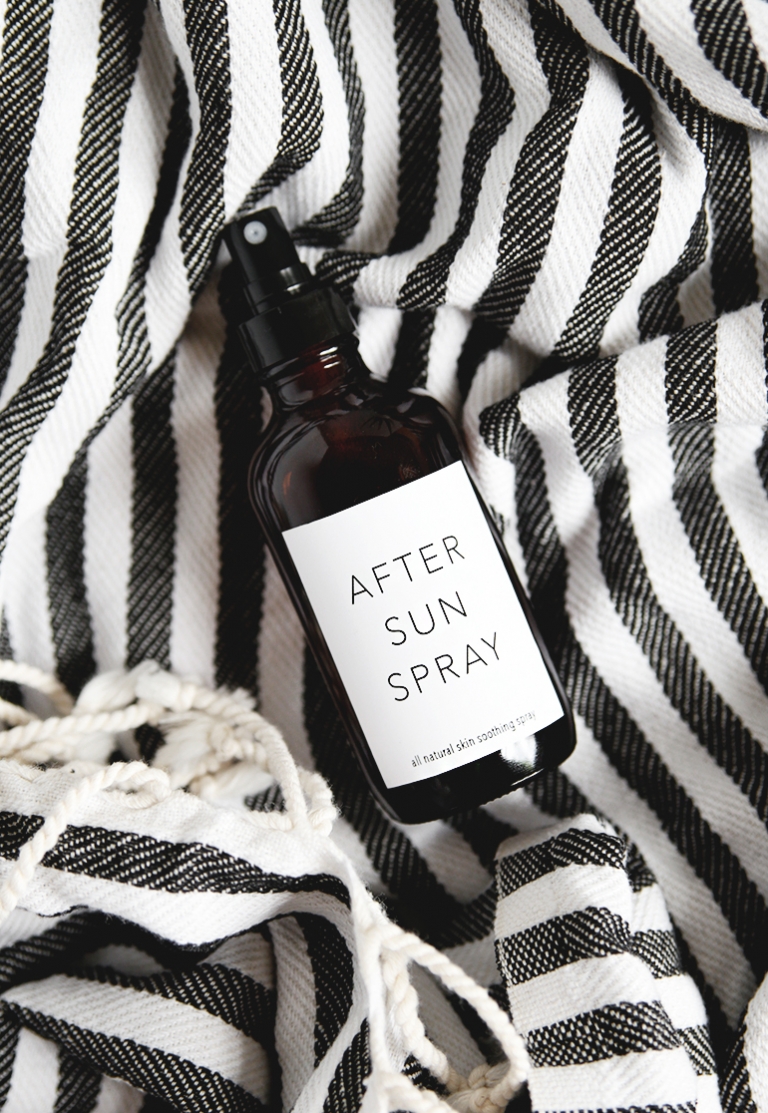 After Sun Spray:
– 1/4 cup aloe vera
– 1/4 cup witch hazel (you can use the code MERRY to get 50% off  your first order, they have affordable, healthy products with the bonus of super pretty packaging!)
– 1/2 teaspoon vitamin E oil
– 20 drops lavender essential oil
– 10 drops peppermint essential oil (see above for use on children)
– 4 ounce spray bottle
– label (I use this paper for labels)

You can find more homemade beauty product recipes here!
-Manda