Welcome to the first of our Merry Home Tour series!  We all love looking at homes and seeing how people decorate their spaces (Marla is a realtor and gets to do that for a living – lucky!), so we thought it would be fun to do a series featuring just that.  We hope you find it as enjoyable and inspiring as we do!
I feel a little strange welcoming you to the Merry Home Tour series with my bathroom, but it's the only room in my house that feels just about done! (Is any room ever really finished? There's always something you're adding or changing…)  It's also the smallest room in my house. Good home decorating tip: if you have a long to-do list, start with the smallest room, it'll get done faster and you'll feel great getting to cross one room off your list!


About a year ago, I finally convinced Mike that we should paint our bathroom white. This was no easy task, he really didn't think we should.  We have three little boys. White bathroom + boys = not really the best combination. But I really love white, I have for as long as I can remember…in high school, when I was finally allowed to undertake my first room re-do, I painted my room white (with a few ladybug stencils thrown in…) and I painted all the furniture in my room I was allowed to paint white.  It's clean and simple, goes with everything and looks great with pops of color thrown in here and there. (It also makes it easy to make a decision, I'm horrible at picking out colors…)  I pleaded my case, promised to be in there with a bottle of bleach regularly, and he gave in (he always does!).  🙂


My other loves besides white paint are vintage, rustic and industrial.  I think I managed to get a bit of all those in this tiny bathroom.  Mike made our rustic toilet paper holder, along with the wooden outlet and light switch covers, and towel hooks.  He's such a handy guy to have around.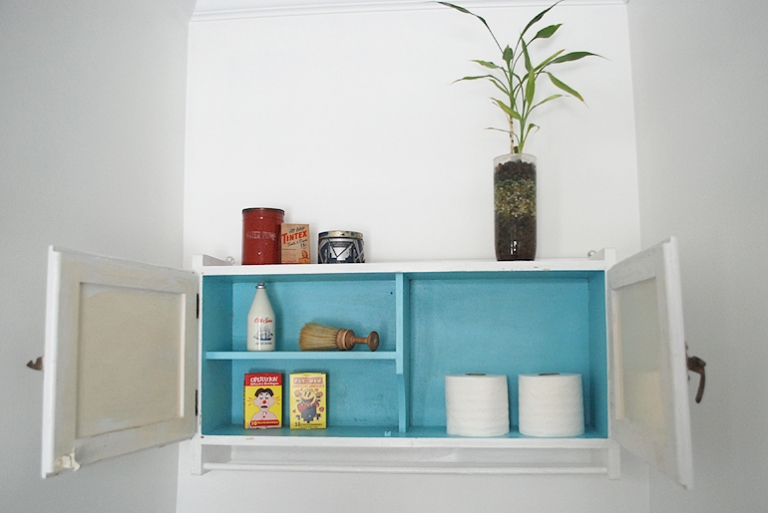 We got this vintage cabinet at an auction last summer – for free!  The inside was painted this pretty turquoise color, I love it.  It also came with quite a few things inside, the vintage items on top of the cabinet (picture below) are a few of the treasures that were included.  I'd also like to boast about my lucky bamboo plant – I've had it for over 10 years!!  (I kill all plants much to my mother's dismay).  A friend gave it to me for taking her engagement photos and I'm in shock that it's still thriving.  Don't have a green thumb?  Get a bamboo plant – easiest maintenance ever!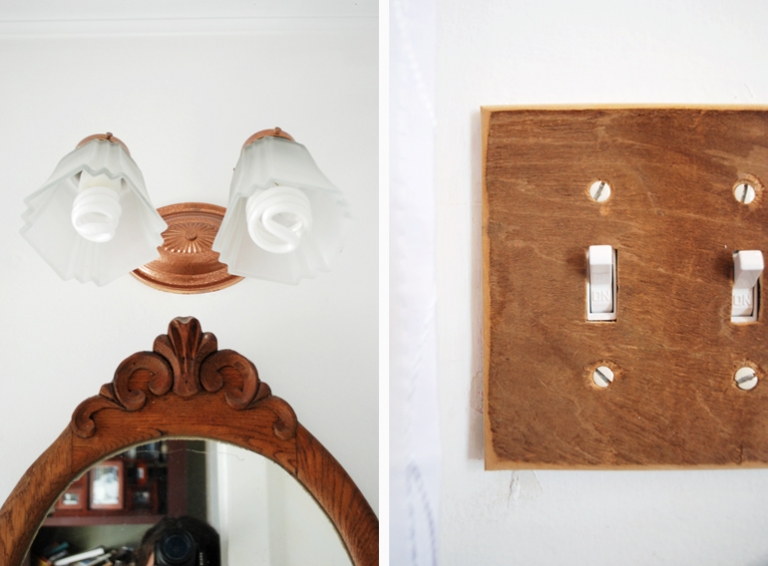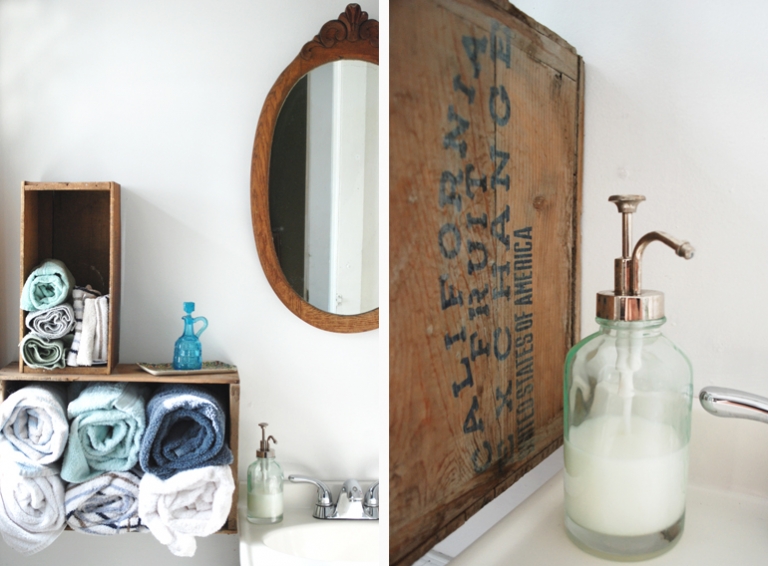 We also re-did the floor in here. That was another decision that I hated to make…too many choices. We wanted something that would hold up well to moisture, be easy to install, look good (obviously) and not be too expensive.  Mike found this flooring at Home Depot and my dad bought it for me for my birthday.  (Is it weird I asked for bathroom flooring for my birthday?)  Thanks Daddio!  This flooring can be installed right over your current floor so it was easy-peasy to install.  And I love it…it looks great with the white, right? 😉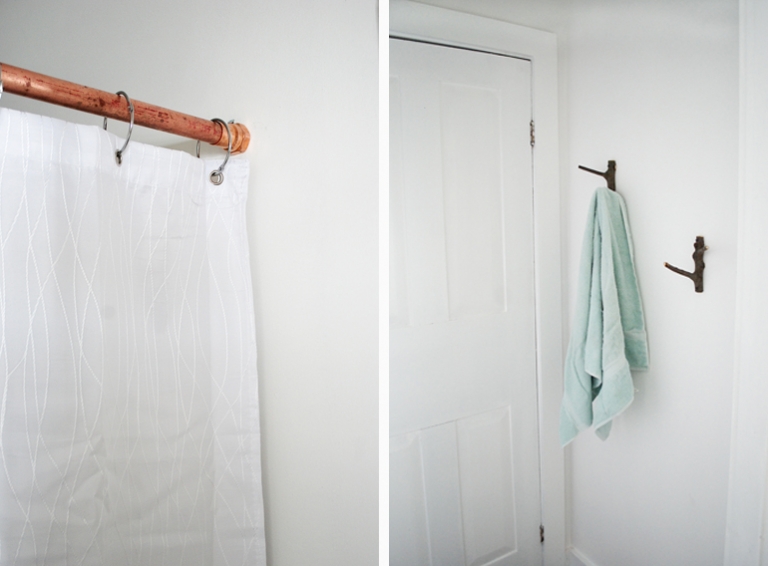 I wanted to use industrial pipes for the shower curtain rod and the curtain rod (curtains are still on the to-do list!), so Mike made that from some copper pipe he had on hand. We also spray painted the light fixture a copper color to go with the pipe.
There's still a couple more things I hope to add to the bathroom, curtains and a few things on the wall.  But I've officially crossed this room off my to-do list!  Hope you enjoyed a sneak peek at my bathroom, more room tours coming soon!
Flooring: TrafficMaster Allure Mellow Wood Vinyl Plank Flooring, Home Depot
Waste Basket & Shower Curtain: Bed Bath & Beyond
Soap Dispenser: Target
(Disclaimer::I don't usually keep glass bottles on the back of my toilet…I have three little boys that use this bathroom, that would be foolish. It's just what I would do if there weren't three little boys running in and out of there. There's usually just a tissue box there…not quite as pretty but very practical for all the runny noses happening here!)
Happy day to you!  xx – Manda