This watermelon mojito mocktail is the perfect blend of mint and lime with sweet, juicy watermelon. A cool and refreshing non-alcoholic drink.
Summer is in full swing around here! Even if we can't tell from all this cool, rainy weather we've been having. (Last night at my cousin's grad party, my Grandma was wearing her winter coat!!) Since heat & I don't really get along that well, I won't complain about cooler summer days…all this rain though – ughhh! I could definitely use a break from that – my wood doormat has definitely been broken in with a lot of muddy boots using it (and here I was thinking we made it too late in the spring season to get full use out of it)!
So maybe it doesn't feel exactly summer-ish weather-wise around here, but it can certainly taste like summer, especially with this delicious watermelon mojito mocktail recipe! The mint and lime blend perfectly with sweet, juicy watermelon, making this a cool, refreshing drink!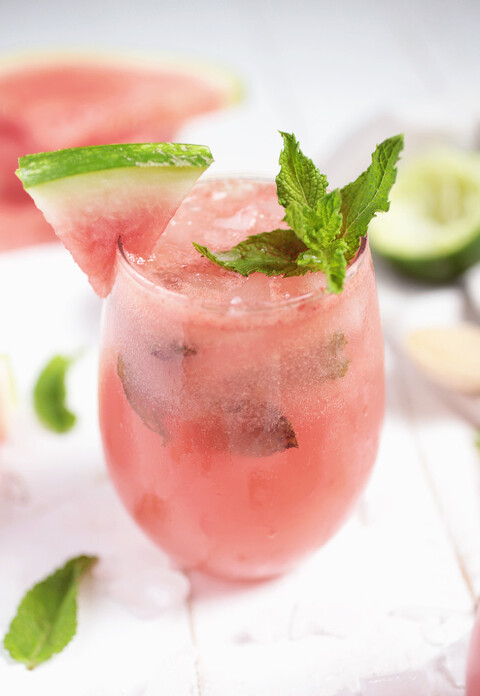 Ingredients you'll need for a Watermelon Mojito Mocktail:
chopped watermelon
limes
sugar
fresh mint leaves
crushed ice
ginger ale
club soda
See below for the full recipe!
Watermelon Mojito Mocktail
Mint and lime blend perfectly with sweet, juicy watermelon, to make this cool, refreshing drink!
Ingredients
3

cups

chopped watermelon

juice of 2 limes

1-1/2

teaspoons

sugar

4

fresh mint leaves

crushed ice

ginger ale

club soda
Instructions
In a blender, blend watermelon, lime juice and 1 teaspoon sugar until smooth.

In the bottom of each glass, muddle 2 mint leaves with 1/4 teaspoon sugar.

Add in watermelon puree, filling about 1/2 full. 

Add ice, a splash of ginger ale and top with club soda.

Stir to combine. Garnish with mint sprig and watermelon slice if desired.