It's not quite strawberry season here yet, but I've had strawberry desserts on my mind!  I've recently made strawberry ice cream and a strawberry frosted cake…just getting prepared for the season!  (It's good to get a stack of recipes built up so that we're ready to whip up lots of strawberry deliciousness when the berries start coming in, right?)  Strawberry shortcake is a favorite of mine that I don't make often enough.  This classic dessert seems to get overlooked by all the fancier strawberry desserts, but this simple dessert is delicious and easy to make.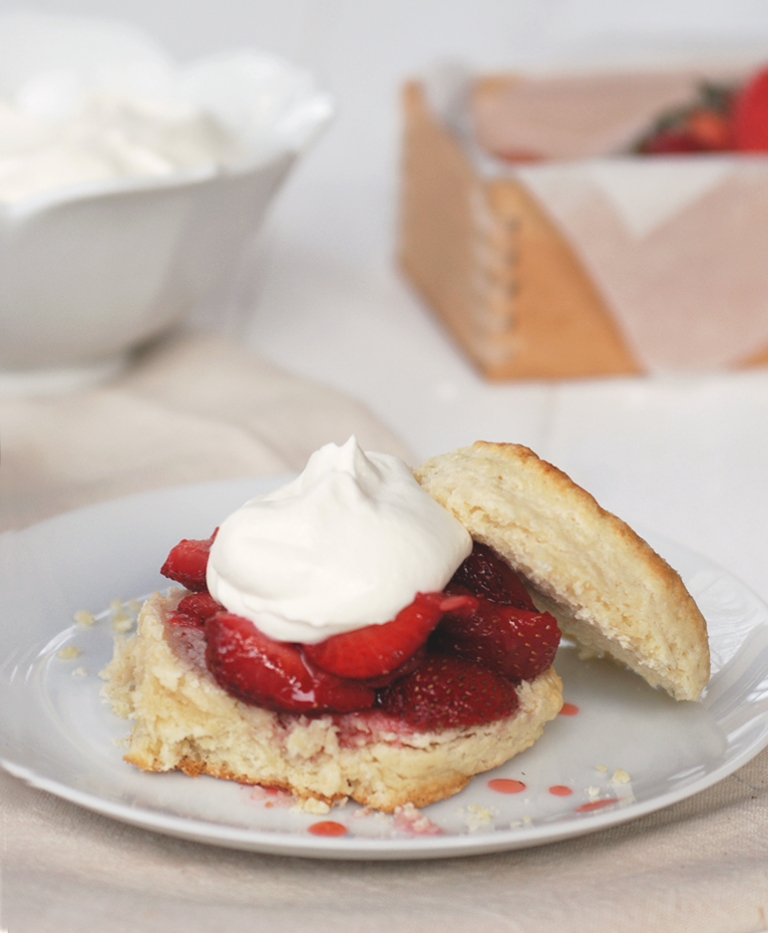 I had some crème fraîche sitting in my fridge, waiting to be used up, so I thought I'd try something a little different with the whipped cream and added in crème fraîche. I wasn't quite sure how I would like the results, but I ended up loving it!  It's got a nice little tang that pairs so nicely with the sweetened strawberries.  And it's delicious just by itself too…I'm trying to restrain myself from eating the leftover whipped cream straight from the bowl for breakfast this morning. It's definitely going to be my new go to when making strawberry shortcake.  Of course, it can always be left out and you can just make regular whipped cream to top the shortcake – but definitely make your own whipped cream, it's so, so good.


Strawberry Shortcake with Crème Fraîche Whipped Cream
(makes about 6 servings)
Strawberries
1 pound strawberries, sliced
3 tablespoons sugar
juice of 1/2 lemon
Gently stir everything together. Let sit at room temperature while making the biscuits and whipped cream.
Skillet Biscuits
2 cups flour
3 tablespoons sugar
2-1/2 teaspoons baking powder
1 teaspoon baking soda
¾ teaspoon salt
1/3 cup cold butter, cut into small pieces
¾ cup milk
For the top of the biscuits:
1 tsp. milk
1 tsp. sugar
Preheat oven to 450º. In a medium bowl, stir together the flour, sugar, baking powder, baking soda and salt. Using a pastry blender or two knives, cut the butter into the flour mixture until thoroughly mixed and crumbly. Stir in milk with a fork just until dough starts to come together. Turn out dough onto a floured surface and roll until it's about 1 inch thick. With a 2 1/2-inch round cutter dipped in flour, cut biscuits from dough. Re-roll the dough to cut out more biscuits, repeating until all dough is used. Grease a large cast iron skillet with butter. Place biscuits in skillet, making sure sides of biscuits are touching. (If your biscuits don't quite fill the pan, that's fine, the ones not touching the edge of the pan will just spread a little more). Using a spoon, spread milk on top of each biscuit. Sprinkle sugar evenly over biscuits. Bake for 12 minutes or until biscuits are golden. (Biscuits adapted from Coupon Clicking Cook)
Crème Fraîche Whipped Cream
1 cup cold heavy cream
3 tablespoons powdered sugar
1 teaspoon vanilla extract
1/2 cup crème fraîche
3 Tbs. granulated sugar
Whip the cream in a chilled bowl (pop it in the freezer for about 10 minutes) until soft peaks form. Add in the powdered sugar and vanilla extract and whisk just until incorporated. (Don't over-whisk the mixture, it will change the texture!) In a medium bowl, whisk the crème fraîche with the sugar until smooth. With a rubber spatula, gently fold half of the whipped cream into the crème fraîche and then gently fold in the remaining half. Cover and refrigerate until ready to serve; whisk a few times before serving.
To serve, cut biscuits in half, top one half with strawberries and whipped cream, place remaining half of biscuit on top. Go ahead and add a little extra whipped cream on top!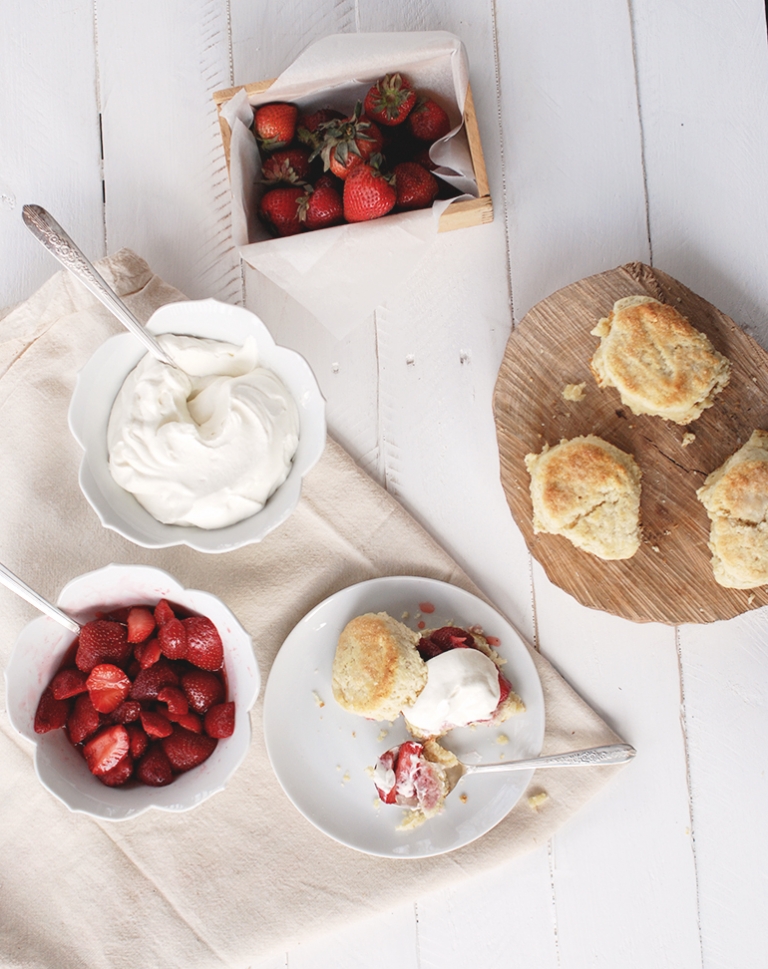 Enjoy!
-Manda