I have just recently been introduced to the greatness of making your own
popcorn
! For some reason, I always thought it would be so much more work to pop my own, and then I actually got kernels, read what to do, and it's basically just as easy as making the regular old microwave popcorn. Duh, why didn't I look into this sooner?! And it tastes so much better to make & add your own toppings to popcorn. This spicy white cheddar popcorn is so addicting! Not to mention being better for you and the endless ways to customize to suit
your
taste! So now I'm hooked and will probably be sharing too many popcorn recipes from here on out. You're welcome.
In our house, we're all addicted to white cheddar popcorn, so when Sartori sent us some of their
Montamore Cheddar
to try out, I knew I wanted to make some homemade white cheddar popcorn. And because I love most everything with a spicy kick, I decided to add some cayenne pepper. This popcorn is sooo good…and so addicting. It has a fresh cheddar taste with a nice little kick of spiciness. The nice thing about making your own popcorn, is being able to adjust everything to your liking, so you can make it a little more or a little less spicy, or just leave it out completely.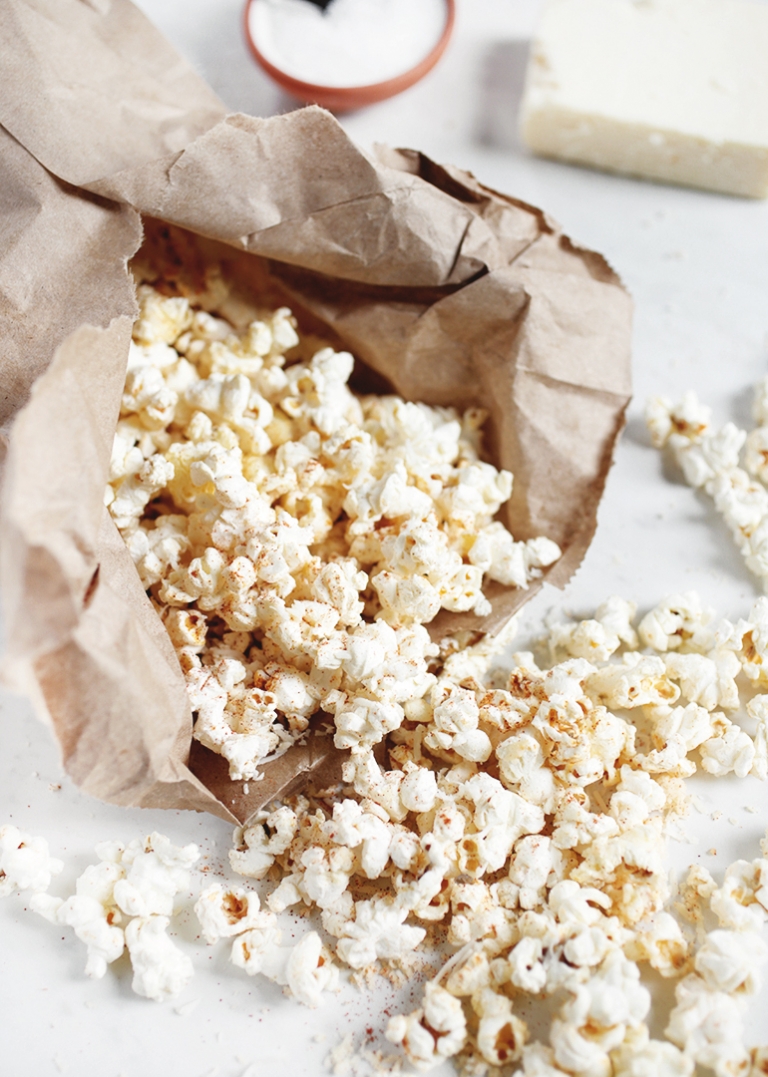 Spicy White Cheddar Popcorn
Delicious homemade white cheddar popcorn with a spicy kick! 
Ingredients
1/2

cup

popcorn kernels

(about 8 cups popped)

2

tablespoons

butter,

melted

3/4-1

cup

white cheddar cheese,

finely shredded

1/4

teaspoon

cayenne pepper

salt, to taste
Instructions
Microwave Directions: Place popcorn kernels in a small paper bag - I like to do mine in two batches, 1/4 cup at a time (I reuse the same bag). Pop on high for 2-2:30, until most of the kernels have popped or there's about 3 seconds between pops.

Pour popcorn into a large bowl. Drizzle with melted butter, lightly stir to coat the popcorn. 

Add cheese, cayenne pepper and salt, lightly stir to coat the popcorn.
Recipe Notes
Shred your own cheese for this, the texture is so much better and will stick to the popcorn better!
-Manda
cheese care of Sartori Cheese