I know I say this all. the. time. but this project has been in the works for
so
long! I'm even more of a procrastinator than normal when it comes to any project that requires precise measurements or more than 1 hour of my time. So this daybed cushion has been half finished in my closet for about nine months… Ha! The ridiculous thing is that it didn't even take nearly as long as I expected once I got to it. And I love it!
I have a new plywood daybed in the works too (don't worry, I'll share the tutorial soon!) but I decided to break the two projects up in case you just want a daybed cushion to cozy up a corner of your house! UO is one of the only places that I've been able to find decent looking daybed cushions and they're all $120+ so I priced it out and used a few coupons to make one for under $60! I'm feeling VERY accomplished now that it's done. It's definitely the most involved sewing project I've ever done. Blood, sweat and tears went into this thing! Well… mostly blood. I kept stabbing myself with the needle while trying to tuft the cushion and didn't realize I was bleeding all over the white fabric. 🤦‍♀️ Thank goodness for hydrogen peroxide to get it right out! Phew! Alright… all the info to make one for yourself is below!
What you need:
–3" foam
-utility knife
–quilt batting
-scissors
-needle
-thread (some basic thread and a heavy duty upholstery thread)
-2.5 yards of linen blend fabric
-pins
-sewing machine
-upholstery needle
How to make it:
-Use utility knife to cut foam piece to desired size.
-Cut batting so that you can cover the foam. Cut out corners so edges will fold up to meet each other (See picture 1) and then hand stitch the edges together. (See picture 2)
-Measure your foam piece.
-For the top and bottom pieces, add 2" to the length and width measurements.
-For the side pieces, add 1" to the length and 2" to the width. (If your foam is 3" thick, you'll want to cut 5" wide strips along the sides.)
-Trace measurements onto the linen and cut out.
-Sew all four side pieces together using a straight stitch and a 1/2" seam allowance. (See picture 3) (This should end up form a large rectangle.)
-Pin the side to the edge of top piece.
-Straight stitch the top piece to the side pieces with a 1/2″ seam allowance. (See picture 4)
-Pin the side to the bottom piece around
-Straight stitch those three sides.
-Flip the case right-side out and slide the foam inside the cover. (See picture 5)
-Hand stitch the last side closed by folding in the edges and using a simple slip stitch. (See picture 6)
-Now pin along the top and bottom edges to hold in place and make sure all sides are even. You should have about 1/2″-1″ to the edge of the cushion inside. (See picture 7)
-Using the upholstery thread, do a basic running stitch along the entire top and bottom edges of the mattress, close to the cushion where you pinned. (See picture 8)
-You can just leave it as-is at this point of create a tufted top – this was the bloody part. Ha!)
-Measure and mark out where you wanted the tufts on both sides. (See picture 9)
-Take the heavy duty thread and a long upholstery needle to push needle from the mark on one side of the mattress through to the corresponding mark on the other side. Go back and forth through the cushion a few times, pulling thread tight to create the tuft. Tie the thread ends together and trim ends.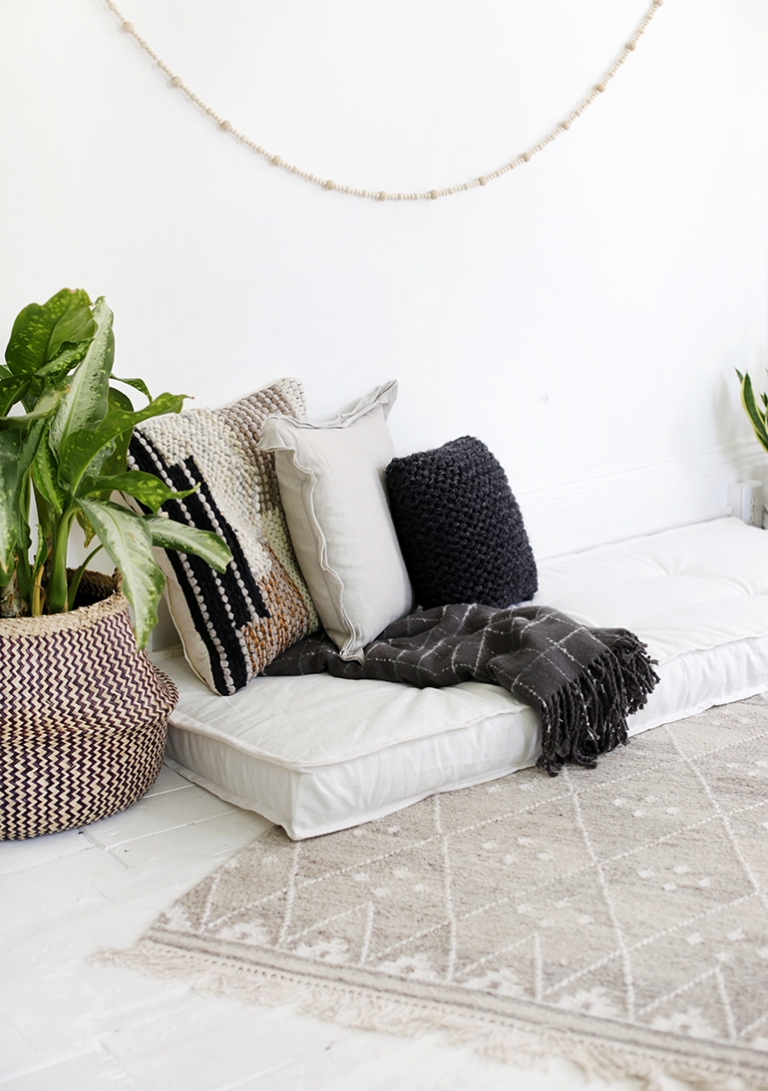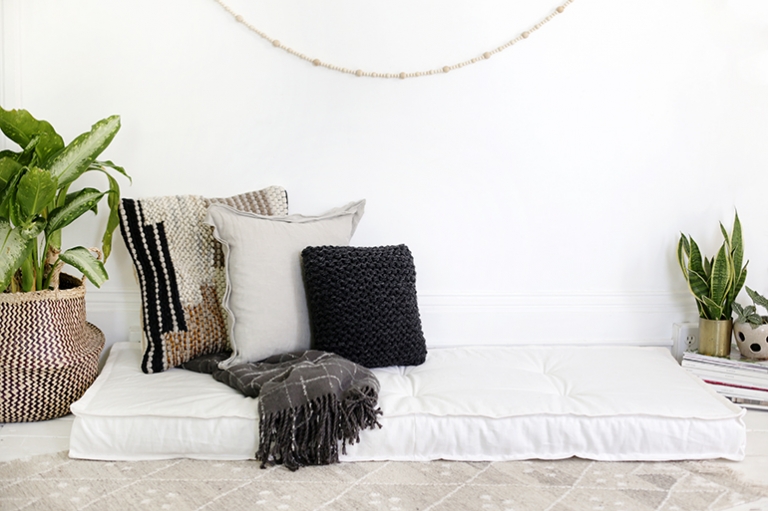 -Caitlin