A couple months ago my sister told me about some coconut bark she had bought and loved, and I was like
I can make that
! Coconut + chocolate is one of my dad's favorite combinations, so I'm always trying out different
recipes
on his behalf. At first, my recipe plan for this started out very simple, I was just going to stick with toasted coconut (the only way I eat coconut is when it's toasted) and chocolate. But then I had a jar of some salted caramel sauce sitting in my fridge waiting to be finished up and I decided that it was definitely necessary to stick that in between some layers of chocolate with the toasted coconut on top. And then I just couldn't help but drizzle more chocolate and more salted caramel on top of the coconut. And the final touch, some sea salt flakes. And finally, my
simple
toasted coconut bark was complete! This bark is perfect to wrap up for some homemade treats to give this Christmas or make up a platter for one of the many gatherings this season.
Salted Caramel + Toasted Coconut Chocolate Bark
The combination of salted caramel, toasted coconut and chocolate makes a mouth-watering treat! 
Ingredients
7

ounces

sweetened flaked coconut

11

ounces

good quality chocolate, chopped

(milk, semi-sweet, dark - whichever you prefer!)

1/2 - 1

teaspoon

vegetable oil

(or coconut oil/butter)

1/4

cup

salted caramel sauce*

sea salt flakes,

optional
Instructions
Spread a layer of coconut in the bottom of large skillet. Heat over medium heat, stirring frequently until most of coconut is light brown. Pour onto large plate or pan to cool. Repeat until all coconut is toasted. (I do a 7 ounce bag of coconut in two batches).


Place half of the chocolate in a microwave safe bowl, drizzle about 1/2 teaspoon of vegetable oil over chocolate and stir to coat (this helps keep the chocolate smooth & creamy). Microwave on high, stirring every 30 seconds until chocolate can be stirred smooth.

Line an 8x8 pan with parchment paper, leaving a little extra on the edges so you can lift it out. Spread the chocolate in an even layer over parchment paper on bottom of pan. Place in the fridge or freezer to harden.

When chocolate layer has hardened, pour a little less than 1/4 cup (save a tablespoon or two of the caramel to drizzle on top) of salted caramel sauce over chocolate layer . Place back in fridge/freezer to cool.

Melt remaining chocolate, same way as above. (Save a tablespoon or two of this batch if you're going to drizzle it on top).

When caramel layer is mostly firm (it doesn't have to be completely hard), pour second batch of melted chocolate over caramel, spreading in an even layer. (Spread quickly as the cooled caramel will start to harden the chocolate you're spreading).

Immediately top chocolate layer with toasted coconut. 

If desired, drizzle with salted caramel and melted chocolate. Top with sea salt flakes. Let cool until all chocolate is hardened. 
Recipe Notes
*I use this recipe for my salted caramel sauce. If you want the sauce to be slightly thicker, which might be easier/a little messy for this bark, slightly reduce the amount of heavy cream you use in the recipe (use about 1/2 cup/little less than half of heavy cream).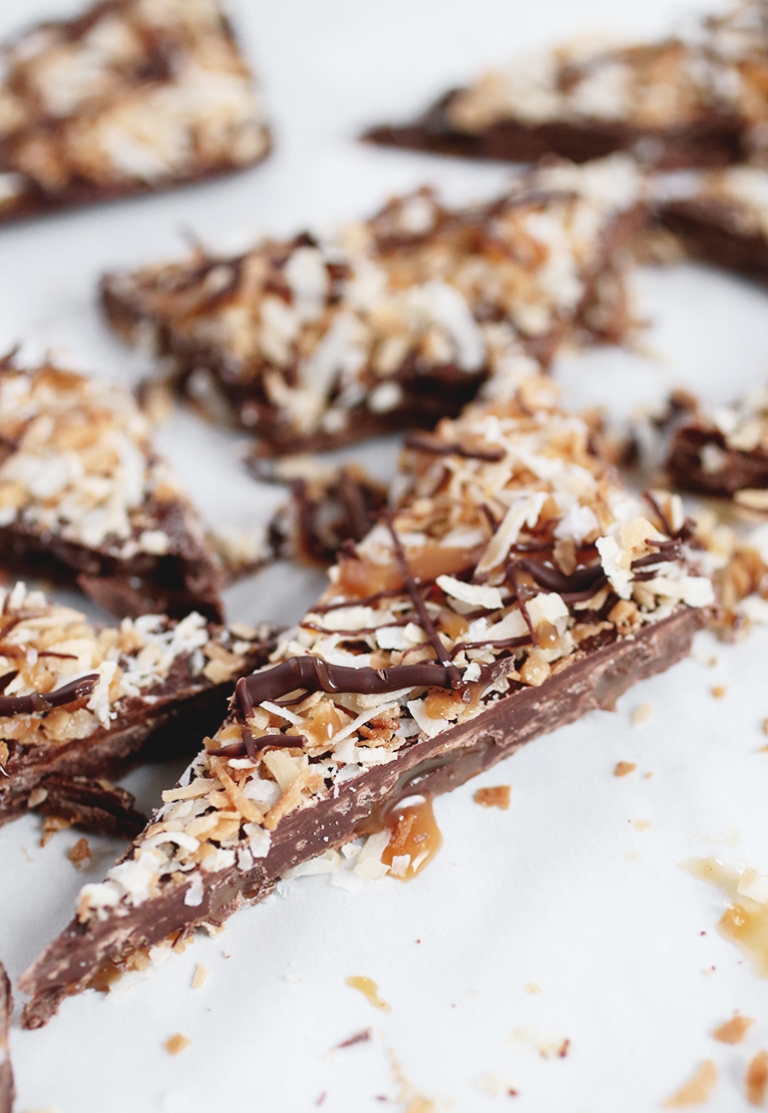 If you're looking for more coconut recipes, try out these
Chocolate Coconut Clusters
,
Coconut Macaroons
and
Peanut Butter + Toasted Coconut Protein Bites
.
-Manda