Have you started any holiday baking yet? Tis the season for lots of yummy cookies, snacks and treats to made and gifted…and received! If you're still planning out things to make to give away this year (or to treat yourself with – we won't tell!) – I'd definitely add these coconut macaroons to the list.  They are so delicious and so quick & easy to make!  Just the kind of treat to make during the busy holiday season.


I'm actually not a huge fan of coconut – but toasted coconut, yes please! I first got addicted to toasted coconut at Outback, with their Sydney's Sinful Sundae (do they still have that on the menu?  I haven't been in ages).  My family would always share one of these delicious sundaes and it came sprinkled with toasted coconut – sooo good!  My dad is a big fan of coconut everything, so he's actually the reason I decided to try making macaroons – I wanted a special treat for him.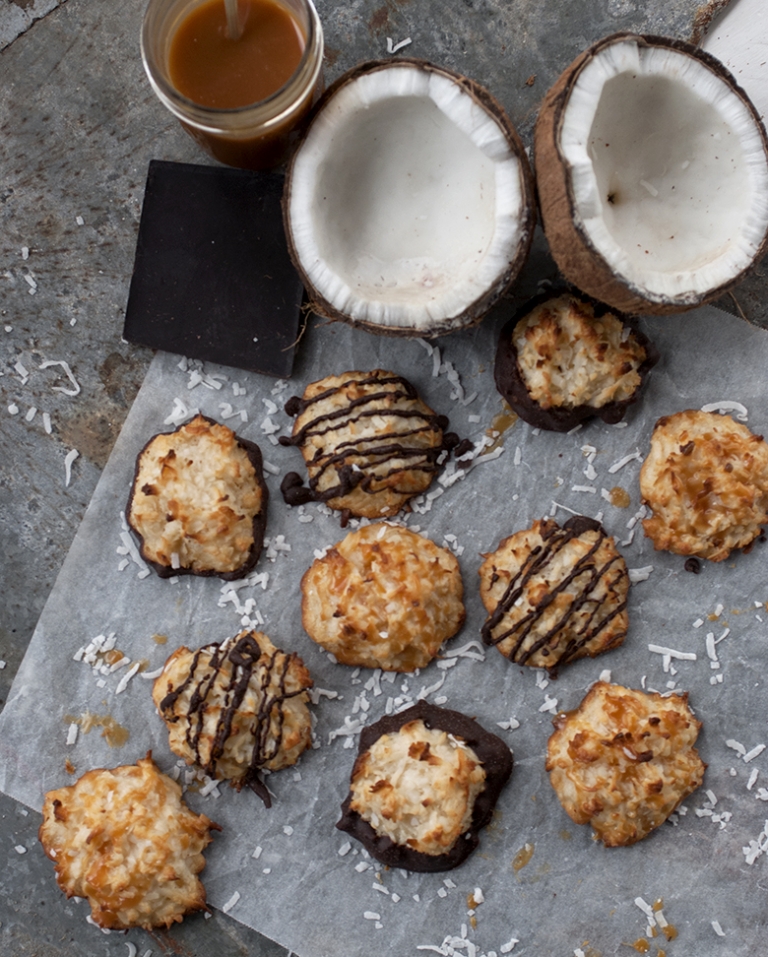 The recipe I tried was Danny Macaroons famous recipe.  They are perfectly toasted on the outside, and soft & moist on the inside! I've made them a few times and found that it's best to add a little less sweetened condensed milk than what the original recipe calls for.  They tended to spread and be a little too mushy with the full amount, so my recipe shows that change.  And since I pretty much only like coconut when it's toasted, I leave mine in for an extra minute or two to make sure it's really toasted.   I of course had to add some salted caramel to some, they are divine with that addition! (I used my recipe for salted caramel sauce for these)  And for chocolate lovers, dipping them in melted chocolate, or drizzling some on top is a nice addition too.  A favorite is drizzling both chocolate & caramel on top – try it out!


Coconut Macaroons
4 cups (14 oz) sweetened shredded coconut
1 cup (10 oz.) sweetened condensed milk
1 teaspoon vanilla extract
2 large egg whites
1/4 teaspoon salt
Optional:
melted semisweet chocolate
salted caramel sauce
Preheat the oven to 350°.  Line 2 baking sheets with parchment paper. Combine the coconut, sweetened condensed milk and vanilla in a medium bowl.  Using an electric mixer, beat the egg whites with the salt until firm peaks form. Carefully fold the beaten whites into the coconut mixture.
Scoop tablespoon-size mounds (I like mine a little bigger) of the mixture onto the baking sheets, about 1 inch apart. Bake for about 18-22 minutes, rotating the sheets halfway through baking – or do one tray at a time.   Cool on a wire rack.
Once cookies are cool, if desired, dip the bottoms of the macaroons into melted chocolate, return the cookies to the lined baking sheets to let the chocolate harden.  Or drizzle salted caramel or chocolate (or both!) on top.  Refrigerate for about 5 minutes, until set.  Store in airtight container.
Slightly adapted from Food & Wine

What's your favorite treat/cookie to make (or get) for the holidays? One of my favorite cookies to make & eat this time of year are my Gramma's Frosted Sugar Cookies – yum!
-Manda