My mom has a small pear & apple orchard in her backyard. The pears are these adorable, small pears called seckel pears and she has an abundance right now.  We decided we should dip some of them in salted caramel for a yummy fall treat.  (And Caitlin picked up some regular size pears too – because you can never have too many salted caramel pears!) These really are a wonderful treat, soft and chewy caramel with sweet pears…mmm. Definitely a must have for your fall or Halloween party menu!
Salted Caramel Pears
1 cup sugar
6 tablespoons salted butter, softend and cubed
1/4 cup heavy cream, slightly warm
pinch or two of sea salt flakes
about 6 regular size pears, cold (I've found that dipping cold pears works best)
Line a baking sheet with wax paper and lightly coat with cooking spray.
Melt the sugar over medium high heat in a large pot. Whisk the sugar as it melts and cook until it becomes a deep amber color and reaches about 275º-300º on a candy thermometer.
Remove from heat and add the butter and whisk it in until melted. Pour in the heavy cream and salt (mixture will foam) and whisk until you get a smooth sauce.
Return the pan to medium heat. Let the caramel come to a boil without stirring. Remove from heat when the caramel reaches 245°F to 250°F. Stir.
Dip pears in caramel, twisting to coat. Lift up and let drip, then sit pear on prepared baking sheet. If desired, sprinkle with large crystal sugar – or another desired topping. Repeat with remaining pears. Let sit, in a cool spot (like the fridge) for a few hours to firm up. Eat within a few hours.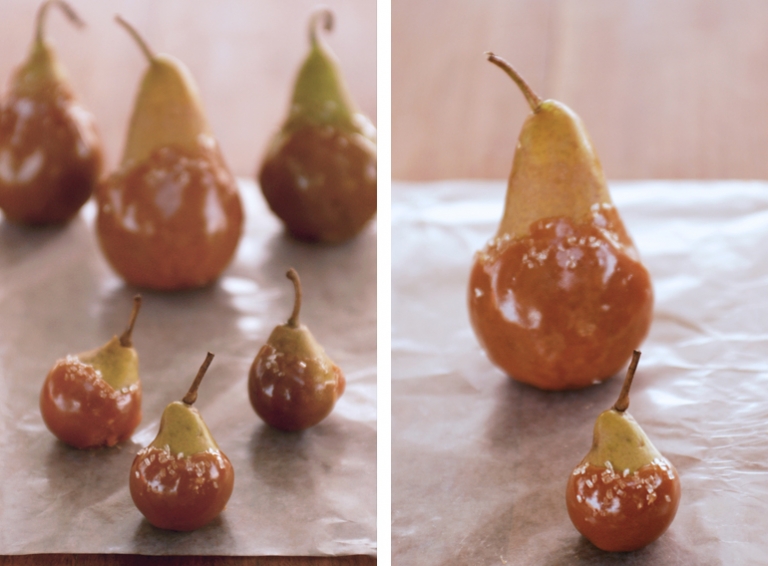 Enjoy this wonderful fall weekend! (Mike & I are enjoying it in Vermont – lucky us!) Manda