I have been looking for mirrors for the past few months for a few spaces in the new house so we're all set once we can move in. (We're getting really close!) I started looking and couldn't find ones that were a style that I would like or that didn't cost a fortune if they were. So I have a list of four DIY mirrors that I wanted to try… so expect a few more coming your way over the next few months! I'm pretty thrilled with how this dowel mirror turned out – it's definitely going in my room!
What you need:
-Table saw
-Two 2″ round dowels 48″ long
-One 1 1/14″ round dowel 48″ long
-Mirror 36″x24″
-Tape measure
-Pencil
-Scrap wood with square edges
-Two 1 1/4″ screws
-Drill
-Four 4″ screws
How to make it:
1. Cut your 1 1/4″ dowel to make two 22″ pieces.
2. Measure to the center width of your large dowels.
3. Mark these measurements at each end of the scrap wood and pre drill holes at those marks.
4. Attach the scrap piece to one large dowel using 1 1/4″ screws keeping the bottom of the dowel flush with the bottom of the scrap piece.
5. Measure from the back of the scrap piece to the center of the dowel.
6. Set table saw to this measurement.
7. Set depth of the blade to go 3/4″ into dowel.
8. Run dowel through table saw with the scrap piece against the fence.
9. Check the width of the groove you cut with the side of the mirror, you may have to adjust the fence slightly and run it through again to make a slightly larger slot.
10. Remove scrap wood from dowel.
11. Repeat 2-10 with second large dowel.
12. Repeat steps 2-10 with both of the small dowels.
13. Put together your mirror to be sure that the measurements are correct: Center you mirror on the big dowels and set the small dowels in place.
14. After you are sure that everything will fit together – trace around the small dowels where they meet with the large dowels.
15. Take everything back apart.
16. Drill a hole through the side of the large dowel, right above where the mirror will be, but where it will still go into the small dowel. (See photo.)
17. Repeat at each corner of the mirror.
18. Put mirror back together.
19. Pre-drill the small dowel my drilling through the hole made in large dowel.
20. Put the mirror back together and attach by using the 4″ screws through the pre-drilled holes.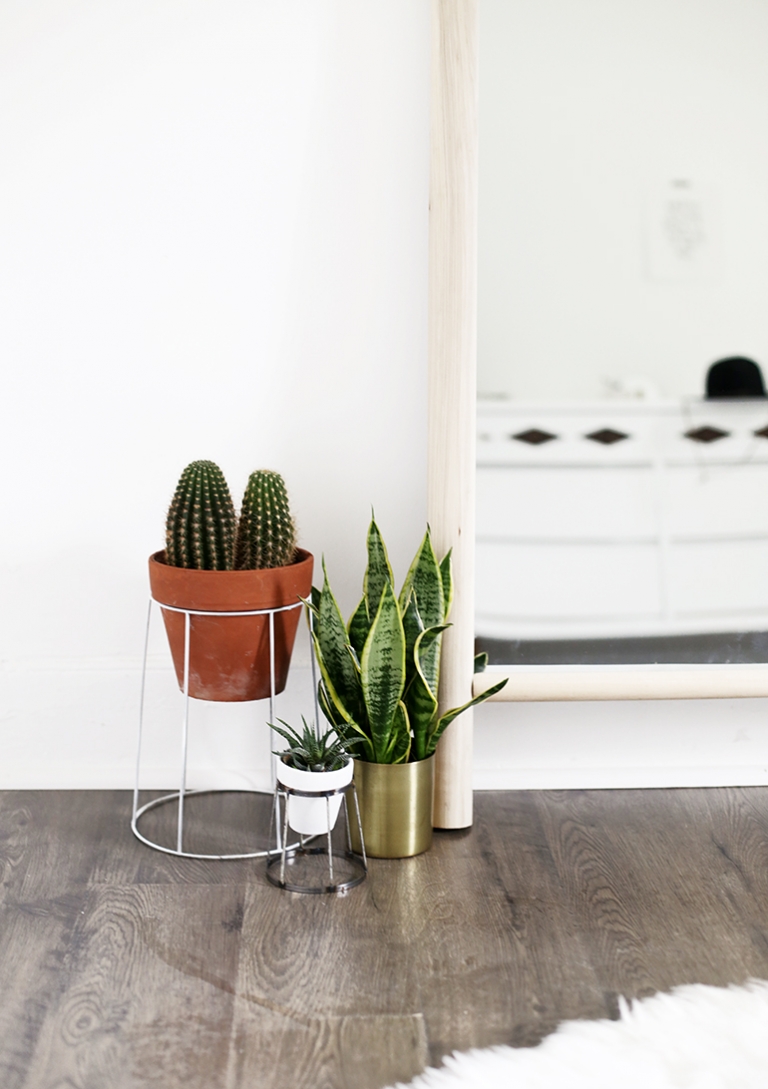 xo. Caitlin