I'm finally posting the recipe for these homemade pop-tarts I teased my Instagram followers with a while back (oh, ya know – 7 months ago! Eeps…sorry to keep you in suspense so long!).
I've eaten my fair share of boxed pop-tarts in my life, but I've never been a huge pop-tart fan. The only kind that I ever ate were the brown sugar cinnamon ones. All the others were too sweet or too something for me to enjoy.  But a couple years ago when I started seeing homemade versions circling the web, I added them to my to-make list. They seemed like they would be a fun food to try out and I figured I would enjoy the homemade version better.
I actually almost bought some boxed pop-tarts last week while I was grocery shopping for our camping trip (they make easy camp food)…then I realized I had half the store in my cart already and did not need one more thing!  (I tend to overpack for trips…both with food and clothes.  No one will be calling me unprepared!)  Plus, I had these delicious homemade ones to make this week to share with you!


When I made these, I decided I was going to make mostly brown sugar cinnamon ones because they were my favorite pop-tart flavor. I thought the boys would appreciate the strawberry ones because of the sprinkles. I think my boys will eat anything if it has sprinkles on it. (Hmm…a new way to get veggies in them?) I used a homemade strawberry jam that my cousin Rachel had made for the filling. And then I tried both. And the strawberry ones? Oh my deliciousness!  I was so mad that I didn't have more of those.  Rachel – your strawberry jam is incredible!  If you can, definitely use homemade jam for the fruit filled pop-tarts.  And if you can figure out a way to get Rachel's jam – your tastebuds will thank you.


These pop-tarts are what the boxed version wish they could be. I wouldn't necessarily call them a copycat because they are quite different. But in a better way. The crust is flaky and tender. The filling is sweet but not in a too-much way.  They are more like a delicious pastry that look like a pop-tart.  I do think the brown sugar cinnamon filling is pretty close to the boxed version filling, but it's been a long time since I've had one, so I can't be sure.  Plus, making them at home you can adapt them to suit your taste.  I'm looking forward to trying these again using different flavors.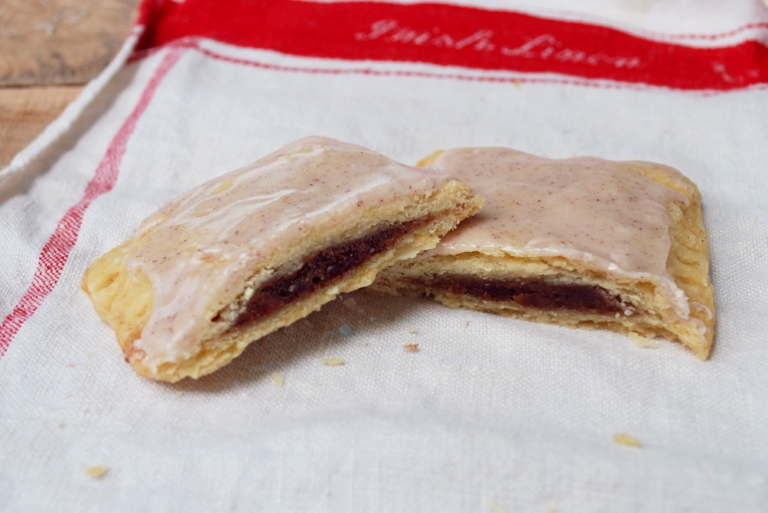 HOMEMADE POP-TARTS
(makes 10ish pop-tarts – varies depending on the size of the pop-tarts)
Preheat oven to 350º.  If you're making the brown sugar cinnamon filling, mix that up now and set aside.
Crust
2 cups flour
dash of salt
1 cup butter flavor shortening
½ cup water
Stir flour & salt together. Add shortening and blend with pastry blender, until dough is crumbly, but don't overwork it. Add water a little at a time until dough sticks together (you may not need all of it) and you can form a ball. Divide dough in half. Roll out one of the halves on a floured surface into a rectangle about 1/8″ thick.  Trim the edges to form a rectangle (save your scraps to re-roll).  Cut the dough into smaller rectangles, however big you want your pop-tarts to be.  Feel free to use a ruler and make perfect pop tarts…I did not.  (I think that smaller pop-tarts are better, they don't have to be mini,  but a little on the smaller side seemed to be better.)  Make sure you have an even amount of rectangles, for a top and bottom.
Place a rectangle on a parchment lined baking sheet (or a lightly greased baking sheet).  Place 2-3 tablespoons of your filling in the center of your dough, making sure to leave an edge of dough all the way around the rectangle.  You want a heaping pile of filling, especially for the brown sugar cinnamon filling – it will bake down some.  Dip your finger in some water, and dampen the edge of the dough all the way around.  Place another dough rectangle on top of the filling and press down to seal edges.  The water should make the dough stick together.  Press the tines of a fork all around the edge of the rectangle.  Then prick the top of the pop-tart with a fork a few times to allow the steam to escape.
Repeat with remaining dough.
Bake 25 minutes or until light golden brown.  Cool.
Cinnamon Filling
1/2 cup brown sugar
1 1/2 teaspoons ground cinnamon
4 teaspoons all-purpose flour
Stir brown sugar, cinnamon and flour together in a small bowl.
Filling Options:
-your favorite jam
-nutella
-chocolate chips
-any concoction your little heart can think of! (just don't use anything too liquid-y)
Glaze
3/4 cup powdered sugar
3 teaspoons milk, plus more as needed
1/2 teaspoon vanilla extract
To make the glaze, mix all the ingredients together in a bowl until it reaches a spreading consistency. It should be thick, but spreadable.  Use more milk to thin the glaze, add more powdered sugar if it's too thin. Use a butter knife or offset spatula to frost the top of each pop-tart.  Top with sprinkles if desired.  Allow the glaze to set before eating. Store in an airtight container.
To make a cinnamon glaze for the brown sugar cinnamon pop-tarts, just add 1/2 teaspoon ground cinnamon to the ingredients above.


And I made a mini one and it's cuteness is just killing me. (Those are tiny 3 year old hands for size reference). I just love tiny things! Now I want to have a breakfast party and have lots of mini pop-tarts at it. Who's in?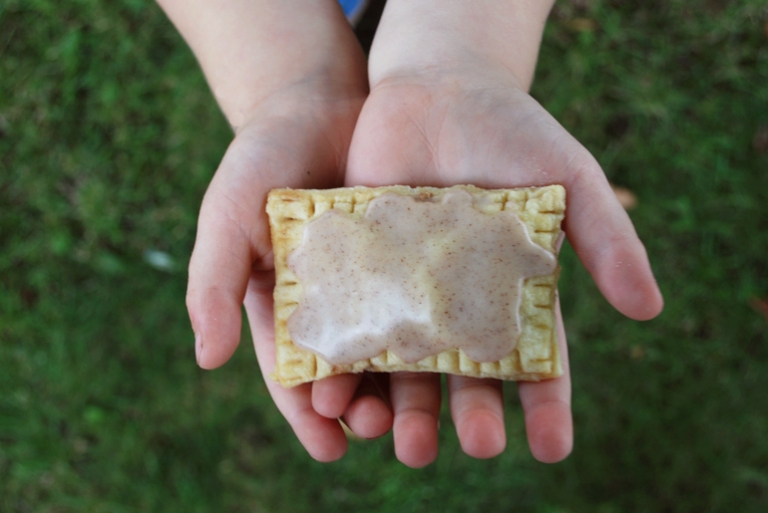 Adapted from Smitten Kitchen
Have a lovely weekend!   Manda