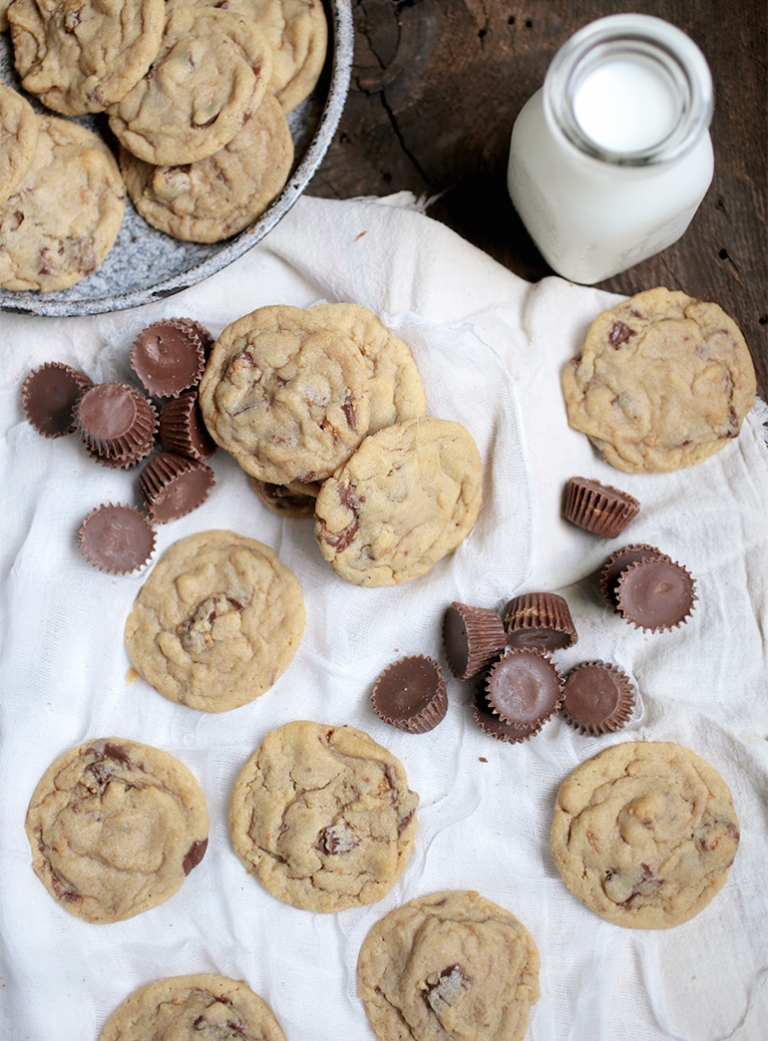 Cookies are probably my favorite baked good to make…and possibly eat!  These peanut butter cookies are one of my most requested baked goods.  And Caitlin is probably my number one requester! 😉 I can't believe it's taken me this long to get this recipe posted here, seeing how I pretty much use the blog as my recipe box! (I did have it on my old blog).
I started making these years ago, during one of my pregnancies, can't remember if it was with Lincoln or Malacai. Back in the day, Dunkin' Donuts used to sell cookies and they had a peanut butter one that I craved something fierce.  One day my mama came over with a giant bag of mini peanut butter cups and we set to work to make our own, so I could satisfy my craving without breaking the bank! From that day on, I always keep a giant bag of mini peanut butter cups stashed away so I can whip these up whenever we get a craving! (And now it's a lot harder to keep them on hand since the boys have discovered my secret stash!)


In my years of making these, I've discovered that the secret to making these the best peanut butter cookies is to slightly under-bake them. (And having delicious chunks of peanut cups in them, of course!) In my book, you should never, ever over-bake your cookies, but especially with this recipe.  The cookie recipe is nothing fancy or super complicated, it's actually adapted from a Better Homes & Gardens cookbook I own, so it's the bake time that will make or break these. I actually just made  a batch of these recently and forgot to turn on the timer for one tray (never happened before in my life – you can tell I'm really stressed when I forget about my cookies!) and they baked till they were a nice, golden brown color.  And they were not that great.  They weren't burnt, and didn't taste bad at all, but they tasted like a slightly dried-out peanut butter cookie that I've had at one too many pot-lucks.  Nothing special about them.  And so I realized, that it really is the bake time that will set these apart.  So that's why I'm over-stressing this point, don't over-bake these cookies!!  Otherwise you'll be thinking I'm crazy for raving about these!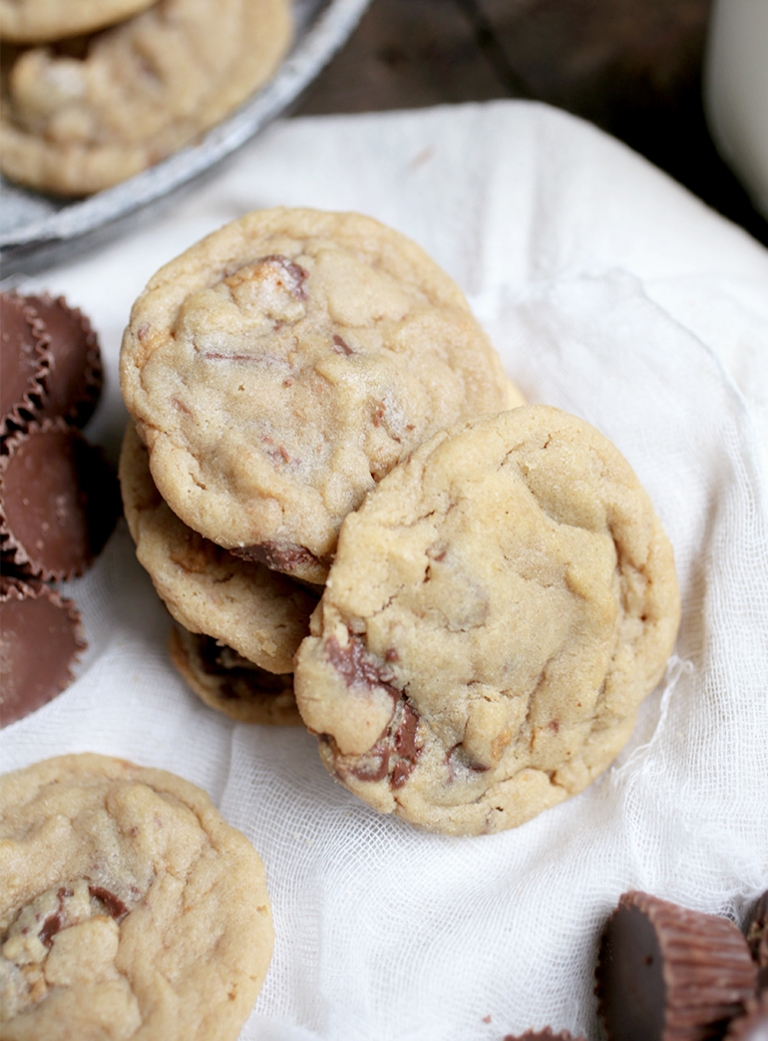 Peanut Butter Cup Cookies
1 cup butter, softened
1 cup creamy peanut butter
1 cup granulated sugar
1 cup packed brown sugar
1 teaspoon baking soda
1 teaspoon baking powder
2 eggs
1 teaspoon vanilla
2 1/2 cups all-purpose flour
appx. 35 miniature peanut butter cups, coarsely chopped
Preheat the oven to 350˚ F. If you'd like, line baking sheets with silicone baking mats or parchment paper. If not, just use ungreased baking sheets.
In the bowl of an electric mixer, combine the butter and peanut butter. Beat on medium-high speed until smooth creamy, about 1-2 minutes. Add in the granulated sugar, brown sugar, baking soda, and baking powder. Beat till combined, scraping sides of bowl as needed. Beat in the eggs and vanilla till combined. Gradually add in the flour and mix just until incorporated. Add in the chopped peanut butter cups and fold in gently with a spatula.
Drop small rounds (appx. 1 1/2 inch balls) of dough onto the baking sheets, spacing 2 inches apart. Bake 7-9 minutes (every oven is different, so just keep an eye on them). You want the cookies to be very soft and slightly under-baked immediately coming out of the oven, they will set as they cool. (Do not over bake your cookies – this will make or break this recipe, so don't over-bake!) Let cool on the baking sheet for a few minutes, then transfer to a wire rack to cool completely. Store in an airtight container. I like to store my cookies in the freezer. Makes 3-4 dozen cookies.


– Manda